71 Percent of Asian Americans, Pacific Islanders Blame Trump for Rise in Discrimination: Poll
A vast majority of Asian Americans and Pacific Islanders (AAPI) believe that former President Donald Trump is to blame for a rise in discrimination against their communities, according to a new poll.
The survey, conducted by Politico/Morning Consult, found that 71 percent of AAPI adults said Trump is a major or minor reason for hostility during the COVID-19 pandemic.
Among different ethnic groups in the survey, 66 percent of Chinese respondents listed Trump as a major reason for discrimination. Japanese and Korean individuals followed closely behind, with 63 and 59 percent blaming Trump respectively.
Pacific Islanders were the least likely to point fingers at Trump, though 55 percent still said he played a significant role. In addition, AAPI citizens and non-citizens had a 20 percentage point gap (74 percent to 54 percent, respectively) in saying Trump was a reason for increased discrimination, according to the poll.
The poll included responses from 2,000 AAPI adults over the course of June, and had a margin of sampling error of plus or minus two percentage points.
The survey results come after anti-Asian hate crimes rose sharply during the course of the COVID-19 pandemic.
When the virus first hit the U.S. over a year ago, Trump began to calling it "the Chinese virus," "the Kung-Flu" and other such terms. Shortly after he first tweeted such phrases, studies found, the number of COVID-related social media posts with anti-Asian hashtags increased dramatically. According to research released from Stop AAPI Hate in June, over 9,000 incidents of hate crimes have been reported over the past year.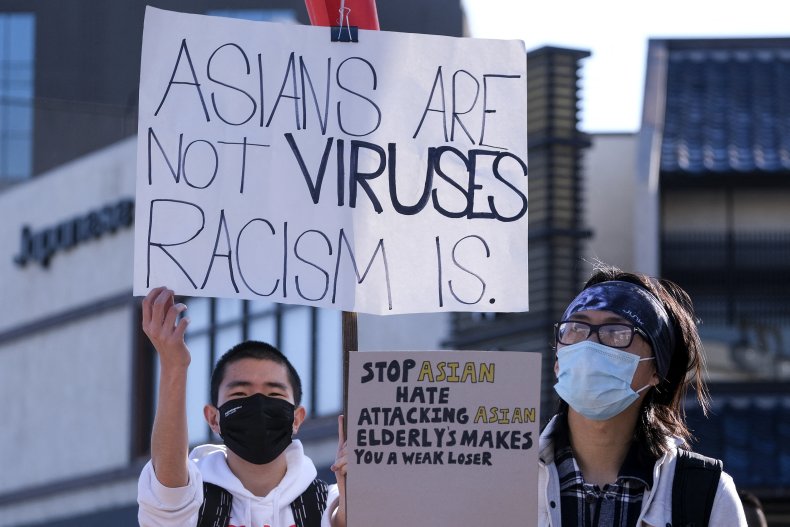 In March, violence against AAPIs was further highlighted when a shooter in Atlanta killed eight people, six of them Asian women, across multiple spas. Democratic Representative Judy Chu, who chairs the Congressional Asian Pacific American Caucus, responded to the rise in AAPI violence by blaming Trump for using inflammatory rhetoric.
"[Trump] used these terms 'China virus,' 'Wuhan virus' and even 'kung flu.' And as a result, the anti-Asian hate crimes and incidents, increased exponentially," Chu said after the Atlanta attack. "What we saw yesterday is the result of that."
Cliff Li, head of the National Committee of Asian American Republicans, told Politico Sunday that Trump's rhetoric made many Asian conservatives feel left out of politics, and instead switch their allegiance to Democratic President Joe Biden.
"Many people feel disoriented and feel really hurt in this. Some conservatives feel like, 'We're part of the team, but why did you suddenly just turn against us?'" Li told the news outlet. "So, you know, feeling like they were being used."
Newsweek contacted Trump representatives for comment, but did not hear back in time for publication.