Atlanta Shooting Result of Trump's 'Rhetoric' During COVID Pandemic, Rep. Judy Chu Says
Democratic Representative Judy Chu of California said that Tuesday's deadly shootings in Atlanta were the consequence of former President Donald Trump's "rhetoric" during the coronavirus pandemic.
"President Trump clearly stoke the flames of xenophobia against AAPI's [Asian American Pacific Islanders] with his rhetoric," Chu, who is also chair of the Congressional Asian Pacific American Caucus, told reporters on Wednesday.
Chu continued by stating that Trump's past derogatory references to COVID-19 created a stigma against Asian Americans and resulted in a rise in racially motivated attacks.
"[Trump] used these terms 'China virus,' 'Wuhan virus' and even 'kung flu.' And as a result, the anti-Asian hate crimes and incidents, increased exponentially," she said. "What we saw yesterday is the result of that," Chu added.
Chu's statements come after three shootings on Tuesday in which eight people were killed at massage parlors in Atlanta. Of those eight, six were Asian women.
The suspect in the shootings has since been identified as 21-year-old Robert Aaron Long, a white man from Woodstock, Georgia. So far, police have not been able to conclude whether Long's motivation was race-oriented, and have instead suggested that it could have stemmed from a "sexual addiction."
Long has been charged with four counts of murder and one count of aggravated assault, according to police.
"He made indicators that he has some issues, potentially sexual addiction, and may have frequented some of these places in the past," Cherokee County Chief Frank Reynolds said Wednesday. "We believe that he frequented these places in the past and may have been lashing out."
Nonetheless, the shootings come at a time when Asian Americans are seeing an exponential rise in hate crimes. Research released from Stop AAPI Hate on Tuesday showed that nearly 3,800 anti-Asian hate incidents were reported over the course of a year since the coronavirus pandemic began.
On Wednesday, President Joe Biden condemned the violence against Asian Americans.
"I think it is very, very troublesome, but I am making no connection at this moment to the motivation of the [Atlanta] killer. I am waiting for an answer, as the investigation proceeds, from the FBI and from the Justice Department," he added.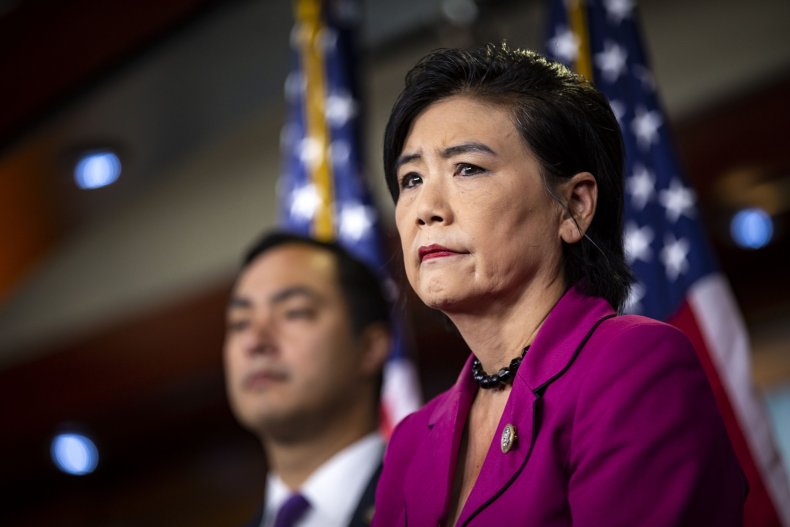 Vice President Kamala Harris, the first South Asian, Black and female vice president, also stopped short of concluding the motive for the Atlanta attack. She expressed support for Asian Americans and those who were killed.
"I do want to say to our Asian American community that we stand with you and understand how this has frightened and shocked and outraged all people," she said.
"But knowing the increasing level of hate crime against our Asian American brothers and sisters, we also want to speak out in solidarity with them and acknowledge that none of us should ever be silent in the face of any form of hate," she added.
A number of lawmakers and celebrities also took to Twitter on Wednesday to speak out about the issue, using the hashtag #StopAsianHate
Since leaving office, Trump has continued to refer to COVID-19 as the "China virus," and even used the term before news broke of the Atlanta attack during an interview with Fox News on Tuesday.
"We got [the economy] to a level that the world has never seen before. We were the envy of the world and then when we got hit by the—as I call it the China virus, COVID—it obviously went down with every other economy," the former president said.
On Wednesday, a representative for Chu pointed Newsweek to a statement in which the lawmaker said she fought against Trump's rhetoric for over a year, only to find the former president and other Republicans "double down" on hateful speech.
"Even after hate crimes started to increase and there was a vote on the House floor to condemn this violence, House Republicans lined up to not only deny that their rhetoric was having an impact, but insisted that they were right in echoing Trump's words," Chu said.
"This was an intentional attempt to shift blame away from the Donald Trump, and direct it towards a marginalized group. And as expected, the consequences have been fatal," she added.
Newsweek reached out to representatives for Trump for an additional comment, but did not hear back in time for publication.