A YouGov poll released Wednesday revealed that more than half of Americans said they support a maximum age limit for elected officials. Meanwhile, an analysis from the Congressional Research Service on the current members of Congress showed the group is the oldest on average of any Congress in at least the past 20 years.
When the two sets of data are compared, it concludes that if the age limits endorsed by poll respondents were put into place, 71 percent of current U.S. senators would not be eligible to hold office.
The same principle would apply to President Joe Biden, as well as to former President Donald Trump. In fact, the only two presidents who would have been eligible to be in office in the past forty years had age limits existed would have been Bill Clinton and Barack Obama.
Fifty-eight percent of U.S. adults polled said that there should be a maximum age limit for elected officials, compared to 21 percent who said there should not be such a restriction.
Fourteen percent of all respondents said 60 should be the maximum age limit; 23 percent said 70; 13 percent chose 80; 3 percent favored 90, and 5 percent answered "other." An additional 21 percent answered that they were "not sure" if there should be an age limit.
When the poll isolated just the responses from those who supported maximum age limits, 24 percent said that age should be 60; 39 percent answered 70; 23 percent said 80; 5 percent chose 90, and 9 percent said "other age limit."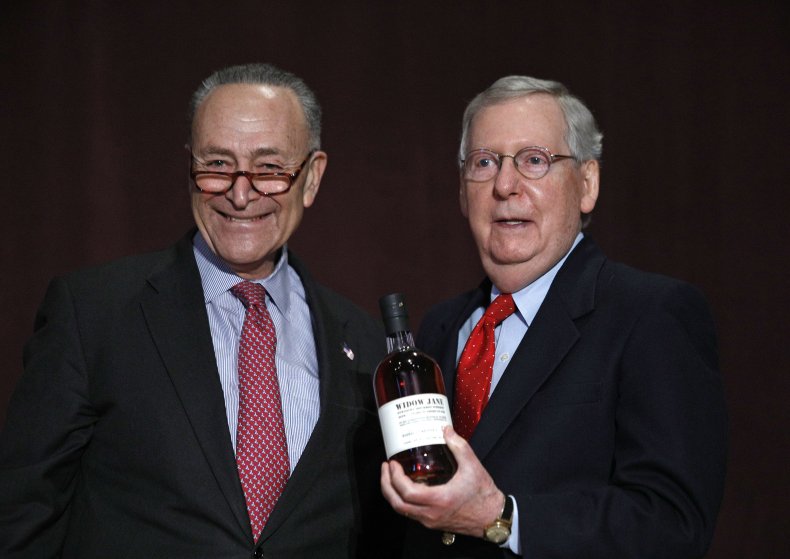 YouGov noted that the average age of U.S. Senators is 64, while 58 is the average age of U.S. House members. The ages of many prominent political figures are well above those averages, though, including House Speaker Nancy Pelosi (81) and Senate Minority Leader Mitch McConnell (79).
Richard Lau, a professor of political science at Rutgers University, has written about politicians and their ages before in the past, including a study he co-wrote with David Redlawsk in 2008 for the Journal of Politics, "Older but Wiser? The Effects of Age on Political Cognition."
"Let's not just pile on politicians here," Lau told Newsweek when asked about the possible mental decline in older elected officials. "College professors, doctors, mechanics, truck drivers—aging does this to you."
Lau continued, "We can't discriminate on the basis of age. Personally, I don't think it's an issue with elected officials. Because, presumably, voters know how old they are. I think the real issue is with Supreme Court justices or anyone who's appointed for life."
While there are currently no maximum age limits for politicians in the country, the U.S. Constitution sets minimum age requirements for offices. For members of the House of Representatives, the minimum age requirement is 25, while it's age 30 for the Senate and 35 for presidents.
Biden became the oldest president in U.S. history when he defeated Trump. During the lead-up to the election, there was much debate about the mental abilities of both men in relation to their ages.
"I think cognitive decline is inevitable," Lau said, adding it's difficult to put a number on when any person can expect a noticeable change in mental faculties.
However, Lau noted about growing older: "You can't quite do as much, or you can't do it quite as quickly, but that you compensate with experience and wisdom."