75 Percent of Louisville Police Want to Quit Following Breonna Taylor Shooting: Report
An independent assessment of the Louisville Metro Police Department (LMPD) released Thursday revealed that approximately 75 percent of LMPD employees would leave the force if they could. The study comes after the March 2020 police shooting of Black EMT Breonna Taylor, which caused protests over police culture and systemic racism in several U.S. cities.
Taylor was killed by LMPD officers as they breached her apartment with a battering ram while attempting to serve a search warrant. Kenneth Walker, Taylor's partner, believed a home invasion was occurring and began firing at the officers. The officers returned fire, striking Taylor at least nine times. Taylor's shooting garnered the LMPD harsh criticism. No officers were charged in Taylor's death.
"Today—10 months after Breonna Taylor's death and under the glare of the nation's spotlight on police practices—the LMPD and communities across the Louisville Metro area are still very much in crisis," read the independent study of the LMPD by the analysis and assessment firm Hillard Heintze.
According to the report, "roughly 75 percent of respondents indicated they would leave the Department if they had the opportunity. This is extremely troubling and reflects the LMPD's current state wherein officers have left in such large numbers, through retirements and resignations, that its hiring process cannot keep up with personnel losses."
Hillard Heintze said the potential turnover in the LMPD "demonstrates both a serious morale issue and a significant staffing concern."
Statistics cited by the report indicated that the LMPD conducted a disproportionate number of traffic stops involving Black residents. Traffic stops involving Black individuals in 2019 represented 34 percent of traffic stops. Black people comprised 21.2 percent of the total population of the Louisville metro area.
Newsweek reached out to the LMPD for comment.
At a Thursday press conference, Louisville Mayor Greg Fischer said the report was "extraordinarily valuable," adding that officials "plan to lean into the findings here, good and bad."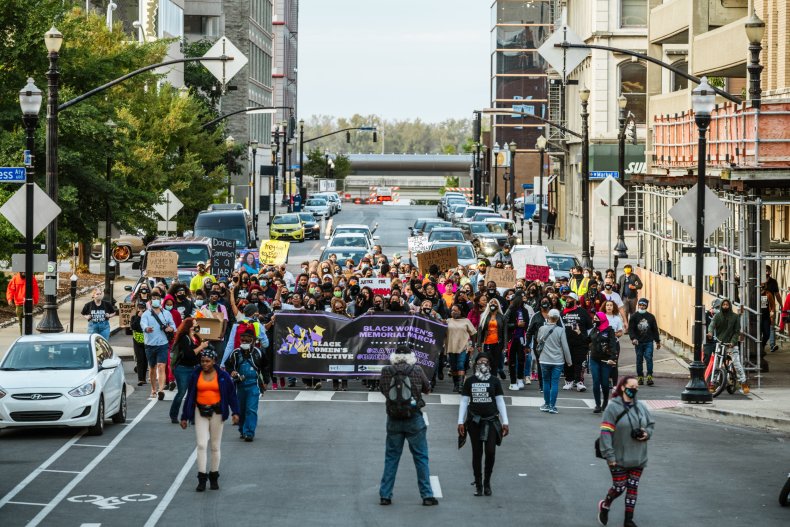 Out of the LMPD officers involved in Taylor's shooting, only former officer Brett Hankinson was indicted by a Kentucky grand jury in September 2020. Hankinson was charged with three counts of wanton endangerment for firing his weapon into apartments adjacent to the Taylor residence. No charges against participating officers Jonathan Mattingly and Myles Cosgrove were filed. The charges against Hankinson were not directly related to Taylor's death.
Protests erupted in Louisville after Hankinson's indictment was announced. More than 120 demonstrators were arrested for unlawful assembly and violating a county-wide curfew. Two LMPD officers were shot during the protests, resulting in non-life-threatening injuries.
Kentucky Attorney General Daniel Cameron acknowledged the public outcry over the perceived lack of accountability for Taylor's shooting.
"Justice is not often easy and does not fit the mold of public opinion," Cameron said at a September press conference. "And it does not conform to shifting standards."
During a September interview with WDRB, Cameron said his office chose not to introduce murder charges against the officers to the grand jury.
"They're an independent body," Cameron said of the grand jury. "If they wanted to make an assessment about different charges, they could have done that." Cameron added that both Mattingly and Cosgrove were "justified in their acts and their conduct."