87% of Philly Rite Aid COVID Vaccine Doses Given to Whites, Only 4% to Blacks: Data Shows
Only 4 percent of coronavirus vaccine doses have gone to Black people in Rite Aids across Philadelphia, highlighting an ongoing racial disparity in a pandemic that has disproportionately affected people of color.
Philadelphia – which has a population that is 40 percent Black and where non-Hispanic whites make up just one-third of residents – has been overwhelmingly vaccinating white residents over others, according to new city data.
The trend is most stark within Rite Aid's distribution, which has so far given nearly 87 percent of its doses to white people. The pharmacy chain is the second-largest provider of vaccines allocated to Philadelphia, with nearly 80 stores across the city.
New data from the city shows that as of last February, for every 21 white people vaccinated from Rite Aid, only one Black person received a dose.
In total, there were more doses given to white recipients by Rite Aid than doses given to Black recipients by the city's other providers, including the University of Pennsylvania Hospital System, Thomas Jefferson University Hospital, Children's Hospital of Philadelphia, Temple University Hospital System, and CVS Pharmacies, combined.
The pharmacy chain gave so many racially disproportionate vaccines that it was responsible for 1 in 6 doses that went to white recipients, despite administering 1 of every 9 of the city's vaccine doses overall.
Jeffrey Olson, a spokesperson for Rite Aid, told The Philadelphia Inquirer on Friday that the company was initially tasked with vaccinating health-care workers, which likely impacted the demographic data.
He also added that "there are always areas for providers to improve," and said Rite Aid is working to address gaps in equity.
"We are working with city leaders and different organizations and programs to reach people where they live, work, play, and worship to achieve widespread and equitable adoption of the vaccines," Olson said.
So far, only 23 percent of the city's total vaccine doses have gone to Black people.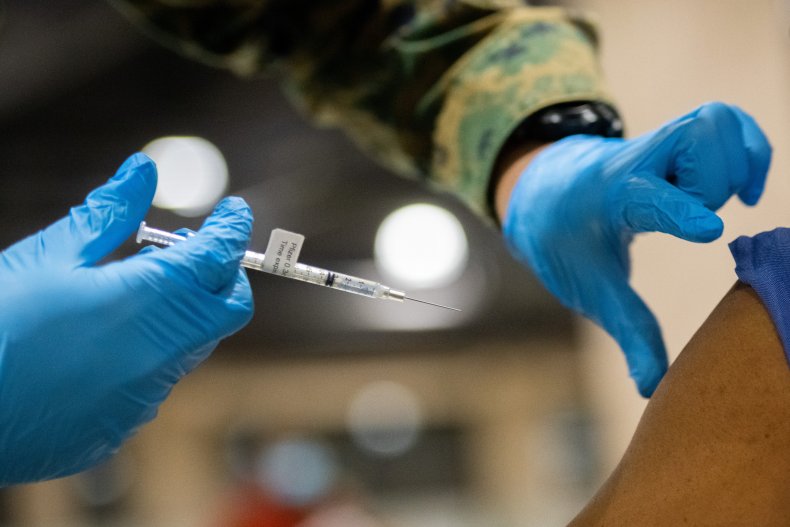 Philadelphia isn't the only place in the U.S. experiencing vaccine inequity. According to a March 3 analysis by The New York Times, the national vaccination rate for Black Americans is half that of white people.
The racial gaps add to an ongoing struggle seen throughout the coronavirus pandemic, which has been shown to disproportionately affect communities of color. According to the Centers for Disease Control and Prevention (CDC), Black, Hispanic and Native American people die from COVID-19 at almost three times the rate of white people.
Several factors could be driving the national vaccine disparity, including lower access to vaccines in Black neighborhoods; less flexible work schedules among Black and Hispanic Americans to take any available vaccine opening; and a digital divide that can make it difficult to get crucial information or book online appointments.
Studies have also shown that Black Americans are less likely to receive the COVID-19 vaccine than white Americans because of a deep-rooted distrust of national institutions and memories of former public health scandals, such as the Tuskegee experiment.
"The seeds of distrust in America's fundamental societal infrastructures have been deeply planted since our arrival in this nation and, unfortunately, they have been watered daily in our interactions with political, police and criminal justice, finance and health systems among others" Dr. Reed Tuckson, a founding member of the Black Coalition Against COVID (BCAC) previously told Newsweek.
To address the disparity, President Joe Biden's administration has vowed to bring more equity into the vaccine rollout, and has encouraged states to target vulnerable neighborhoods by using tools such as the CDC's social vulnerability index, which analyzes data on race and poverty.
Dr. Lou Edje, an associate dean at the University of Cincinnati Medical Center, previously told Newsweek: "This has to be a critical and urgent focus area for the good of all our communities or we may find viral variants evade our emerging and existing vaccine candidates."