91 Percent of Americans Support Legalized Marijuana as Democrats Push to Reform Laws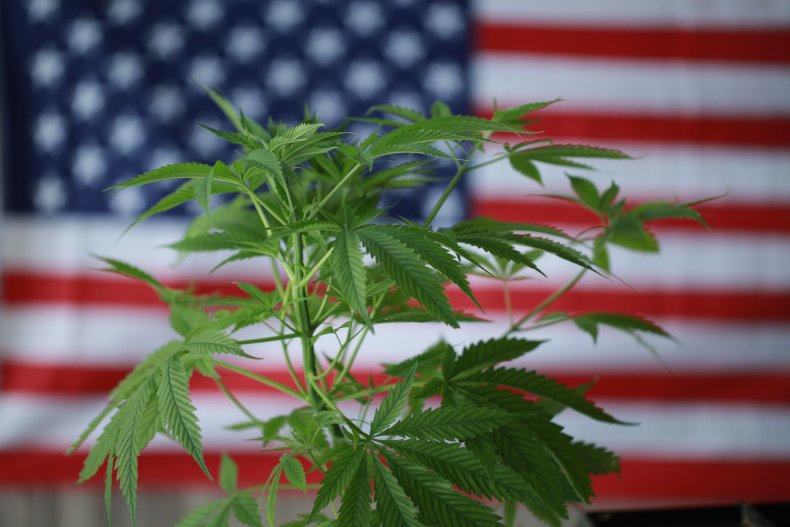 Democrats in Congress are continuing a push to legalize marijuana, while a recent poll showed that 91 percent of Americans support legalizing the drug for either recreational or medicinal use.
Senate Majority Leader Chuck Schumer (D-N.Y.) said he expects to introduce legalization legislation to the Senate in "a few weeks" on Tuesday, a day that he called "a very unofficial American holiday, 4/20." On the same day, the House passed the SAFE Banking Act, which offers protections for banks who do business with the marijuana industry in states where it is legal.
The House passed a bill that would legalize marijuana nationally in December, although it later died in the Senate. Last week, a poll from Pew Research showed that an overwhelming majority of Americans support legalizing the drug, with 60 percent supporting unrestricted legalization and another 31 percent supporting legalization for medical use only.
Only 8 percent of the poll's respondents said marijuana should be illegal. Support for legalization has more than doubled over the past two decades and is likely to continue growing, with the oldest Americans remaining the most likely to still oppose legalization efforts. The change in attitudes towards marijuana have been reflected by the breakneck speed at which states have been legalizing the drug in recent years.
A majority of states now allow marijuana for either medical or adult recreational use, with 16 states and the District of Columbia having legalized it for recreational use. In 2012, Colorado became the first state to embrace full legalization. New York and New Mexico are the most recent states to legalize marijuana, passing laws over the past month.
Some legalization efforts have been nullified despite popular support. In November, a majority of South Dakota voters approved a measure that would have legalized the drug fully, but it was struck down in February after a legal challenge was launched by GOP Governor Kristi Noem. On Thursday, the Florida Supreme Court nixed a legalization ballot measure before voters in the state had a chance to weigh in.
Despite what appears to be overwhelming support among Americans, efforts to change marijuana laws at the national level still face considerable resistance from some members of Congress. While the House already voted to legalize marijuana once, it is not clear that a renewed push will overcome hurdles in the Senate any time soon.
In addition to a large number of Republicans who oppose legalization, a minority of Democrats have also made it clear that they do not endorse efforts to change the status quo. Sen. Jeanne Shaheen (D-N.H.) told Politico on Tuesday that she believes marijuana is "a way that more people get into drugs" that are more dangerous.
President Joe Biden could also be a potential roadblock even if a bill were to pass Congress. White House Press Secretary Jen Psaki said during a Tuesday press conference that Biden does support decriminalization and the legalization of medicinal marijuana, while refusing to answer a question about whether he would sign a bill for full legalization.
"The President supports leaving decisions regarding legalization for recreational use up to the states," Psaki said. "He supports decriminalizing marijuana use and automatically expunging any prior criminal records. He also supports legalizing medicinal marijuana ... which isn't the same as what the House and Senate have proposed, but they have not yet passed a bill."
Newsweek reached out to the White House for comment.