93 Percent of Ukrainians Believe Russia Will Be Defeated: Poll
The vast majority of Ukrainians believe that their military will be able to fend off Russia's invasion, according to a new poll.
The survey, which was published by the Rating Group on Sunday, found that 93 percent of the 1,000 Ukrainians contacted "believe that Ukraine will be able to repel Russia's attack."
"Confidence in victory prevails in all the regions of the country," the Rating Group, which describes itself as a non-governmental, independent sociological research organization, wrote in a breakdown of the poll.
Forty-seven percent of those surveyed said they hope Ukraine will win the war in the coming weeks, while 23 percent believe the conflict will continue for several months. However, 12 percent said they believed the war would end in "six months or more."
The survey also found that 74 percent of Ukrainians support Ukraine President Volodymyr Zelensky engaging in direct talks with Russian President Vladimir Putin to end the war, while roughly 25 percent did not support the move.
On Saturday, Zelensky made an appeal to Putin to participate in talks.
"Time to talk," he said, according to CBS News. "It is time to restore territorial integrity and justice for Ukraine. Otherwise, Russia's losses will be such that it will take you several generations to recover."
A poll released by the Rating Group days after Russia's invasion of Ukraine in late February found that Zelensky's approval rating skyrocketed as he handled the conflict. The poll found that 90 percent of residents supported him, which represents a jump of about 40 points compared to another poll released earlier in February.
The survey released on Sunday also asked respondents whether they believe Ukraine should join NATO even though Zelensky said last week that his country wouldn't join the organization.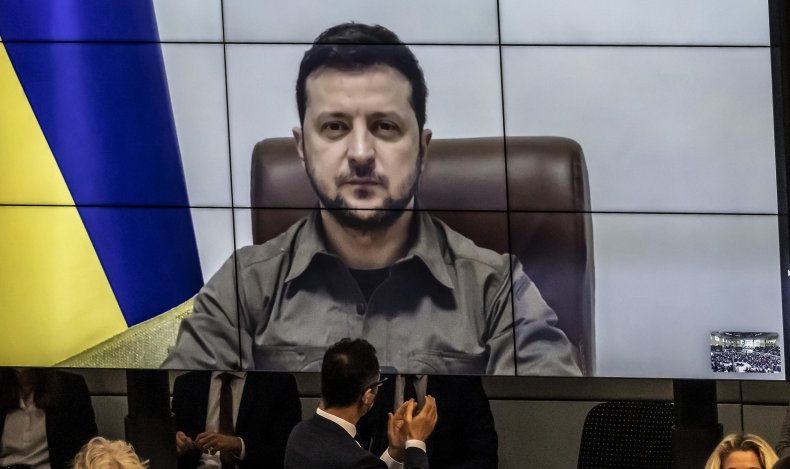 "We realized that Ukraine will not become a member of NATO. We understand this, we are adequate people," he said, according to Nexta, a Belarussian media outlet. "Kyiv needs new formats of interaction with the West and separate security guarantees."
According to Rating Group, its poll found that 44 percent of respondents "believe that Ukraine should join NATO, while 42 percent believe that Ukraine should continue to cooperate with NATO, but should not become its member."
"More people support NATO cooperation outside of the Alliance than before the war, a figure that has increased at the expense of those who previously said there was no need to cooperate with NATO at all (currently it's only 7 percent)," the organization wrote.
The poll was conducted on March 18 and used "computer assisted telephone interviews" to survey 1,000 Ukrainians over the age of 18. The poll's margin of error is 3.1 percent.