Aaron Paul is ready for the pandemic to be over. "I'm finally seeing a light at the end of this long, dark tunnel," he tells Newsweek in an exclusive phone interview,"hopefully things will get back to some normalcy soon."
Throughout the pandemic, Paul has been spending his time with his wife of nearly 8 years, director Lauren Parsekian, his 3-year-old daughter, Story Annabelle, and in traveling to Finland to film his next movie, Dual.
"That movie was the first time I boarded a plane during the pandemic," he says, as he acknowledges that filming in the age of the coronavirus doesn't exactly resemble the way film sets used to be. "Usually, between takes you get to interact with the cast and crew, but now it's hard because everyone is covered up in masks and each group is separated by their own section of the film set," he explains.
Paul has also been busy on the set of HBO's Westworld, where he's had the opportunity to work with greats like Ed Harris and Thandie Newton. "I'm a huge fan of everybody on the show, but I'm especially in awe of Evan Rachel Wood," he tells Newsweek.
"She's an incredible human being and survivor," he says as he takes a moment to recognize her success in getting the Phoenix Act passed—a domestic violence bill that was signed into law in October, 2019. "She literally changed the law," he says, "I bow down to her, what a fighter. I hope the world is paying attention."
Reuniting with Breaking Bad star Krysten Ritter
Between his film and television roles, Paul also recently jumped at the chance to work with legendary author James Patterson on Patterson's first-ever audio-only thriller, The Coldest Case.
An Audible Original, The Coldest Case, is a full tilt crime drama that follows Detective Billy Harney (Paul), and his twin sister, Detective Patti Harney (Krysten Ritter, Breaking Bad, Marvel's Jessica Jones), as they work together to expose a crime ring and exonerate Billy's undercover partner, Kate (Nathalie Emmanuel, Game of Thrones), from a murder they don't believe she committed.
The nearly four-hour nine-part series moves at breakneck speed and covers everything from a pro athlete doping scandal, an undercover drug operation, a prison riot, the underworld of big-league online gaming, and a hacked gubernatorial election.
"It's a big, bold, immersive, wild ride," Paul says, "a real cat-and-mouse story that's guaranteed to keep the audience guessing in true James Patterson fashion."
The series made the top of several 'Most Anticipated' lists for the year, including ones from Deadline and Oprah Magazine.
Paul's character in the story comes from a long line of police officers, and his father, Dan Harney, (Beau Bridges, Homeland, Max Payne), is the Chief of Detectives. "Some families put boardgames and baseball mitts under the Christmas tree, we got flex cuffs and intake forms," Harney says in the audio drama.
"My character bleeds blue, it's who he is," Paul tells Newsweek. Being on the right side of the law is a role-reversal for the self-described "huge crime buff," as Paul says he "made (his) living doing all the hour-long crime dramas on TV where I was the one being interrogated by police."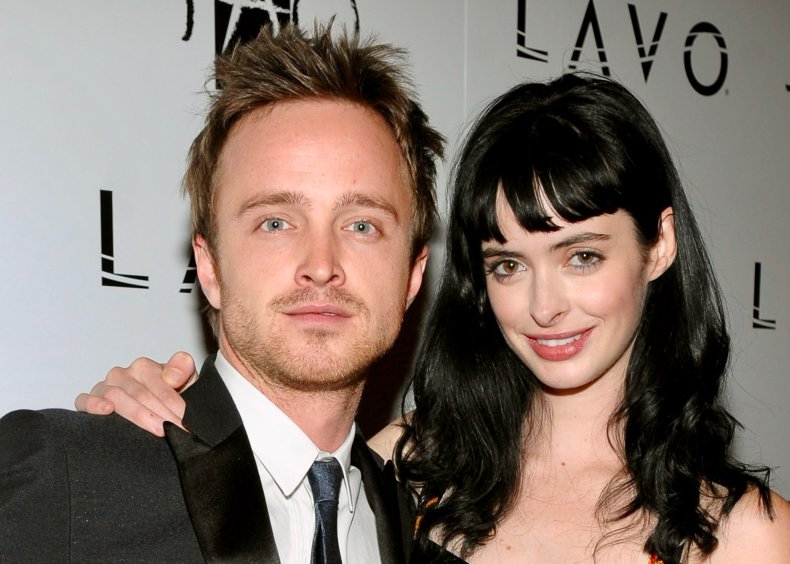 The Coldest Case is executive produced by Aaron Tracy (Law & Order: SVU) and Ryan Silbert (Stan Lee's Alliances), but the opportunity to work on something created by Patterson is what first drew Paul to the project.
"Patterson is the biggest in his field," he says, "I knew that anything he was attached to was going to be a fun ride."
Another bonus is that Ritter—Paul's former Breaking Bad co-star and girlfriend in the series—was already attached to the project and had just finished recording her part of the production before he signed on.
"I called Krysten before I really dove into the script," Paul explains, saying he wanted to know what her experience had been before committing himself. She told him that it was a "dream job," the rare story that actors actually want to be a part of.
His friendship with Bryan Cranston
While working with Ritter again was a high, Paul tells Newsweek that his collaboration with another Breaking Bad alum, Bryan Cranston, didn't end after the Breaking Bad series finale either. "We started a business together," he says.
Cranston, who Paul describes as "my mentor and one of my best friends in the world," first thought Paul was joking when he approached him about starting a Mexican Mezcal company, but he quickly recognized the appeal and agreed to partner with his former co-star.
The famous duo started Dos Hombres, which offers "a unique blend of the finest Espadin agave," according to their website. "I guess you could say Jesse Pinkman and Walter White are business partners again," Paul says, referring to his and Cranston's characters on the hit television show.
Asked if he plans to ever return to the role of Pinkman, Paul replies, "I think his story is done, but I have been wrong before."
Though his Jesse Pinkman days may be behind him, Paul says he hopes to reprise his role as Detective Harney. "If (Audible) call(s) me again, I'd jump at the chance," he says. He tells Newsweek that he "had so much fun on this gig, and I just love the people at Audible," adding that he's "a genuine fan of the company" - both as a performer and as a consumer.
The feeling, it seems, is mutual. "We're thrilled to welcome multiple Emmy Award winner Aaron Paul into the Audible fold," Rachel Ghiazza, Head of U.S. Content at Audible, tells Newsweek. "Paul's versatile talent and signature gritty style are a perfect fit."
All nine episodes of The Coldest Case are available in the new Audible Plus catalog beginning March 11.