'Abandoned' Dollar Tree Stuns Shopper: 'Nobody Works Here'
A discount shopper said she arrived at her local Dollar Tree to find it wholly abandoned.
Yolanda Jones recorded her unsuccessful visit to the store on Sunday. A TikTok video of her reaction, captioned "Dollar Tree now hiring," quickly shot up to 570,000 views.
"So I decided to go to this new Dollar Tree and the motherf**kers just walked off," said the dumbfounded customer. "Nobody works here. They abandoned this motherf**ker."
Jones filmed the front door of the store, plastered with five notices of missed deliveries from UPS.
"They ain't been here in weeks. I can't make this s**t up!" she declared.
Several comments identified the storefront as a Dollar Tree in Jennings, Missouri. Newsweek was not able to confirm this location.
Most of Jones's audience united around a single theory for the staff walk-out, summarized by one viewer in three words: "Overworked, understaffed and underpaid."
Several users who claimed to have worked at the chain agreed.
"I worked at a dollar tree for 2 days for [minimum] wage. It's not worth it," one said.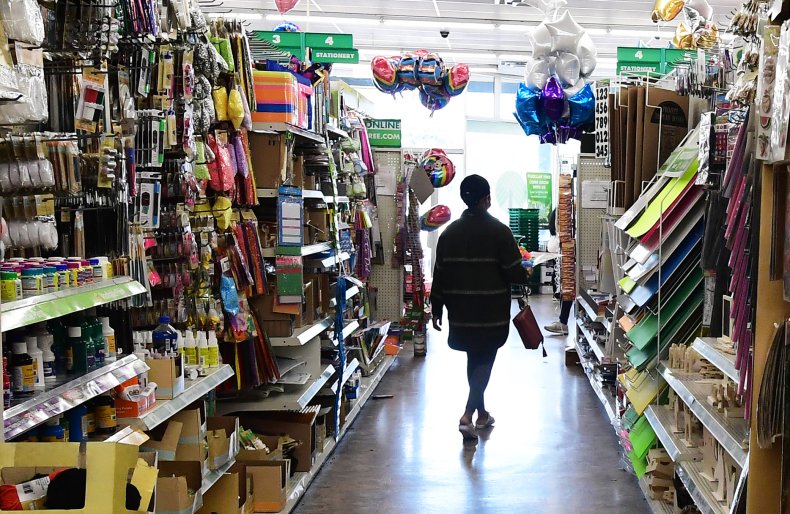 "I worked at a [D]dollar [T]ree, worked hard too, only get paid about $250 every 2 weeks and they don't care at all," another added.
Dollar Tree has notoriously struggled with staffing shortages across the country. As workers across industries have quit their jobs at a historic rate, retail businesses have started to raise pay, provide better schedules and even give bonuses to retain their workforce.
Meanwhile, dollar stores typically offer the worst pay in the retail industry—near minimum wage—and keep staffing very low, according to the Harvard Gazette. As a result, dollar store workers might be tempted to leave for other jobs. Dollar Tree also faces competition for labor from Amazon and Walmart.
The chain has repeatedly gone viral for poor working conditions and staff shortages. In January, a sign outside a Dollar Tree in Ann Arbor, Michigan, was captured announcing, "Store closed until further notice. I've quit. I'm sorry." It was signed, "the only manager."
A Florida Dollar Store worker detailed brutal conditions in a YouTube video last year, claiming the chain denied her bathroom breaks and regular access to water due to low staffing. Titled "Worst Job I've Ever Had—Dollar Tree," the clip was posted a day after the employee quit.
Meanwhile, staff walked out of a Family Dollar store in Pittsburgh, Pennsylvania, last June. The employees left a message reading, "Staff quit! Y'all be easy," on the front door.
Newsweek reached out to Jones and Dollar Tree for comment.