Abbott 'Overwhelmed' With Offers From Non-Texans Paying to Bus Migrants
Texas has begun accepting donations to help fund its effort to send migrants to Washington, D.C., and Governor Greg Abbott said Wednesday that the move was prompted after the state was "overwhelmed" with offers from those around the country who wanted to help the effort.
Earlier this month, Abbott announced that Texas would provide charter buses to send migrants who have illegally entered the country to Washington, D.C.
"As soon as the announcement was made, we were overwhelmed with phone calls, with letters, with requests about people providing buses, people driving buses, people paying for buses, and we got to thinking if people all across the country are so eager to participate in this then we should put a website link up and let them participate, and as soon as we did that, the donations have come in," Abbott said Wednesday during a visit to McAllen, Texas, according to Border Report.
A donation page is now live on the governor's website, but Abbott said Wednesday that he wasn't sure how much money the crowdfunding effort had raised so far. However, he said the fact that donations are coming in "will likely mean there will be no cost to the State of Texas for providing these buses," Border Report reported.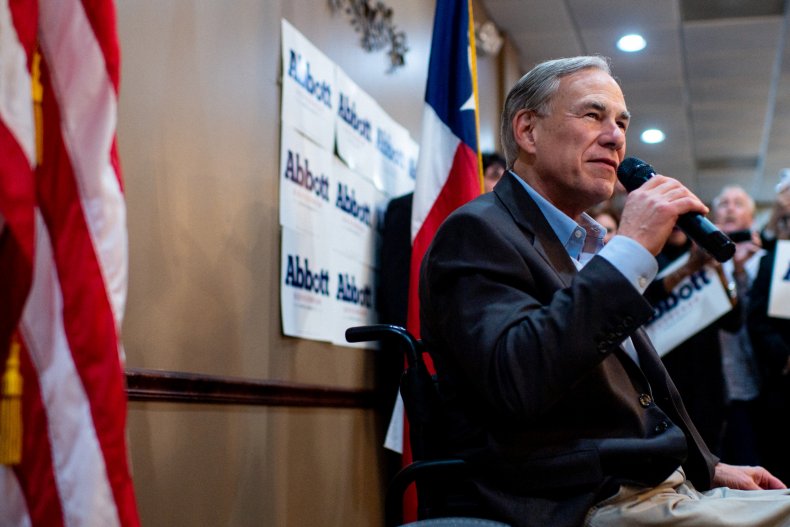 The announcement about the crowdfunding effort came after Abbott had faced criticism for using taxpayer dollars to fund the charter buses.
Mark Jones, a political science professor at Rice University, called the move "a quiet way of protecting himself from criticism that he's using taxpayer dollars to provide free transport for undocumented immigrants."
"Many conservatives pounced on him as all hat and no cattle, in that he was talking tough, but in the end all his busing was going to do was provide a free trip for undocumented migrants to the East Coast that they otherwise would have had to pay for or that liberal nonprofits would have had to pay for," Jones told the Texas Tribune.
In a statement to Newsweek on Thursday, Abbott spokesperson Renae Eze said, "After Governor Abbott announced his plan to bus migrants to President Biden's backyard in Washington, D.C., we received an outpouring of support from across our state and the entire country of people wanting to help and donate to the operation."
"Texas continues stepping up to help our local partners and protect Texans—it's time for President Biden and Congress to step up and do their job to secure our border," Eze continued.
The White House also criticized the governor's efforts to bus migrants to the nation's capitol, with President Joe Biden's press secretary, Jen Psaki, calling it a "publicity stunt."
In a news release on Friday, Abbott's office said a tenth bus transporting migrants from Texas had arrived in Washington, D.C. The first bus arrived April 13.
"Thanks to the State of Texas, President Biden will be able to immediately meet the needs of migrants he is allowing to cross our border by busing them to his backyard," Abbott said in a statement. "By busing migrants to Washington, D.C., Texas is sending a clear message: We should not have to bear the burden of the federal government's inaction to secure the border, and the Lone Star State will do whatever it takes to keep Texans safe."
Update 4/28/22, 7:18 p.m. ET: This story has been updated with additional information and background.