Abortion Clinic Reports 'Heartbreaking' Talks After Texas Court Allows Ban
Whole Woman's Health, a nationwide reproductive health care provider, announced Saturday that it will stop providing abortions at its four clinics in Texas after the state's Supreme Court ruled that the state can enforce a 1925 abortion ban.
In a statement, Whole Woman's Health's President and CEO Amy Hagstrom Miller, said: "This morning, our clinic staff embarked on the heartbreaking conversations with patients whose appointments must be cancelled, and our clinics have started the wind down process."
"Today, we turn to the health and wellbeing of not only our patients, but also our staff and providers who are now banned from doing the work they love—work they are highly trained to do and have dedicated their hearts, minds, and bodies to provide to Texans for decades," Miller added in the statement, which Whole Woman's Health provided to Newsweek.
She also blasted the Texas Supreme Court stating that it "failed to protect the health and safety of Texas families and our communities."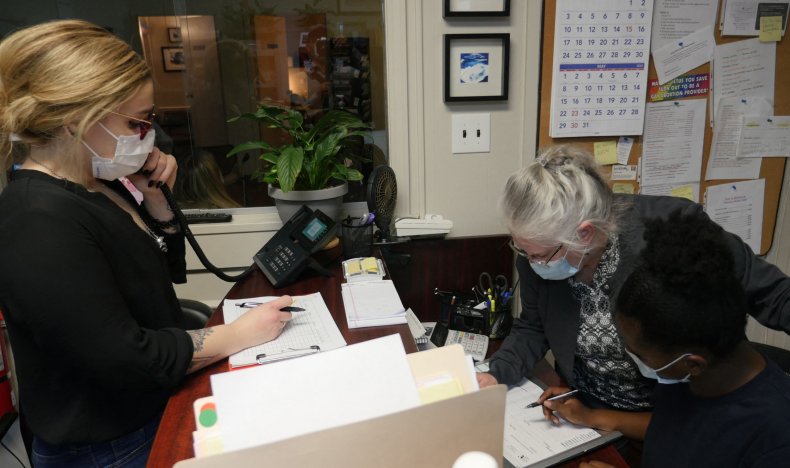 "They had the power to stop enforcement of Texas' pre-Roe ban, but they chose instead to impose their ideologies and political agendas to block thousands of Texans who need abortion care over the next two months from getting it," she said.
The state's Supreme Court's decision on Friday evening came after a Houston judge earlier this week blocked the 1925 abortion ban from taking effect. According to The Texas Tribune, the pre-Roe law makes performing the procedure punishable by two to 10 years in prison. The news outlet reported that the Court's decision doesn't allow the state to bring charges against abortion providers, but opens up those who assist in providing the procedures to lawsuits and fines.
Texas also has a "trigger law" on its books after it was passed by the state's legislature last year that was designed to ban the procedure in the event that the 1973 landmark decision, which federally grants a woman's right to an abortion, was overturned. Roe was overturned by the U.S. Supreme Court late last month, however the state's trigger law isn't set to take effect for another two months, according to the Tribune.
Last week, Missouri became the first state to invoke a trigger law banning abortion in the wake of the U.S. Supreme Court's decision.
On Friday, Missouri Attorney General Eric Schmitt threatened to sue parts of his state—including St. Louis and Kansas City—if they use tax dollars to assist people in receiving abortions.
"Working families are struggling to pay for gas & food. They fork over their hard earned money in taxes & now St Louis & KC 'leaders' want to spend those hard earned tax dollars on abortions. No way. Any attempt to do so by cities or counties in Missouri will be met with a lawsuit," he tweeted.