Only months after a historic vote legalized abortion in Ireland, the country's health minister has said new legislation will make the procedure free for all women.
The May referendum was one of the most charged votes in the country's history. For a land traditionally conservative with huge influence from the Catholic Church, the landslide victory for legalization was a prime example of how liberal voters are increasingly making their mark on legislation.
The abortion referendum bill was signed Tuesday, September 18, by President Michael Higgins, and removed the controversial Eighth Amendment from law.
According to NPR, Health Minister Simon Harris told reporters Wednesday it was "an extraordinarily historic day." When asked how the country would handle medical expenses for abortions, he said, "Yes, it is my intention that the services will be free."
When the 19th-century Eighth Amendment law remained in force, thousands of women would travel to the U.K. to have abortions. More would order abortion pills that came from abroad online.
Though the number of Irish women traveling to the U.K. for an abortion have declined in recent years, Harris said that in 2016, 3,265 still made the journey—and that more had likely done the same in other European nations.
In England, Wales and Scotland, abortion is allowed at up to 24 weeks of pregnancy. In certain cases—for example, if a woman's life is at risk or the child would be born with severe disabilities—the procedure is allowed later.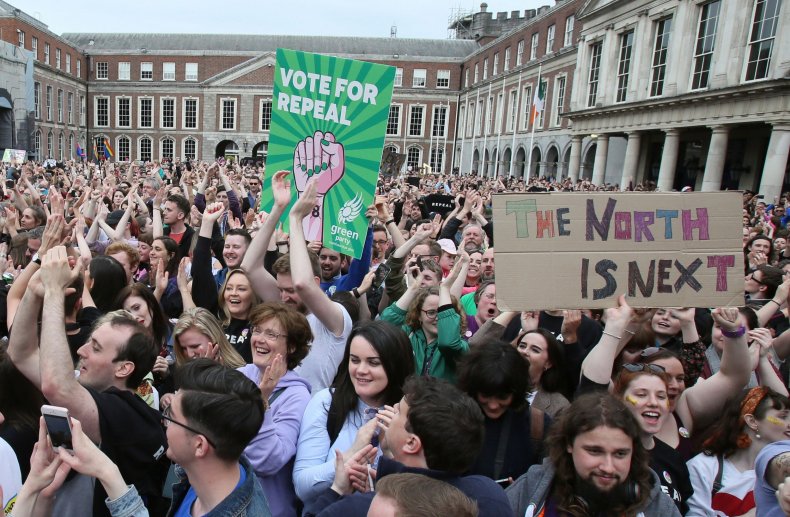 But tight restrictions remain in place in Northern Ireland, which is generally considered more socially conservative than the rest of the U.K. and able to decide its own laws due to devolution. The 1967 Abortion Act established legal abortion in the U.K., but never applied in Northern Ireland.
The parties in Stormont continued to resist calls from voters and the U.K. government to amend the abortion law.
Harris said that by removing the cost barrier, the practice—and the trauma it brings to the women involved—will be reduced. "I've said from the start that I don't want cost to be a barrier," he explained.
Harris continued: "If cost is a barrier, you get into a situation where one of two things could happen: You see private clinics develop—we don't want that to happen in Ireland, we want this to be part of an integrated public health service—and secondly, you can see people having to continue to travel."
With the near-total ban on abortion lifted, the health minister plans to submit new legislation to further ease restrictions. The draft bill would allow elective abortion at up to 12 weeks of pregnancy, and limit access out to 23 weeks, The Times reported.
The new legislation is expected to reach Parliament sometime in October and, if successful, could come into effect in early 2019.