What Is the Ireland Abortion Referendum? Constitutional Ban to Be Repealed After Landslide Win for Yes Campaign
Ireland has decided to repeal the eighth amendment of the constitution in a vote on Friday that called hundreds of expats home to participate in the historic referendum.
The referendum on repealing the eighth amendment, which equalled the right of life of a fetus to the right to life of the mother and effectively banned abortions, proved a more divisive issue than same-sex marriage, put to Irish voters in 2015. Few expected to repeat, much less to outdo, its landslide 62.1 percent result for yes. But as results of the abortion referendum were announced on Saturday afternoon, 66.4 percent supported the "yes" side, and only 33.6 percent of voters voted for "no," falling only slightly below exit polls that first suggested a 69 percent support for repealing the amendment.
Participation in the referendum was 64.13% of eligible voters, higher than the landmark popular vote held in the country in 2015 on marriage equality, which saw 60 percent participation.
Prime Minister Leo Varadkar, who last year became the first openly gay prime minister in Ireland and supported the "yes" side, praised the result. "What we've seen is the culmination of a quiet revolution that's been taking place in Ireland over the past 20 years," he said.
Some Irish expats went to great lengths to take part in the vote. Michelle Sweeney made a last-minute decision to dig in her savings account and book a ticket from Vancouver to Dublin.
"I didn't think I would be able to go home to vote with work and other commitments," she told Newsweek. "But the morning of May 22 I just closed my eyes and booked a flight home for that afternoon probably clearing out my savings account. 15 hours later I was home and I've been canvassing since," she added.
A video of Sweeney surprising her mother ("priceless," she wrote) was viewed more than 110,000 times on Twitter. She voted "yes."
"I love my country and from what I have experienced so does the rest of the world but I am ashamed of its past and how we have treated women," she said. She added: "I hope that when my visa expires in October, I can come back to a more compassionate and progressive Ireland."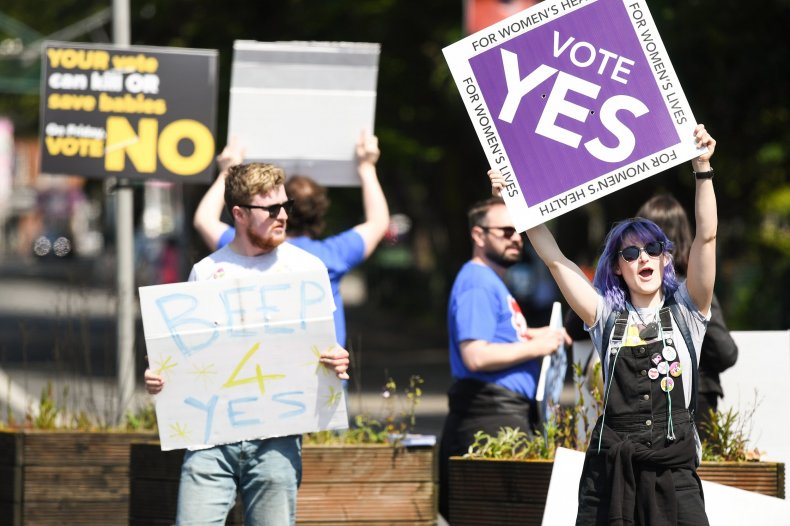 What is the Eighth Amendment?
The Eighth Amendment was introduced via popular vote in 1983 to protect "the right to life of the unborn," giving it equal status to the rights of the mother, effectively prohibiting abortion in all circumstances. At the time, the Irish General Attorney Peter Sutherland warned that the amendment was "ambiguous and unclear" and would lead to legal confusion.
Indeed, in the past 35 years the amendment has been the subject of a series of Supreme Court battles and a 1992 referendum in which voters agreed a woman could travel outside of Ireland to terminate a pregnancy and had a right to receive information about accessing abortion services abroad.
What did the referendum propose?
Repealing the eighth amendment gives give lawmakers the power to create laws regulating the termination of pregnancy. The amendment itself will be replaced with a clause stating that "Provision may be made by law for the regulation of termination of pregnancy."
What happens next?
The Irish government next plans to legislate for abortion-on-demand up to 12 weeks into the pregnancy. Between 12 and 24 weeks, abortion will only be allowed if the fetus is not likely to survive in any case, or if the woman's life or health are at serious risk. After 24 weeks, abortion will only be permitted if the fetus develops a fatal abnormality. Anti-abortion groups already used their concession statement on Saturday morning to vow to fight every practical legislation step in this plan.
The similarly stringent ban on abortion in Northern Ireland, a constituent part of the UK rather than the Republic of Ireland, remains in place, and pro-choice advocates have already marked it as their next target. "It must not be forgotten that us women in Northern Ireland are still persecuted by a Victorian-era abortion ban," Grainne Teggart, Northern Ireland Campaigns Manager for Amnesty International, said in a press release. "It's hypocritical, degrading and insulting to Northern Irish women that we are forced to travel for vital healthcare services but cannot access them at home.
"The UK Government can no longer turn a blind eye and deny us equality. We cannot be left behind in a corner of the UK and on the island of Ireland as second-class citizens."