Ireland Abortion Vote: Referendum on 'Right to Life' Is More Divisive Than Same-sex Marriage
The most restrictive abortion laws in Europe could be repealed on Friday, should a majority of Irish voters vote yes on the ballots of a referendum on the eighth amendment of their constitution.
The amendment protects the "right to life of the unborn," giving it equal status to the rights of the mother, and was introduced 35 years ago via a controversial referendum.
Since then, Ireland's eighth amendment has been the subject of a series of Supreme Court battles, a spin-off referendum in 1992 as well as being the reason why thousands of pregnant women and girls travel abroad every year—at least 10 every day, according to Amnesty International—to access abortion services in England that are banned with a maximum penalty of 14 years in prison in Ireland.
The question of repealing the amendment has already been discussed in the country's Citizens Assembly, a consultative body made up of 100 randomly selected citizens who are called to make recommendations on a series of issues affecting the country and its future. After five meetings held between 2016 and 2017, the assembly voted 64 percent in favor of having no restrictions in early pregnancy.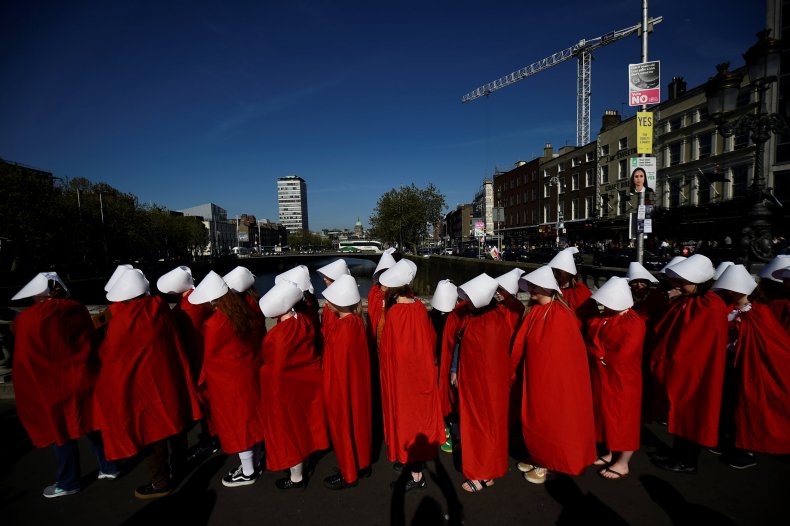 What Would Change
The question will now be posed to all Irish citizens. If they vote yes to repeal the eighth amendment, lawmakers will become empowered to create laws regulating the termination of pregnancy.
Under the current proposed bill, women will be able to have an abortion for any reason within 12 weeks of their pregnancy, provided a waiting time of 72 hours between a doctor certifying that the 12-week period hasn't elapsed and the procedure itself. Past that point, abortion will be available up to 24 weeks if at least two practitioners, including an obstetrician, find there is "a risk to the life of, or of serious harm to the health of, the pregnant woman."
Such a provision might have saved the life of Savita Halappanavar, who was denied an abortion in 2012 and was 17 weeks pregnant when she was died after suffering a miscarriage and septicemia. Her death became a turning point in the movement for a new vote on abortion laws.
A Divisive Issue
The referendum predictably divided the country. "It's a divisive issue, and it's hard to find a middle ground," Gail McElroy, professor in political science at Trinity College Dublin, told Newsweek. She explained, "We are going from very restrictive abortion laws to quite liberal ones."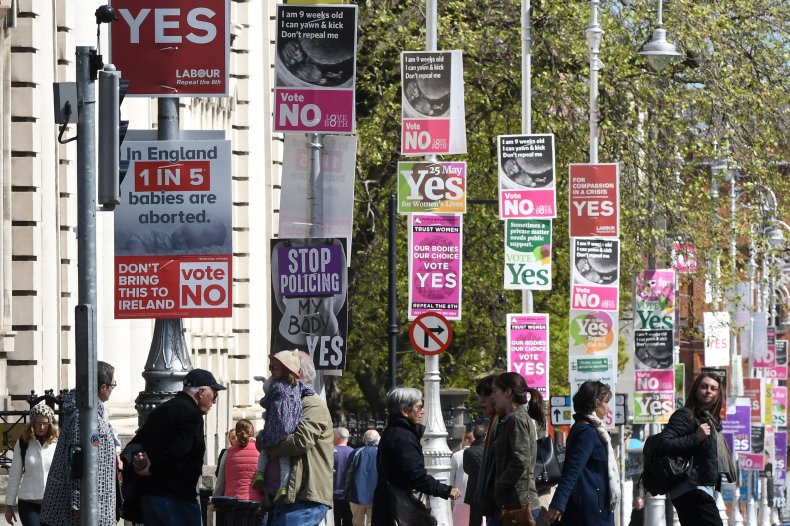 Ireland isn't new to making radical changes via referendum. In 2015, around 2 to 1 voters backed same-sex marriage in a landslide vote. The health minister at the time, Leo Varadkar, celebrated the referendum result as a "social revolution"—he has since become the country's first openly gay prime minister.
The result in favor of marriage equality was seen as a clear sign of the fading influence of the Roman Catholic Church on the deeply religious country. But Friday's referendum is unlikely to present a similar landslide result.
A Sunday Business Post/Red C poll that surveyed voters between May 10 and May 16 quoted in Reuters found that 56 percent of them would vote yes, an increase of 3 points compared to the previous month, while support for no grew by 1 point, standing at 27 percent. Fourteen percent were still undecided.
"It won't be anything like the 65 percent of marriage equality," Elroy said. While in countries like the U.S. support for abortion rights is usually correlated to support for LGBT issues, this isn't the case for the Emerald island. "In Ireland, there is something in the Irish psyche about abortion and represents that kind of religiosity and cultural historical influence of the Irish Catholic Church," Elroy said.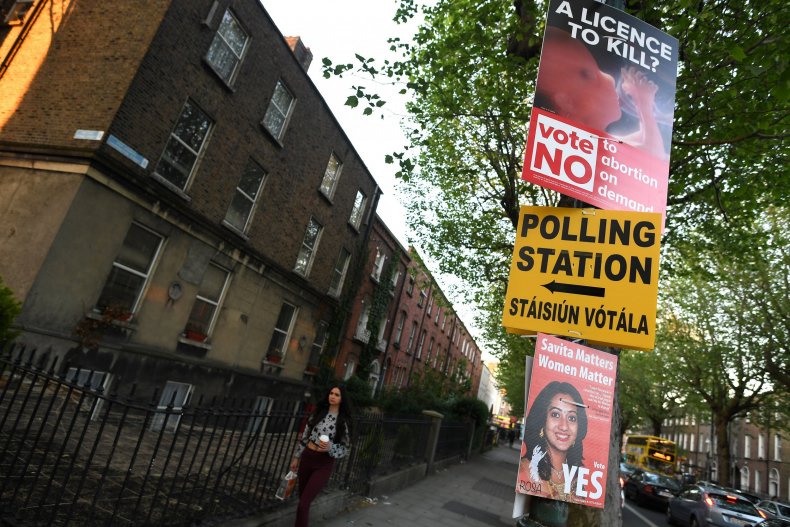 Jane Gray, professor in sociology at National University of Ireland, Maynooth, agreed that the marriage equality result is unlikely to be replicated on Friday.
"[The referendum on marriage equality] was about including people that had been previously excluded from the understanding of the family into a broader, more inclusive understanding," she told Newsweek. "In many ways, it was consistent with Irish people's family views and practices."
The Reasons for Yes and for No
According to Gray, the vote won't depend as much on what the church will tell families, as its influence has been decreasing in the past few decades. "People still have faith, and many people are active in the church, but there is a shift toward people feeling that this is something they'll make their own minds rather than being dictated to," she said.
Voters' decisions on the referendum can be the result of deeply personal experiences. Mary Kenny, an anti-abortion campaigner from Limerick, became pregnant at 19 years' old and had no doubt she wanted an abortion because she never wanted to have children. But her passport had expired, so she could not travel to England, and the abortion pills she ordered online never arrived.
Not knowing what to do, she confided with a colleague. "She actually touched my stomach and she said, 'You have a human life growing inside you,' and then she said, 'You can do this, you will be fine,'" Kenny recalled.
Her view changed completely, and she no longer believes it is a matter of choice. "What is the choice?" she said, "It's intentionally killing the right of a child, or a baby, or a fetus. However you want to call it, you're ending a life."
Kenny, whose baby Hollie was born in 2013, wants to retain the eighth amendment. The vote is a Catch-22 for her. "It's so sad we are having a referendum to write out the right to life out of our constitution. At the same time I am happy we have a voice in it," she said.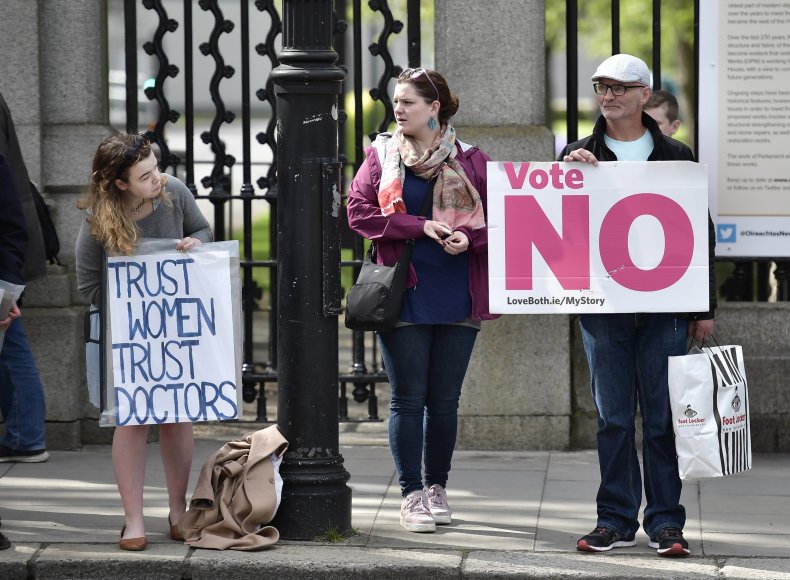 Other women had different experiences, as testimonies collected by the Together for Yes campaign showed.
Some women (names have been changed for privacy), like Siobhán and Catherine, already had several children and were using contraception but had a crisis pregnancy. Nicola was instead 15 when she traveled to England in 1992 to get an abortion. She is now a 41-year-old mother of two and she said, "I have always been happy with the decision, and I have never regretted it."
The British Department of Health's statistics on abortions in England and Wales in 2016 also show that, while the majority of women getting abortions in the country are 21 to 22 years old, abortion rates for women under 25, and particularly for teenagers, have been declining. The biggest increases are recorded for women age 30 and above.
A big focus of the Yes campaign is also on the women who have had to travel to England to get an abortion because the fetus presented anomalies.
Siobhan Donohue, a Dublin-based doctor who shared the story of her emotionally devastating journey to England with the Together for Yes campaign, was told that her pregnancy would last only about 20 weeks and decided she couldn't continue knowing the baby would not survive.
She is now advocating to repeal the eighth. "I think I would have been able to cope so much better if I could have done this is in my own country and be shown the care and compassion the eighth amendment does not allow for," she said.