'Absolutely Surreal': Kendrick Lamar Used This Man's Post To Announce Album
Kendrick Lamar announced he's returning to music by responding to a fan on social media.
In February, a fan took to Twitter to write, "Kendrick Lamar is officially retired," only to get a response two months later from Lamar's official Twitter account tweeting a link to his website, oklama.com.
Lamar announced his highly anticipated fifth studio album, Mr. Morale & The Big Steppers, out May 13.
"All factual information for this release will come directly from this source only," stated at the bottom of the press release. At the bottom, it reads "Appreciate your patience."
"NO WAY KENDRICK LAMAR ANNOUNCED HIS ALBUM USING MY TWEET WTFFFF," Twitter user SK exclaimed—receiving over 150,000 likes and 7,000 retweets.
"KENDRICK LAMAR KNOWS I EXIST WHAT," he added.
He also joked, "i brought Kendrick Lamar out of retirement."
SK told Newsweek how it feels to be noticed by a major music artist.
"It's absolutely surreal. He's one of my idols and to see my tweet be the one he used was just unbelievable," he said.
His first tweet about Kendrick's retirement was geared towards his one performance of the year so far.
"I said it as a joke after the superbowl since he didn't announce anything after he set," SK laughed.
Lamar performed at this year's game with other memorable acts including Snoop Dogg, Mary J. Blige, Eminem, Dr. Dre and other guests.
Newsweek asked who SK wanted to see collab with Lamar on the album, "Isaiah Rashad, Thundercat and Anderson Paak."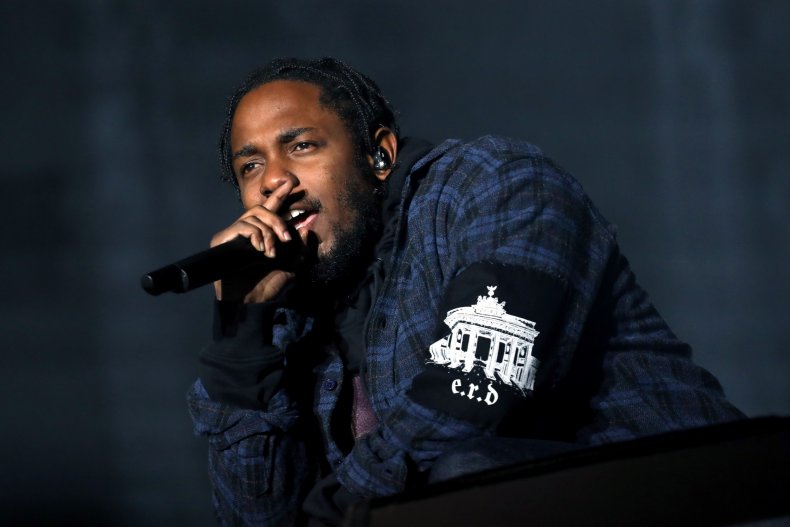 Lamar's previous album, DAMN.—featuring collaborations from Rihanna and U2—has won many awards including a Pulitzer Prize for Music in 2018. "HUMBLE." went No. 1 on the Billboard Hot 100 chart in 2017 while the music video has over 800 million views.
DAMN. also spent four weeks at No. 1 on the Billboard 200 chart. Lamar has 39 total Grammy nominations. At the 60th Grammy awards, DAMN. took home Best Rap Album, along with "HUMBLE." and "LOYALTY." also winning major awards.
Many fans have expressed their excitement all over social media.
"I JUST FELL TO MY FEET IN WALMART OMGG," a fan commented under the announcement posted to Instagram.
"Thank you for coming back we missed you," said another.
Another fan couldn't believe it, "WAIT WAIT WAIT WAIT IT'S HAPPENING?????"
"IM FREAKING OUT WHAT THE F**K," exclaimed a fan.
"ABOUT DAMN TIME," another user said.
"When you see that notification that says Kendrick Lamar just posted, you gotta stop everything you doing lol," one Instagram user said.