Did Rihanna Just Inadvertently Share Her Child's Gender in New Pics?
Rihanna may have revealed the gender of her baby while shopping for clothes in recent pictures.
In an outing at Target, the businesswoman and singer was spotted walking around Target, looking through baby clothes. Wearing a blue sweatshirt with the words "Living the dream" on the front, she sorts through the clothes on the shelves and put an orange dress in her cart. Has she possibly hinted that she is expecting a baby girl?
In January, Rihanna announced that she was expecting her first child with rapper A$AP Rocky. "how the gang pulled up to black history month," she quoted sharing a picture of her admiring her growing belly on Instagram. She has received over 18 million likes since it was published. Rihanna currently has 123 million followers on the social media platform.
In the couple's first appearance where Rihanna announced she was pregnant, her outing with Rocky was photographed of the 33-year-old Fenty Beauty owner strutting in a pink jacket while showing off her new baby bump. Since then, Rihanna has walked red carpets and attended events wearing stunning outfits that showed off her baby bump.
In a viral TikTok—viewed over 1.2 million times and has 142K likes—user @jessthereporter explains the pictures further into detail, "Imagine walking through Target and seeing this amazing woman."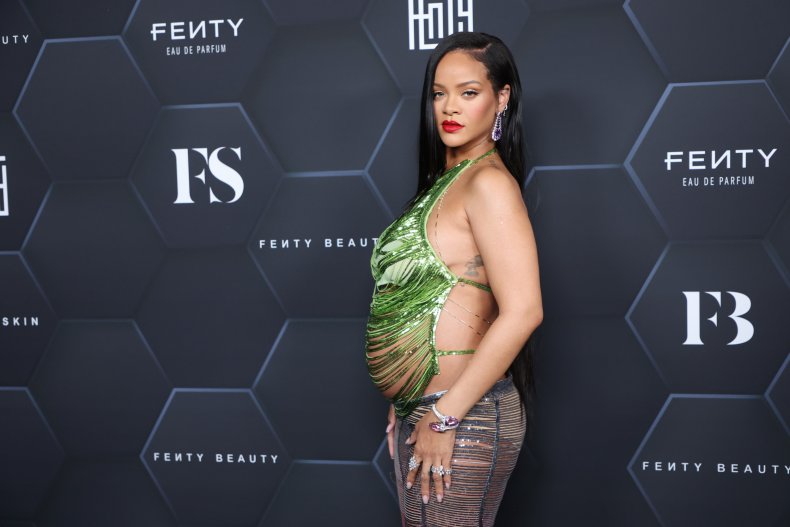 Fans were quick to comment about the recent pictures that stirred debate. Some even thought of other reasons why she was buying baby clothes,
"Now hear me out....what if she's shopping for someone else? Like another friend that's pregnant? Something that came to mind," a user said.
"Imagine not being to have any privacy. Like just going to the store and there someone taking pictures and seeing it on the news," one TikTok user wrote, receiving 11,700 likes on their comment.
"I feel like we knew this already, she wore a pink jacket in the photoshoot where she announced her pregnancy," another user commented.
"These are staged 100% lol, she's trying to announce it without announcing it," one fan thought.
"Imagine she knew there people taking pics of her and she's fooling everyone," another one laughed at the possibility.
"i'm no pretty sure she did it in purpose," a fan noticed, "cause ri would have wore her mask."
"She doesn't care! She's living a normal life just like us," one user pointed out.
"maybe she doesn't care what her kid wears could be a boy in a pink tutu," a user explained.
"I love that she shops at target," one fan joked.
Newsweek reached out to Rihanna's team for comment.