Activist Threatens LGBT+ Allies During Pride: You're Not Safe
An activist has threatened to "hunt" allies of the LGBT+ community during Pride Month, including inside Target stores in Arizona.
Ethan Schmidt made the remarks in a video he recorded that was shared by Patriot Takes, a group that says it monitors and exposes right-wing extremism, on Twitter at the weekend.
In the clip, Schmidt said he plans on "exposing" what he called "Satanic Pride shrines for children" in Target stores.
"Guys, this June, me, my boy Kyle, you know, we're going to be exposing Target. So, you know, Target, you might as well perma-ban me forever across all your stores in the United States," Schmidt said.
"Because if you don't, we're gonna be coming to every single one and we're going to be exposing every single Pride... what's it called, Pride shrine, Satanic Pride shrines, for children. We're going to be exposing every single one."
He also said he plans to harass managers and employees inside Target stores.
"We're going to be pressing all the managers at every single Target," Schmidt said. "We're going to find and expose all the LGBT supporters at... all the employees that support it, we're gonna be exposing them. We're going to make massive scenes in every single Target across Phoenix, Arizona, and we're not going to let corporate poison the children.
"So Target, we're giving you a heads up that we're going to be coming after you hard... This is going to be next-level stuff."
The video shows Schmidt riding in a car driven by Kyle Clifton, who turns to the camera and says: "Christ wins. LGBT loses." Clifton is a leader in the Arizona groyper movement, The Arizona Mirror has reported.
In the video, Schmidt goes on to say that he likes to "hunt LGBT supporters" in his free time.
"That's one of my favorite pastimes," he says. "We're going to be going on hunting expeditions pretty soon… hunting LGBT supporters across Arizona and Phoenix. So you know, keep an eye out for that because you're not safe. If you support the LGBT agenda, you're not safe. Right, Kyle?"
Clifton agrees, adding: "Ethan finds you. Ethan finds everyone."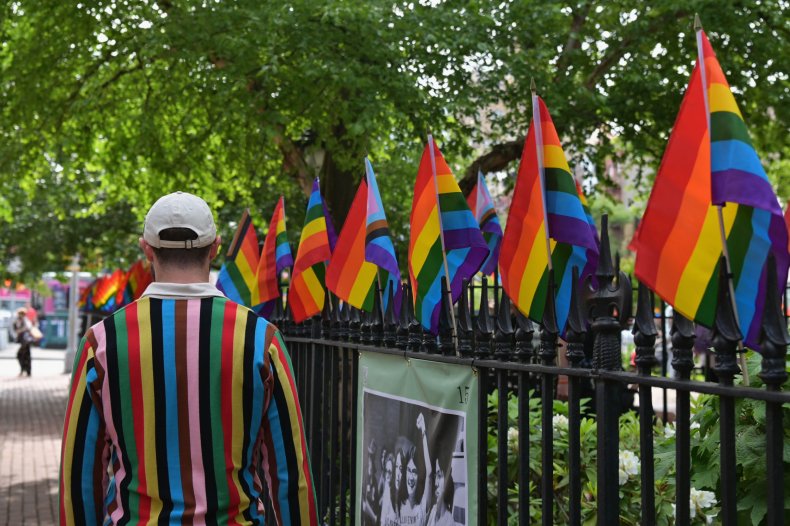 Schmidt has previously made threats against the LGBT community and its supporters, and complained about displays inside stores.
Earlier this year, Schmidt filmed himself complaining about a Black History Month display inside a Five Below store. "This is like, very disturbing to me... like, the Black History and then the LGBT stuff," he says to a store employee seen folding clothes in the video.
Schmidt, who has had his social media accounts banned numerous times, has also become known for filming videos that show him harassing people for wearing masks and getting vaccinated during the COVID-19 pandemic.
Last summer, a video of a maskless Schmidt harassing and threatening workers at a store that specializes in wigs for cancer patients went viral.
Target has been contacted for comment. Schmidt could not immediately be reached for comment.