A video showing a white man complaining to a store employee about a Black History Month display has gone viral on social media.
Arizona-based Ethan Schmidt, who is known for sharing videos online of himself harassing people for wearing masks or getting vaccinated against COVID-19, shared the video taken inside a Five Below store on his Instagram page this week.
The clip has amassed more than 50,000 views since it was posted on Twitter by Patriot Takes, a group that says its mission is to "expose the far-right disinformation machine."
"This is like, very disturbing to me... like, the Black History and then the LGBT stuff," Schmidt says to a store employee folding clothes in the video.
"It's really disturbing to me. Like, why don't they have like white history month and like, why don't they celebrate straight pride? You know? Why aren't they more inclusive?"
The employee tells him: "I don't have nay answers for you. I'm sorry."
But Schmidt continues: "I feel discriminated against, you know? Is there like a... how can I complain the corporate about this?"
The employee tells him she can provide a phone number, but can't do anything at the store.
"Okay, thank you," Schmidt replies. Then, he turns and zooms into a display before turning the camera around to his face. "It's disturbing man," he says. "Where's white history month and straight pride?"
"It's 'distrubing' that you would even ask this," one Twitter user wrote in response to the video, referencing Schmidt's misspelling in text on the video. "'White history month' is January through December."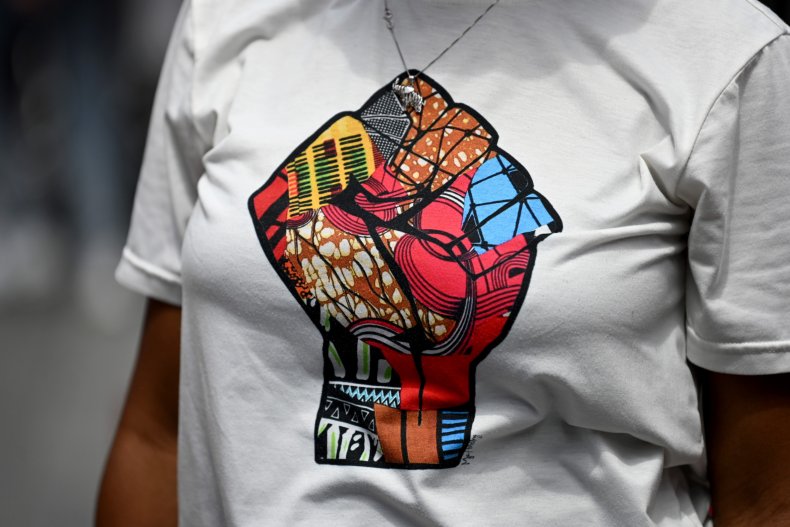 Schmidt, the self-proclaimed founder of "the AntiMaskersClub," is a supporter of Arizona gubernatorial candidate Kari Lake, who posed for a picture and video with him last year. "When confronted Kari Lake has refused to denounce Ethan Schmidt," Patriot Takes said in a tweet.
Schmidt, Lake and Five Below have been contacted for comment.
Schmidt regularly posts videos showing him harassing people for wearing masks and getting vaccinated during the pandemic.
He made headlines last month after he withdrew his previously ardent support for Donald Trump and dubbed the former president a "dumb boomer" because of his promotion of COVID-19 vaccines.
"The CLUB & Affiliates no longer support President Donald Trump; for HIS SUPPORT of the Big Pharma & it's CONV-VID 2019 vaccine," Schmidt wrote in a statement posted to the Anti-Masker's Club channel on Telegram.
"Hereafter/Anyone that goes to/supports/promotes Trump by attending rallies (unless to protest) after his support for the vaccine should be questioned and brain cells should be counted."
In a recent video, he called two people who said they had gotten the vaccine "traitors" and described the jab as the "mark of the beast."
Last summer, a video of a maskless Schmidt harassing and threatening workers at a store that specializes in wigs for cancer patients went viral.
Schmidt claimed to be a victim of discrimination after workers at Sunny's Hair and Wigs in Mesa, Arizona, told him to put on a mask or leave the store.