Activists Ask Olympians to Protest at 'Genocide Games,' Despite China Warning
Despite Beijing officials warning athletes against violating the Olympic spirit of Chinese rules, a human rights group is urging athletes to speak out against what they are calling "the genocide games."
During an online press conference, the Human Rights Watch expressed its opposition against China hosting the 2022 Winter Olympics, which will begin next week, according to the Associated Press. "The 2022 Winter Olympics will be remembered as the genocide games," said Teng Biao, a former human rights activist in China and a visiting professor at the University of Chicago.
Although human rights activists have failed to achieve a complete boycott, they continue to speak out. "I personally believe that you should use your platform and your privilege and this historic opportunity. You have to speak out against the wave of genocide," said Lhadon Tethong, director of the Tibet Action Institute.
Several countries announced a diplomatic boycott of the games in response to China's crimes against the Uyghurs and other Muslim minority groups.
In December, the Uyghur Tribunal found China guilty of genocide against the Uyghur people. Newsweek previously reported that documents show Chinese officials employing forced sterilization and birth control systems on the Uyghur people, as well as other offenses, including rape, torture and placing them into detention centers.
Reuters previously reported athletes have been warned against violating Rule 50 of the Olympic Charter, which states "no kind of demonstration or political, religious or racial propaganda is permitted in any Olympic sites."
Yang Shu, deputy director general of Beijing 2022's International Relations Department, said people whose behaviors go against the Olympic spirit and Chinese law are subject to punishments.
Speaking to CNN Sport, Noah Hoffman, a former Olympic cross-country skier, said he was concerned for the safety of athletes who may speak out against human rights issues during the Winter Olympics.
"Athletes have been warned by the organizing committee that if they violate the laws of China, they will be punished," Hoffman said to CNN. "But the laws of China, when it comes to speech, are extremely opaque. It's not clear at all what kind of speech might be deemed illegal."
Hoffman references Peng Shuai, who alleged she was sexually assaulted by a former Chinese government official in November. Peng's video was pulled down 30 minutes after it was posted. She later retracted her statement.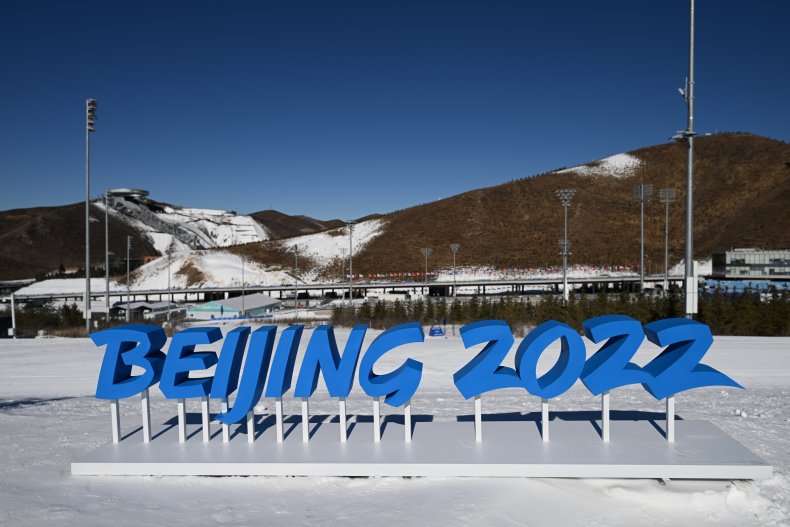 Global Athlete released a statement earlier this month condemning the International Olympic Committee for failing to protect athletes "forcing athletes into a political fight over human rights, and for suppressing athletes' freedom of expression."
This growing concern comes after several countries, including the United States, Canada and the Netherlands, urged their athletes against bringing their cellphones to the games. Instead, Team USA encourages athletes to get burner phones and disposable computers.
This decision follows the release of Citizen Lab's report that found security flaws in the app MY2022, which all event attendees are required to use.
Newsweek previously reported that the app collects data, and has a feature allowing users to report "politically sensitive" content and has a list of censored keywords.
Despite China's Foreign Ministry saying the games should not be politicized, the U.S., Australia, Canada and Great Britain announced they would not send officials to the Olympics.