Activists Dressed As Handmaids Protest Amy Coney Barrett Nomination Outside Supreme Court
On Thursday, four female protesters dressed as red-caped characters from the dystopian feminist fiction The Handmaid's Tale demonstrated on the steps of the U.S. Supreme Court in opposition to the nomination of Amy Coney Barrett to the nation's highest court.
The protesters sought to highlight the nominee's anti-abortion stances by imitating characters from Margaret Atwood's 1985 novel and its 2017 TV series adaptation. In The Handmaid's Tale, the U.S. has become an ultra-Christian theocracy where women are treated as men's property and forced to give birth against their wills.
Soon after Barrett was named as Republican President Donald Trump's nominee to replace recently deceased Justice Ruth Bader Ginsburg on the Supreme Court, various reproductive rights groups, such as Planned Parenthood and Emily's List—a political action committee that supports pro-choice Democratic female candidates—began highlighting how Barrett could potentially roll back women's reproductive rights and other abortion access provided in the Affordable Care Act and elsewhere.
Barrett's confirmation would create a 6-to-3 conservative majority on the court, enough to possibly overturn the landmark 1973 abortion decision Roe v. Wade.
Her judicial record on reproductive rights and health care has heightened concerns of possible bias against reproductive freedom. As an appeals court judge, Barrett previously ruled that laws are constitutionally allowed to restrict the abortion procedures.
Barrett has also called the Affordable Care Act's birth control mandate a "grave violation of religious freedom" since it requires religious employers to pay for medical insurance coverage for prophylactics even though they may violate their religious beliefs.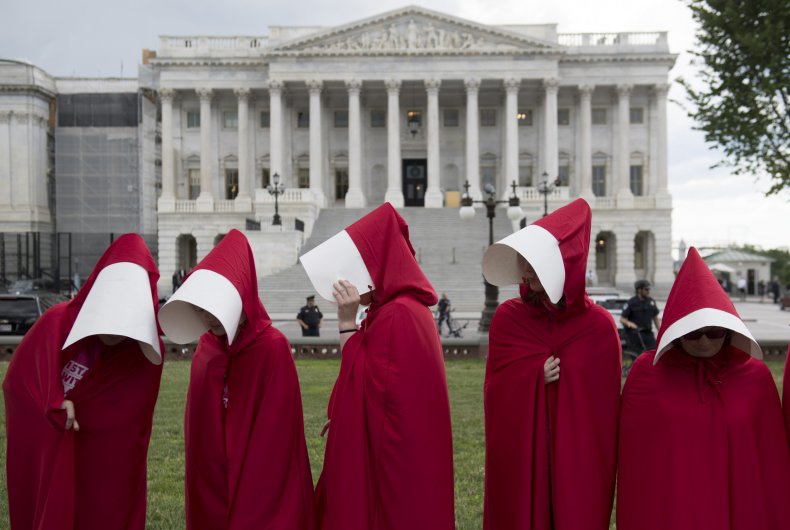 While working as a law professor at the University of Notre Dame, Barrett was a member of the anti-abortion group Faculty for Life.
When speaking in 2016 about possible future high court rulings against Roe v. Wade, Barrett said, "I don't think the core case, Roe's core holding that, you know, women have a right to an abortion, I don't think would change. But I think the question of whether people can get very late-term abortions, how many restrictions can be put on clinics, I think that would change."
However, during a 2013 speech at the university, Barrett said if Roe v. Wade was ever overturned, "Abortion would be neither legal nor illegal throughout the United States," adding, "The states and Congress would be free to ban, protect or regulate abortion as they saw fit."
Atwood herself has said that The Handmaid's Tale was inspired by a Christian religious group that teaches that men have authority over their wives. Barrett belongs to such a group, the People of Praise.
Members of the People of Praise are assigned personal advisers of the same sex—called a "head" for men and "handmaid" for women. However, the recent popularity of Atwood's novel and its TV adaptation compelled the group to change the title of its female advisors.
Newsweek contacted People of Praise for comment.