50 Actors You Didn't Know Were Cut Out of Iconic Movies
It is many an actor's worst nightmare: You get a role in a huge film, build a character and give a performance, only for the whole thing to be cut out of the film when it makes it to cinemas. This, however, has actually happened to many of the biggest movie stars in the world, and on some of the biggest movies of all time. Here are some of the stars who found themselves excised from movies like ET, Ferris Bueller's Day Off and Apocalypse Now.
50 actors you didn't know were cut out of iconic movies
Christian Bale from Song to Song
Director Terrence Malick is infamous for cutting famous actors from his movies with seeming glee. Among his most recent victims is the Oscar-winning Christian Bale, whose small role in the film was taken out along with performances from Fleet Foxes and Arcade Fire.
Angela Bassett from Mr. and Mrs. Smith
Mr. and Mrs. Smith became notorious among celebrity gossip fans for being the film where Brad Pitt and Angelina Jolie met. With their simmering sexual tension making headlines across the world, the film became ever more focused on them, meaning there was no room for Bassett playing Pitt's boss—though her voice can briefly be heard.
Thora Birch from Election
The Ghost World and Hocus Pocus star was the original actor playing the third party candidate who rocks the race in the Reese Witherspoon-starring satire, but the 14-year-old left part of the way through filming due to creative differences. She said of this to The Guardian: "I read the script one way and it became clear that [Payne] had seen something else, so that was it. I just thought, this is ridiculous: why is it written this way?"
Jessica Chastain from To The Wonder
Another Oscar nominee to be cut out of a Malick movie was Jessica Chastain, who reunited with the director after starring in his comeback film The Tree of Life. On Facebook, she explained: "Just as I suspected, my small role has not made it into the final version. But I really didn't imagine it would."
Chris Cooper from The Ring
A few years after his Oscar-winning turn in Adaptation, Cooper's role in the American remake of the J-horror classic fared less well. Speaking to Sci-Fi Wire about this, he said: "I opened the movie and closed the movie. It was two scenes, and I was a serial rapist or a murderer who deserved everything that was coming to him...What I hear is when they ran the screenings, it was more a disruption than anything. They said, 'Well, where's Cooper? We want to see more of him.' So they cut it all."
Kevin Costner from The Big Chill
The Big Chill, the second movie from The Empire Strikes Back and Raiders of the Lost Ark screenwriter Lawrence Kasdan, focusing on a group of friends who meet years after their friend died by suicide. That friend was originally played by Kevin Costner in an early role, though all scenes featuring his face were cut.
Matt Damon from Ocean's 8
Ocean's 8 was originally tied much closer to the original Ocean's trilogy, with appearances from Carl Reiner and Matt Damon as their characters from those films, but these ended up on the cutting room floor.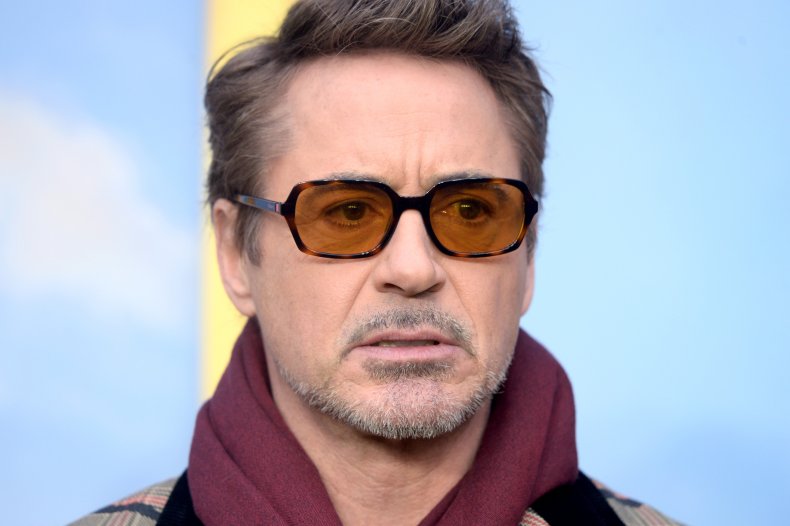 Robert Downey Jr. from Gravity
George Clooney's role as Sandra Bullock's co-pilot in Gravity was originally played by Iron Man himself, but he was replaced midway through shooting. Director Alfonso Cuaron said of this to HuffPost: "[It] was very clear that the technology we were going to use... was not the most compatible thing for what Robert is the best at...That is, he takes one scene and he just starts riffing. And because of the technology that we use, it's pretty much limited."
Downey Jr., in contrast, told Howard Stern: "I went to do a test with a new sort of multi-spherical camera thing they were [using] for how they were going to do all the CGI. And I'm one of those guys who can be comfortably uncomfortable pretty easily, and maybe I was just on my cycle or something, but I went in the morning to do that, and we did it for about twenty minutes, and I said, 'This is crazy. How much longer?' And they said, 'It's like another two to four hours,' and I said, 'No, it isn't!'"
Colin Firth from Paddington
Ben Whishaw ended up providing the voice of the beloved pair in his recent film franchise, but it wasn't always the case. Colin Firth completed voiceover work on the movie, but then released a statement saying: "It's been bittersweet to see this delightful creature take shape and come to the sad realization that he simply doesn't have my voice."
Lara Flynn Boyle from Ferris Bueller's Day Off
Lara Flynn Boyle gained fans across the world for her work on Twin Peaks, but her breakthrough could have been much earlier. She filmed a small scene for the John Hughes classic at 16 but didn't make the final movie.
Harrison Ford from ET: The Extra-Terrestrial
After appearing in Spielberg's Raiders of the Lost Ark, Ford agreed to film a cameo as Elliot's school principal in its follow-up ET, whose screenwriter Ford was dating at the time, but it was eventually cut because it was thought to be distracting.
Judy Garland from Valley of the Dolls
Judy Garland's casting in the adaptation of the bestselling '60s book was big news at the time, but it seems that erratic behavior and drink and drug issues saw her being replaced in her scenes by Susan Heyward. A costume test, however, exists for the film, as does a song she recorded for the soundtrack.
Andy Garcia from Dangerous Minds
Dangerous Minds sees Michelle Pfeiffer play a Marine who becomes a school teacher. Andy Garcia shot scenes as her love interest, but eventually, his role was completely removed from the finished film.
Ricky Gervais from The Muppets
The 2011 Muppets movie saw many stars turn up in cameos alongside Kermit and co, but not every one of these made it to the end film. Gervais, who would end up with a big role in sequel Muppets Most Wanted, was cut, as were Billy Crystal, Rob Corddry, and Danny Trejo.
Gary Glitter from Spice World: The Movie
Spice World: The Movie assembles one of the strangest casts ever, with everyone from Meat Loaf to Elton John turning up. An original cut of the film saw the girls perform alongside glam rocker Gary Glitter, but the scene was wisely removed after numerous sex offenses Glitter was involved in emerged.
Dennis Hopper from The Truman Show
Running the titular Truman Show is Christof, the malevolent TV exec played by Ed Harris in the final movie. Dennis Hopper, however, filmed a number of scenes for the role only to be let go due to not being able to remember his lines.
Ashley Judd from Natural Born Killers
Natural Born Killers became one of the decade's most controversial films for its hyper-stylized portrayal of violent serial killers. It could, however, have been even more violent if a courtroom scene in which Woody Harrelson stabs Judd in the heart was kept in.
Harvey Keitel from Eyes Wide Shut
One-time Scorsese muse Harvey Keitel filmed a number of scenes as the mysterious Victor Ziegler, the role that would eventually go to Sydney Pollack after Keitel had fallen out with Kubrick over his demanding directing style.
Harvey Keitel from Apocalypse Now
Eyes Wide Shut was not the only time that Keitel had his role recast. He was the original actor to play Willard but was fired after director Francis Ford Coppola did not like his portrayal. Seeing as Martin Sheen had a heart attack while filming the character after Keitel was replaced, he is probably glad he left.
Recently, however, editor Walter Murch has revealed that Keitel is briefly in the film. He told Yahoo!: "If you look at the shot, it's from a helicopter looking at the boat as it's taking off from the dock at the beginning of the trip. The boat leaves the dock and circles and heads out in the ocean. The person sitting on the front of the boat is Harvey Keitel. It's such a long shot you can't tell, but he is in the film!"
Nicole Kidman from Panic Room
Another mid-shooting replacement, Nicole Kidman was the original actor in the Jodie Foster part, only to have to drop out after exacerbating a knee injury she sustained on the set of Moulin Rouge.
Mick Jagger from Fitzcarraldo
Mick Jagger has had a small but significant number of film roles in movies like Performance, but he nearly appeared in one of the all-time greats of world cinema. In Werner Herzog's movie about a man moving an opera house through the jungle, the Rolling Stone originally had the role of an assistant, and his scenes can be seen in Herzog's documentary My Best Fiend.
Jagger left the film after shooting overran and he had to go on tour—and after the original Fitzcarraldo Jason Robards got dysentery and had to drop out. Herzog, however, still had kind words for the actor, calling him, "a great actor, and nobody has seen that."
Jennifer Jason Leigh from Eyes Wide Shut
Keitel was not the only person to be cut out of Kubrick's last film. Jennifer Jason Leigh played one of the women who tries to seduce Tom Cruise, only for her to be cut out after she had to leave the mammoth shoot to film David Cronenburg's Existenz.
Katherine Langford from Avengers: Endgame
Katherine Langford may have found fame in 13 Reasons Why, but there was one reason why she was cut out of Endgame: Test audiences, who did not like her scenes as the grown up version of Tony Stark's daughter.
Christopher Lee from Lord of the Rings: The Return of the King
Christopher Lee's IMDB may have over 280 credits, but it could have been one more had his scenes as Saruman not been cut from the third Lord of the Rings movie. The movie was meant to start with his character, but Jackson said he felt the film got off "to an uncertain beginning" (per Ain't It Cool News) with the scenes so he took them out—a move that led Lee to skip the premiere in protest. The footage, however, was put back in for the DVD version.
James Marsden - Once Upon a Time in Hollywood
Once Upon a Time in Hollywood is full of modern-day actors playing Hollywood stars of yesteryear, but it could have had one more. Westworld's James Marsden shot scenes as Burt Reynolds (Reynolds himself was also meant to star in the film but died before he could), but ended up cut.
Rik Mayall from Harry Potter and The Sorcerer's Stone
One of the most notable cuts from the Harry Potter books into the films was the character of Peeves the poltergeist. In fact, the character was originally meant to be in the first film, with Drop Dead Fred star Rik Mayall playing him.
He later said of this in an interview: "I went home, and I got the money—significant. Then a month later they said 'Rik, sorry about this, you're not in the film.' But I still got the money...with respect...no, with no respect at all...the film was s***."
Tobey Maguire from Empire Records
Before he found fame as the films' first Peter Parker (one who is rumored to be returning for Spider-Man 3), Tobey Maguire was due to have a breakout role in cult '90s movie Empire Records. He was due to play a character called Andre, but per a Buzzfeed piece about the film: "Maguire showed up, felt aimless, may or may not have consumed a psychotropic drug, and somehow ended up in the basement of [director Alan] Moyle's beach house eating a giant bowl of cereal. Moyle found him there, they talked for several hours, Maguire asked to go back to Hollywood to figure his life out."
Tobey Maguire from Life of Pi
Even after playing Spider-Man, the actor was not immune to having his scenes deleted. Ironically, this time, he was cut out of Life of Pi for being too famous. Director Ang Lee, who worked with Maguire on 1997's The Ice Storm, said in a USA Today interview: "I love Tobey. But it's a small part, so when it's a movie star sitting there, it captures attention. It didn't really work out."
Michelle Monaghan from Constantine
2005 was an unfortunate year for Mission Impossible star Michelle Monaghan, which saw her being cut from both George Clooney movie Syriana and Keanu Reeves' Constantine, where she was due to play his love interest.
Viggo Mortensen from The Purple Rose of Cairo
Early in his career, Mortensen was brought on set by Woody Allen to improvise a scene in one of his finest films, The Purple Rose of Cairo, only for his scenes to not appear in the film. Speaking to ABC News, the actor said: "And of course the movie comes out the next fall or whatever, and I told my family, 'Friday.' And I'm not in it. I'm not in the credit, nothing."
However, Mortensen eventually got some karmic retribution when he took a role another actor had been cut out of—he took his defining role of Aragorn in Lord of the Rings after original actor Stuart Townsend was thought to be too young-looking.
The Purple Rose of Cairo also saw Michael Keaton get cut out, with his scenes replaced by those starring Jeff Daniels.
Samantha Morton from Her
Scarlett Johansson's work as the Siri-like software was so acclaimed that critics were briefly demanding for a voice acting Oscar to credit her work. She, however, was a very late addition to the film, with Minority Report star Samantha Morton the original voice of Samantha. "It feels like I created a painting and then put it in the attic, and nobody's seen it—but it's fine because I know it's there," Morton said of this in a Vanity Fair interview.
Ellen Pompeo from Eternal Sunshine of the Spotless Mind
Ellen Pompeo has long been one of the highest-paid actors on TV for her work on Grey's Anatomy. Things, however, could have been very different had her role in the Oscar-wnning mind-bender remained. She shot scenes as one of Jim Carrey's character's other love interests, but this was cut in order to focus more on his romance with the character played by Kate Winslet.
Natalie Portman from Romeo + Juliet
In Romeo and Juliet by Shakespeare, both lovers are 13, and the original casting of the movie reflected this by including the 13-year-old Portman. Perhaps thankfully, however, she was replaced by Claire Danes after crew thought scenes of her kissing the 21-year-old were creepy. Or, as Portman put it in a New York Times interview: "Fox said it looked like Leonardo DiCaprio was molesting me when we kissed."
Princes William and Harry from Star Wars: The Last Jedi
Not even the Royal Family are immune from ending up on the cutting room floor. The pair joined actors like Daniel Craig in filming cameos as stormtroopers, filming a scene in which one of them slapped Benecio del Toro's DJ on the backside. This, however, was cut as the pair were too tall at 6'1" and 6'2" respectively to play stormtroopers, most of which are 5'11".
John Boyega said of this on U.K. daytime talk show This Morning: "I did personally apologize to them [the Princes] yesterday and said, 'Sorry you were cut out of the film.' And Will was like, 'I probably just need to work more on the skills.' I was like, 'Maybe, bruv.'"
Bill Pullman from The Thin Red Line
The Thin Red Line is as famous for those who didn't make the cut as those who did. While George Clooney, John Travolta and Sean Penn made it to screen, Bill Pullman was one of the many who did not.
James Purefoy from V for Vendetta
Rome and Altered Carbon actor James Purefoy filmed six weeks as the Guy Fawkes mask-wearing terrorist before being replaced by Hugo Weaving. Technically, his body does feature in a number of scenes, though he is always masked, uncredited and his voiced is over-dubbed.
Mickey Rourke from The Thin Red Line
Rourke was another actor who was unceremoniously cut from Malick's World War II film—though his scene did emerge on a recent Blu-Ray edition of the movie.
Tim Roth from Once Upon a Time in Hollywood
Tim Roth may have appeared in Quentin Tarantino's Reservoir Dogs, The Hateful Eight, Pulp Fiction and Four Rooms, but his role as a butler was excised from the director's most recent film.
Tarantino said of this on The Empire Podcast: "He's part of the gang and I appreciate him showing up and giving his due diligent service...It was a funny little sequence, but it got dropped." Also removed from the film were Buffy star Danny Strong as Dean Martin.
Paul Rudd from Bridesmaids
Scenes were filmed for the Paul Feig comedy that saw Wiig and Rudd on an ice skating date that turns chilly after he gets one of his fingers sliced off. Feig said of the scene to Entertainment Weekly: "There is always that terrible moment when you have to kill your babies...It was one of the funniest things I've ever been a witness to [but] It just didn't ring true that in addition to Jon [Hamm] and Chris [O'Dowd], she'd be also going out on other dates to try and find more love."
Maya Rudolph from Anchorman
Anchorman is already pretty star-stacked, but the movie could have had an even larger cast if a terrorism subplot starring Rudolph alongside Public Enemy star Chuck D was kept in. The scene letter turned up in the direct-to-video Wake Up, Ron Burgundy, which also revealed that Amy Poehler had filmed a cameo as a bank teller after being the original choice for the Christina Applegate character.
Michael Sheen from To the Wonder
Sheen joined Jessica Chastain in the list of actors cut from To the Wonder...and he's not the last person on that list whose scenes did not make the cut...
Kevin Spacey from All the Money in the World
In one of the most-publicized bits of (literally) last-minute casting, Spacey had filmed all of the Ridley Scott movie as one-time world's richest man John Paul Getty III before sexual assault allegations emerged against him, leaving Christopher Plummer to replace all of his scenes in just nine days.
Eric Stoltz from Back to the Future
Another famous bit of recasting saw Mask star Eric Stoltz replaced after five weeks by Michael J Fox as Marty McFly, the role that would make him one of the defying stars of the '80s. Numerous cast members have said that the star's method acting made him difficult on set. A tiny amount of footage featuring the actor is said to be visible in the movie, however.
Uma Thurman from Savages
Uma Thurman filmed numerous scenes as Blake Lively's mother in this 2012 Oliver Stone film, though she became one of multiple characters from the book who didn't make it to the movie.
Liv Tyler from Everyone Says I Love You
Woody Allen's musical offers the questionable pleasures of actors like Julia Roberts, Goldie Hawn and a (dubbed) Drew Barrymore singing, but viewers never got to see whether Liv Tyler had the pipes to match her father, Aerosmith's Steven Tyler. Her scenes ended up cut, as did those of Tracie Ullman, one of the few actors in the cast to have an actual singing career.
Tracey Ullman from Death Becomes Her
Speaking of Ullman, the comedian also had her scenes taken out of Robert Zemeckis camp classic, in which she played a bartender.
Jean Claude Van Damme from Predator
The "Muscles from Brussels" may have made one of his earliest appearances on screen in a role where you couldn't see his face. He was the original person set to play the eponymous Predator, but balked after he had to film scenes in the bulky armature. He told The Hollywood Reporter: "My head was in the neck. My hands were in the forearms, and there were cables. My feet were in his calves, so I was on [stilts]. It was a disgusting outfit."
Rachel Weisz from To the Wonder
Another actor cut from To the Wonder was Rachel Weisz, with the Oscar winner telling La Stampa: "I had the experience of working with him, but I will not have the pleasure of seeing my work."
Bruce Willis from Cafe Society
Bruce Willis and Woody Allen seemed like an unlikely fit, so it is no surprise that his scenes did not end up in the movie, and he was replaced by Steve Carrell.
Shailene Woodley from The Amazing Spider-Man 2
Peter Parker has historically had two love interests: Gwen Stacy and Mary Jane Watson. The Amazing Spider-Man movies starred Emma Stone as the former, but initially, the plan was to have Big Little Lies star Shailene Woodley play the latter.
Marc Webb said of this to the Los Angeles Times: "Shailene is a brilliant actress, and she did a great couple days of work. But it was very difficult to introduce someone as a competing love interest when so much is on the table with Peter and Gwen."