Actress Cirsten Weldon Says China Paid Joe Biden to Test 'Weather Warfare' on Texas
Former actress Cirsten Weldon has claimed that China paid President Joe Biden "billions of dollars" to test their "weather warfare" weapons in the United States. The weapon allegedly caused extreme winter storms to hit Texas.
Right Wing Watch posted a video clip in which Weldon made her comments. In the clip, she said that China's weather warfare weapons included "bunker fuel in the ocean and pulling down the polar vortex."
"They pulled it down, and they hit all of Texas, as you know it had a huge freeze so yeah that's what happened," Weldon said.
She was referring to unprecedented snowfall and record-breaking cold temperatures that Texas experienced in February. The winter storms initially left over 4 million Texans without power and heat as the state's electrical grid experienced a major failure.
Weldon later claimed that the Chinese normally use their weather warfare weapons to "pull the hurricane stuff" from the Arecibo Observatory in Puerto Rico. However, since the observatory is currently closed due to its main telescope being damaged, Weldon said that China launched its weapons from the Ecuadorian High-frequency Active Auroral Research Program (HAARP) facility. HAARP facilities monitor solar radiation located in the ionosphere, an atmospheric layer 30 miles above the earth that absorbs the sun's energy.
"And of course, Biden was paid billions of dollars before and got more money for letting them do that to the United States," Weldon added.
Weldon played the role of "Girl in Car" in Oliver Stone's 1991 biographical musical film The Doors. She also starred as "Agent's Girlfriend" in the 1990 slasher drama Sorority House Massacre III: Hard to Die. In the film, a murderous demon stalks five young women doing inventory for a lingerie outlet.
Weldon has since worked as a model and an interior designer, combining European and Asian artistic principles into her work. She also regularly appears on videos supporting extremist conspiracy theories.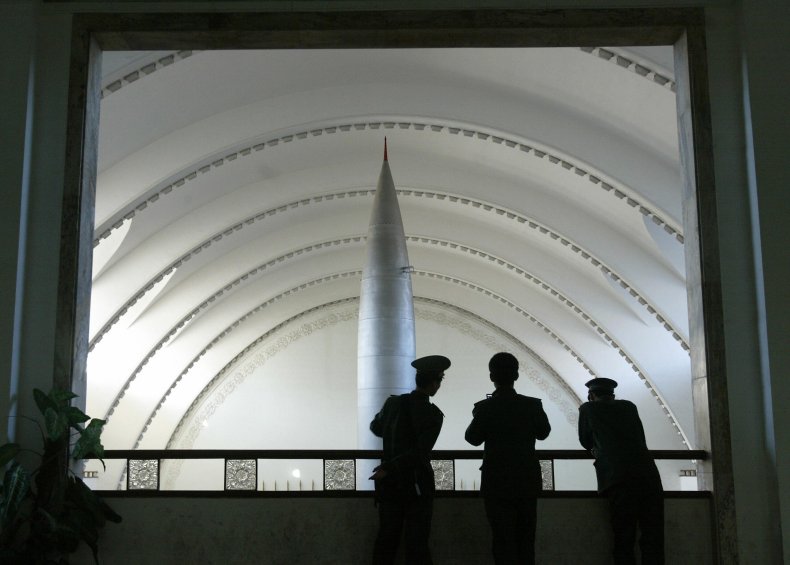 In the past, Weldon has claimed to have access to high-level intelligence that showed that former President Donald Trump had been targeted for assassination more than 50 times. Trump survived all the attempts, she said, thanks to his clones. In July 2020 she also claimed that Republican Utah Senator Mitt Romney's wife made "pedophile porn tapes."
In one of her July 2020 live stream chats, a guest named Gene Cosensei said that Bill and Hillary Clinton had been executed. Cosensei claimed that the White House would soon start a pay-per-view channel where people could watch their executions.
Weldon is also a supporter of the QAnon conspiracy theory. QAnon believers think that Satan-worshipping Democrats, Hollywood elites and lizard-humanoids run an international child trafficking ring in order to sexually abuse and torture children. They also think that Trump was supposed to expose the ring, but he was thwarted by the media, "Big Tech" (social media companies) and deep-state government agencies like the FBI.
The FBI has called QAnon a domestic terrorism threat. The conspiracy theory has been linked to several murders and death threats against politicians. However, the movement's followers have not seemed to partner with international organizations that work to prevent child trafficking.
Newsweek contacted Weldon for comment.