'Actual Pettiness': Bride Backed for Booking Same Wedding Venue as Sister
Members of a popular internet forum were quick to defend one woman who revealed how a "fit of actual pettiness" led to her booking the exact same wedding venue as her sister.
In a viral Reddit post published on r/AmITheA**hole, Redditor u/Any-Description-2013 (otherwise referred to as the original poster, or OP) described her tumultuous relationship with her sister and explained how their overlapping engagements sparked even more familial turmoil.
Titled, "[Am I the a**hole] for purposefully booking the same wedding venue as my sister (but earlier) so I could get married there first?" the post has received nearly 6,500 votes and 800 comments in the last day.
"My sister and I don't get along," OP began. "I can be honest and admit that she's much prettier than me, and that's something she's never let me forget."
"Both of my parents are pretty shallow and they've always given her the best and put her first," OP continued. "This has left me pretty bitter and distant from my family."
Writing that her boyfriend of five years recently proposed, the original poster said she was "over-the-moon" about her engagement—until her sister coincidentally got engaged immediately afterwards.
"It didn't really faze me other than serve as a slight nuisance since my parents were more happy and involved in her engagement," OP wrote. "[But] what really pushed me over the edge was when my sister told me that she booked her wedding at my dream venue."
"In a fit of actual pettiness, I ended up booking the same venue a month before my sister's wedding," OP continued. "I checked with the venue and there's no way my sister can move the wedding up...and if she changes venues she'll lose her deposit."
"Apparently my sister's really distraught and my mom said the least I could do was try and work something out," OP added. "I said no, but my mom said I was an [a**hole] for not even trying to hear her out and for being so stubborn and petty."
Securing a wedding venue—with or without added family drama—can often be a contentious experience. And since the onset of COVID-19 in early 2020, booking the perfect wedding location has only become more difficult.
As strict lockdowns and capacity limits forced many to cancel or reschedule nuptials throughout 2020 and 2021, wedding venues have since faced a seemingly-endless stream of engaged couples who have circled 2022 as their year.
With countless venues booked completely through 2023, Brides reports that couples have had to make difficult decisions, including midweek weddings and cutting massive guest lists into midsize celebrations.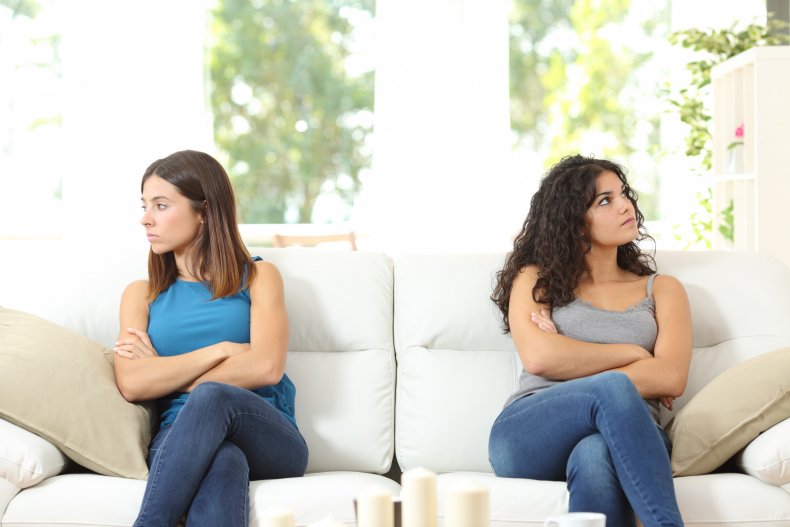 However, despite the numerous pandemic-related obstacles involved with reserving a wedding venue, Redditors responding to the viral post defended the original poster's decision to book the same venue as her sister and acknowledged the poetic justice of the entire situation.
"I see how you would be wrong to book the venue once you knew she had. But she booked 'your' venue first," Redditor u/Princess_pgymy_puff wrote in the post's top comment, which has received more than 9,000 votes. "She knew you wanted to get married there. So why would she book it in the first place?"
"She seems very self involved and your parents are encouraging her," they continued. "Why would you give up your dream for someone? Let alone someone you don't even like."
Redditor u/J3ebrules, whose response has received more than 2,500 votes, commended the original poster for her pettiness and proposed a nickname for her sister.
"This deserves a Justified Pettiness award," they commented. "Princess Golden Child and her entourage can stuff it...[not the a**hole]."
"I would go with [not the a**hole]," Redditor u/Snoo_41753 echoed. "You got engaged first, you had been talking about getting married there, so she knew you wanted to, and [tried] to call it first."
In a separate comment, which has received more than 1,300 votes, Redditor u/ClumsyBartender1 compared the original poster's actions to her sister's, and offered a piece of advice for the upcoming wedding.
"You were going to book that wedding venue anyway," they wrote. "Sure, you booked the earlier date out of spite but I find it hard to believe your sister wasn't doing the same."
"I also hope you're not planning on inviting any of them to your wedding," they added.
Newsweek reached out to u/Any-Description-2013 for comment.