Adam Cole Talks 'WWE 2K20,' Favorite Video Games and Pitches for 'WWE 2K21'
WWE fans and gamers are getting ready for the release of WWE 2K20 and no one is more excited to get their hands on this year's offering than Adam Cole.
NXT Champion Cole is a huge gamer, so he was thrilled when he and the rest of his Undisputed Era cohorts were included in this year's game. Being a character in a video game is something Cole has dreamed of his entire life, especially since video games are more than a hobby for him. It's also a way to relax and unwind after putting his body on the line every single night.
Newsweek caught up with the NXT Champion to talk about the upcoming WWE 2K20 and his passion for video games.
Note: This interview has been edited for clarity and length.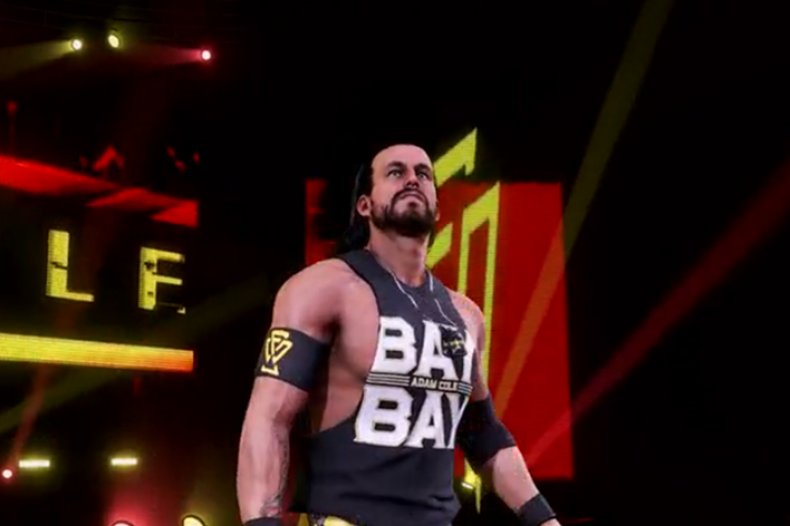 Your thoughts on WWE 2K20 and being included in this year's game?
Being included last year in 2K19 was not just one of the coolest moments of my career but my life. If anyone knows anything about my life, the two things I love are pro wrestling and video games. So to be officially in my first video game last year is amazing.
I have a new game room in my house, and the only game I have on display is WWE 2K19 because I'm so proud of that. So I haven't gotten a chance to play 2K20 yet, but to say I'm excited is an understatement. I look forward to it.
Thoughts on the Evolution Showcase and the other new features this year?
Yea that's the coolest thing to me especially with 2K and the games they create. They always manage to find something new and interesting in the game to make it fresh and different, like I have to try this new feature out or this character. That's what makes it so entertaining, and adding these new features is huge.
Are you going to lobby for an Undisputed Era showcase mode for next year?
Oh absolutely. That would be an excellent idea. Showcase the Undisputed Era. I like how you're thinking.
If you can put five matches for that Undisputed Era showcase mode, what would they be?
First and foremost you have to showcase the first ever War Games in WWE history, the match that we won. Another one I think of is the five-way North American Championship ladder match where I became the first ever North American champion.
The first time Bobby [Fish] and Kyle [O'Reilly] won the NXT Tag Team championships, when Roderick Strong eventually joined us, when I won the NXT title.... I mean, there are so many amazing Undisputed Era matches that it's hard to just pick five of them, but those are the five that come to my head, all are big moments for us.
Your rating in WWE 2K19 was an 81. What do you think your player rating will be this year?
I think I'm going to be a little bit higher. I had a really good year. Obviously I'm the NXT Champion, but I think I earned a little bit of a higher rating.
Your speak about your love for video games. There's a connection between wrestlers and video games that I continue to see. Why do you think that is?
It's something I've thought about on my own time quite a bit. I want to know what it is. I'm so attached to pro wrestling and video games as well, and I think, for me especially for pro wrestling when I walk through the curtains I get to escape reality. I'm getting to be someone else for 20 minutes and get to live this whole other world. Video games are the same thing. I get to play and be this character or be in this new world that I haven't done before. I like the idea of immersing myself in another way in some capacity as a character or world, and it's a lot of fun for me.
Were you a Nintendo or Sega kid?
I was both. I had a Sega Genesis first. It was the first console we had playing games like Road Rash, Streets of Rage 2 and Sonic. But eventually we traded in the Genesis for the Super Nintendo and played games like Super Mario World, Donkey Kong Country, Super Mario RPG, stuff like that. I was lucky enough to have both in my childhood.
Why did you trade in the Sega Genesis?
Unfortunately, it was my dad. And me being three or four years [old], I had no choice. And my dad was playing games too, so when he heard about the Super Nintendo he thought he'd give it a try. But I'm glad growing up I got to play both consoles.
What's your favorite console of all time?
There are so many classics on the original PlayStation. That's what comes to mind. Obviously I had so much fun with earlier video games, but I remember playing Metal Gear Solid, Final Fantasy VII, and Resident Evil 2, and being like, "these are like movies, these are better than movies." I was so into them, the characters and the stories and things like that.
So thinking about classics not just nostalgia, but games that last the test of time I think of the original PlayStation.
Talk more about your gaming cave. How did that come about?
Recently, me and my girlfriend moved into a new place and there was this extra room. We were talking about what we could do with this move, and, to her credit, she suggested it. You can build a little game room in here and the rest is history. So my mind went, "I can get this and put this in here, and my PC can go in this corner..." And over time it just developed into this awesome room.
When I get home off the road and I get a chance to relax, that's exactly where I go. I have a love for video games, and I wanted to build a place to showcase that. Now I have a chance to do it.
What's your relationship to wrestling video games?
When I was younger, everyday after school, me, my brother and my cousin would play No Mercy or WrestleMania 2000 for hours. I say the time of my life when I put the most time into wrestling games was then, and I remember absolutely adoring those games. And this last year with 2K19 and 2K20 coming out, I'm going to be playing a lot more wrestling games. You've got me all excited!
Have you thought about starting your own gaming channel?
That has been on my mind, and I've talked about it so many times. I even have all the stuff. I have the webcam, the capture card, I have everything that I need. I just need to pull the trigger. I was just talking about this recently. I just need to announce it on my Twitter a date that I'm going to stream, and I'm coerced to do it and held accountable. Definitely starting a channel and starting that community would be very cool for me. That's something I've been wanting to do for some time.
The other Undisputed Era guys, are they gamers too?
Roddy and Bobby not so much. But Kyle O'Reilly recently I got into gaming a little bit. He recently got a PlayStation 4 and he has the Switch as well. So he's starting to get into that, and we get to chat about video games here and there.
What does video games do for you in your career?
It's huge. It's become my number-one hobby not just because I love it but because it seriously feels good to me. When you're a pro wrestler you get to travel a lot, and the travel is hard on your body. Wrestling is very physically demanding. So when you go home and want to relax, there's something about video games that's so relaxing and fun to me. It's escaping and being a different character or living in another world. It's so fun. I got so much joy and so many memories from playing games over the years, and I know it'll be the same for years to come. So it's helped me so much, mentally and physically.
WWE 2K20 releases October 22 for PS4, Xbox One and PC.