Adam Kinzinger Called 'Old Guard' Republican by Primary Challenger Catalina Lauf
Congressman Adam Kinzinger's primary challenger, Catalina Lauf, has called the lawmaker a member of the GOP "old guard" as she railed against his vote to impeach former President Donald Trump.
The former Trump administration aide told FOX32 Chicago that the Illinois Republican was trying to turn the GOP back into an establishment party with a hawkish foreign policy agenda, offering herself as an America First alternative.
Speaking to FOX32, Lauf said: "Somebody like Adam Kinzinger really represents the old guard establishment of the Republican Party that frankly Republican voters gave a referendum on back in 2016.
"And to have somebody like Adam try to now re-establish power for the establishment, try to turn our party back into this very war hawkish, voting with Democrats type of flavor is just not where the party is going."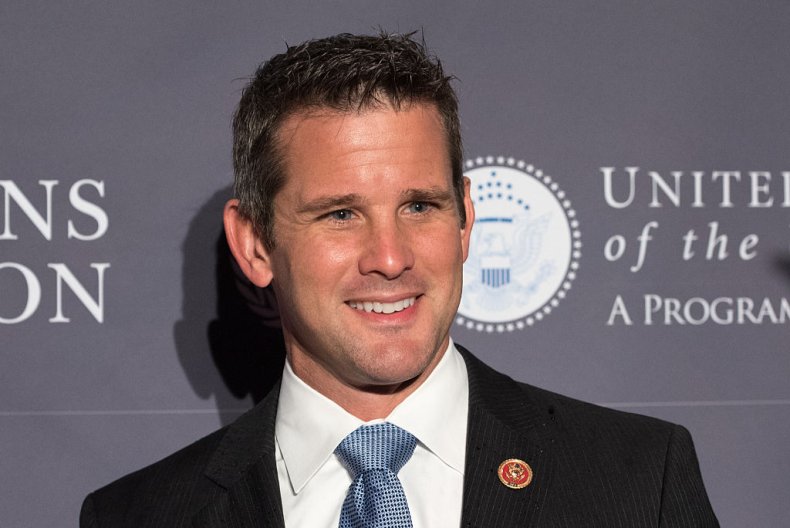 She added that the congressman had "completely lost touch" with local voters, citing his support for former President Trump's second impeachment earlier this year.
Releasing her campaign launch video on Tuesday, the 27-year-old said Kinzinger was a "weak-kneed establishment Republican" who cared more about MSNBC appearances than his constituents.
"Instead of focusing on what really matters, instead of being in our fight, Adam betrayed his constituents for a life in the D.C. swamp," Lauf added. She then said he was one of only 10 House Republicans to vote for Trump's impeachment. At the time of writing, the video has more than 560,000 views on social media.
"Congressman Kinzinger has a proven record of leadership and integrity, serving the interests of his constituents and his country—not the sole interests of one man," a spokesperson said in a statement.
During a live webinar with The Washington Post earlier this month, the Illinois Republican said he was at "total peace" with the prospect he would face a challenge from within the GOP and lose his seat.
"The bottom line, I don't need the job. I enjoy doing it," he said. "I'd like to win again, but if I don't, I can look at myself in the mirror and I'm at total peace."
After he voted in favor of Trump's impeachment, Kinzinger framed it as a conscience vote after the former president was accused of inciting pro-Trump rallygoers to march on the Capitol and eventually storm the building.
Releasing a statement after the Senate vote to acquit Trump, the congressman said: "We have a lot of work to do to restore the Republican Party and to turn the tide on the personality politics.
"For me, I am at total peace with my decision on impeachment and my mission to restore the GOP, to uphold the principles we hold dear, and firmly put the country first. Our future depends on it."