Representative Adam Kinzinger isn't worried about the recent backlash from his fellow Republicans.
In a live webinar with The Washington Post, the Illinois congressman said, "The bottom line, I don't need the job. I enjoy doing it. I'd like to win again, but if I don't, I can look at myself in the mirror and I'm at total peace."
Kinzinger has faced widespread backlash from his own party after speaking out against former president Donald Trump and voting to impeach Trump for his role in the January 6 Capitol riot.
"I looked at what happened on the sixth and said, if that's not impeachable, we may as well just get rid of impeachment because then nothing is," Kinzinger said Wednesday morning. "Whatever the consequences are it's the right thing to do."
He joined 10 other House Republicans, including No. 3 Republican Representative Liz Cheney, who also voted to move impeach Trump a second time—this time on charges of "incitement of insurrection" against the U.S. government. Cheney also faced criticisms for her vote and was almost ousted from party leadership for impeaching Trump.
"Everybody that's been through a political science class knows, there's a debate between are you supposed to do what the district wants or are you supposed to do what your conscience says, and I think it's both," Kinzinger said.
"Look, out of 750,000 people I represent, only one has to take an oath to defend the Constitution in this capacity. And that's me," he continued. "I think what that says intentionally is that we have a unique responsibility as members of Congress to take tough votes at a time like this."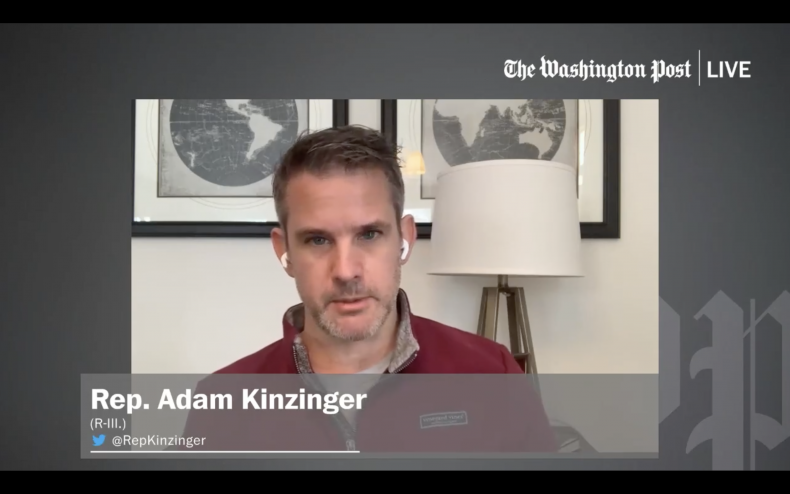 Among the Republicans who criticized the congressman was a group represented by Kinzinger in Congress.
Last week, the La Salle County Republican Central Committee officially moved to censure him for his vote. But, Kinzinger said he's not fazed by the censure, saying that public condemnation is all too common in the political landscape.
"The Illinois Republican Party actually backed off censure but put out a statement. I had a local party censure me and I think the word 'censure' really doesn't have a meaning anymore," he said. "It's the new thing. If you go outside whatever orthodox we determine is the orthodox today, we're going to censure you. It's amazing because I've actually been pretty consistent in what I believe."
The congressman launched an anti-Trump PAC earlier this month called Country First. On Wednesday, he said he has a "huge list" of House Republicans, including Representatives Marjorie Taylor Greene and Matt Gaetz, that the group is ready to challenge in 2022 midterms.
In a statement sent to Newsweek, Nick Dyer, a spokesperson for Greene, said, "These anti-Republican "Republican" PACs like the Lincoln Project always seem to align with the worst people DC has to offer. I have a question for Rep. Kinzinger, did he hire minor-grooming John Weaver to run his new PAC?"
Weaver was denounced his anti-Trump group, the Lincoln Project, after a flood of online sexual harassment allegations against the co-founder reemerged earlier this month.
Kinzinger also said that he's been referred to as "establishment" by those on both sides of the political spectrum, "But I also think the establishment is now Donald Trump, so I get to be the insurgent."
Newsweek also reached out to Gaetz's office for comment but did not hear back before publication.
Update 02/10/21 4:14 p.m ET This story was updated with comments from Greene.