Adam Kinzinger Says He 'Would Love' to Run Against Donald Trump
GOP Congressman Adam Kinzinger said he "would love" to challenge former President Donald Trump in a primary.
Kinzinger, an Illinois Republican who is retiring from Congress at the end of this year, is a rare anti-Trump voice within the Republican Party known for sharply rebuking the former president. Speaking to The Huffington Post, he said he hasn't ruled out running for president in 2024.
"I would love it. I really would," he told the Post. "Even if [Donald Trump] crushed me, like in a primary, to be able to stand up and call out the garbage is just a necessary thing. Regardless of who it is...I think it'd be fun."
Trump is widely believed to be planning a second presidential campaign and has teased another potential White House run in various rallies since leaving office in January 2021.
"The truth is I ran twice, I won twice and I did much better the second time," he said during a March rally in Georgia, repeating unproven claims of widespread voter fraud in the 2020 presidential election. "And now we just may have to do it again."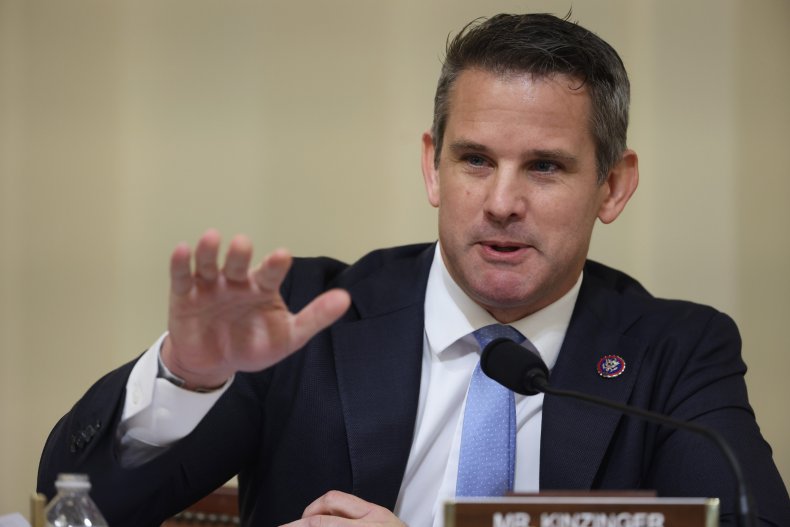 When pressed on whether or not he plans to run for president, Kinzinger told the Post he has not made an official decision and will do so "when we get there."
"It's truly not anything I'm planning right now, but I'm not going to rule it out," he said. "Look, if we're in a position, if it's just terrible candidates and the country's in a worse place? Maybe. But there's no grand plan right now."
Kinzinger could face challenging odds in a Republican primary since many GOP voters continue to support Trump. Polls show Trump remains the frontrunner in a Republican primary should he choose to run again.
Polls that do not include the former president indicate that politicians who have aligned themselves with his style of politics, including Florida Governor Ron DeSantis, are typically favored by Republican voters.
Anti-Trump Republicans including Kinzinger, Wyoming Representative Liz Cheney and Maryland Governor Larry Hogan, however, typically secure less than 10 percent of the GOP primary vote in most polls.
Kinzinger was one of 10 House Republicans who voted to impeach Trump following the Capitol riot. He is now one of two Republicans, along with Cheney, serving on the committee investigating the day's events. He has also stated that his "biggest regret" was voting against Trump's first impeachment.
In March, he called on Trump to be disqualified from running for office for asking Russian President Vladimir Putin to help unearth dirt on President Joe Biden's son, Hunter Biden.
"No former president should ever ask an evil man like Putin for a favor...like Trump did just yesterday. This is absolutely undermining the national security of this country and should be disqualifying for any reelection," he tweeted at the time.
Newsweek reached out to Kinzinger's office for comment.