Adam Kinzinger Says Trump Put Congress, Americans in a 'Lose-Lose Situation' After Acquittal
Trailing Donald Trump's acquittal in the U.S. Senate on Saturday afternoon, Republican Representative Adam Kinzinger issued a response to the impeachment trial's outcome.
The Illinois congressman—one of just 10 members of his party who voted alongside Democrats when the House of Representatives first impeached Trump in January—acknowledged criticisms of the trial, but ultimately held the former president responsible for the legislative proceeding and actions that led to it.
"To those who have argued that the impeachment was rushed or that impeachment will further divide us, we must remember that former President Trump put all of us—Congress and the American people—in this lose-lose situation," said Kinzinger in a statement, which his office released shortly after Trump's second impeachment trial concluded in the Senate.
Following the House impeachment vote—which moved to oust President Joe Biden's predecessor before the end of his term in office—approved the impeachment on a single article, charging him with "incitement of insurrection" for his role in the January 6 Capitol riot. Trump's conduct surrounding the attack, wherein a mob of his supporters stormed the federal complex in a violent effort to overturn results of the presidential election, gave way to widespread demands for accountability.
Saturday's 57-43 acquittal saw a majority of Republican senators maintain Trump's defense, with only seven—North Carolina's Richard Burr, Louisiana's Bill Cassidy, Maine's Susan Collins, Alaska's Lisa Murkowski, Nebraska's Ben Sasse, Utah's Mitt Romney, and Pennsylvania's Pat Toomey—finding him guilty. Convicting him would have required two-thirds of the Senate, including 17 Republican members, to uphold the House's impeachment charge.
"The damage being done to the state of our republic and the values we hold dear is unacceptable. And the losses I'll face pale in comparison to the stakes here," Kinzinger added in his recent statement.
The lawmaker also noted his intent to "ensure responsibility and accountability," in the aftermath of the Capitol siege, through different means if not impeachment. Senate Minority Leader Mitch McConnell said Saturday that Trump could still face criminal prosecution despite the acquittal.
"I am disappointed that the Senate is unwilling to hold former President Trump accountable for his actions," Kinzinger continued. "And I am looking at alternate options to ensure responsibility and accountability so that what happened on January 6, 2021 will never happen again."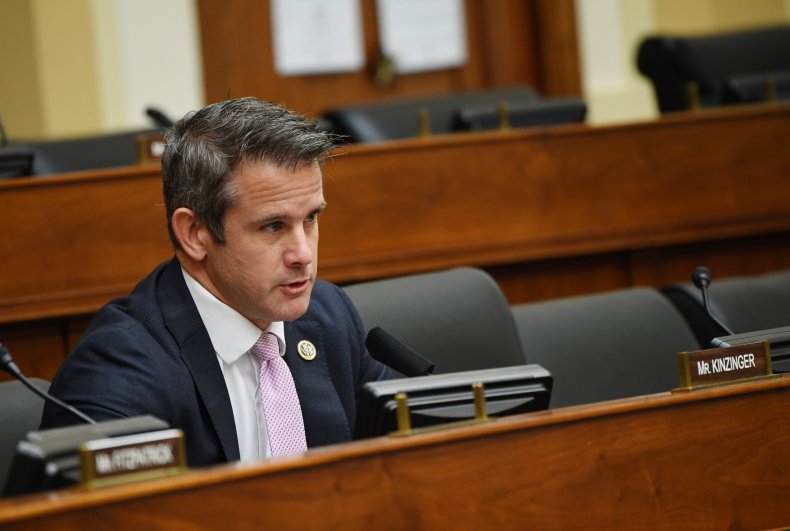 The Illinois congressman, originally elected to his seat just over a decade ago, confronted backlash for his decision to impeach Trump last month. A local Republican committee in his home state approved a censure resolution against him prior to this past week's Senate impeachment trial, while additional GOP organizations backed the formal rebuke. Other Republican House members who voted for the impeachment, notably, Congresswoman Liz Cheney, experienced similar repercussions.
Newsweek reached out to Kinzinger's office for further comment, but did not receive a reply in time for publication.