Adam Kinzinger Warns Christians of 'False Prophets' in Evangelical Group
GOP Representative Adam Kinzinger warned fellow Christians about an evangelical Christian group that he said is led by "false prophets" in a Thursday tweet.
The Illinois Republican, who is not seeking reelection and is a staunch critic of former President Donald Trump, retweeted a post of a viral video clip from a FlashPoint Live Church event on July 1 at the Gas South Arena in Duluth, Georgia. The speakers at the event included preacher Gene Bailey, evangelical leader Lance Wallnau, preacher Mario Murillo and pastor Hank Kunneman.
"To my fellow Christians: these are the false prophets you were warned about," Kinzinger wrote. "An idol is an idol, whether it's money, power, or a nation," he added.
The video retweeted by Kinzinger was first shared by Nick Kudson, the executive director of DemCast. Kudson captioned the clip: "If this doesn't scare you, I don't know what will. Christofascist indoctrination ceremony."
At the July 1 service, the Christian leaders led attendees in reciting a "Watchman Decree," which the video featured.
The decree states that believers have been given "legal power from heaven" to exercise their authority and declares "America's executive branch of government will honor God and defend the Constitution." It also adds that Congress will only write laws that are "righteous and constitutional."
The declaration concludes with those reciting it proclaiming that the U.S. will be saved and that the country will be taken back.
"We know this country was founded on Judeo-Christian principles," the group said in the final parts of the prayer declaration. "We know the truth; therefore we stand for truth and will NEVER be deceived. We will NEVER stop fighting! We will NEVER, EVER, EVER give up or give in. We WILL take our country back. We WILL honor the ONE TRUE GOD, the God of Abraham, Isaac and Jacob! AMERICA SHALL BE SAVED!"
Reached for comment by Newsweek, Bailey, who hosts FlashPoint, said that Kinzinger "doesn't warrant my response."
Analysts have noted an uptick in Christian nationalist sentiment being expressed by some Republican lawmakers as well as other conservatives in the country. Some GOP members of Congress, such as Representatives Marjorie Taylor Greene of Georgia and Lauren Boebert of Colorado, have welcomed this trend.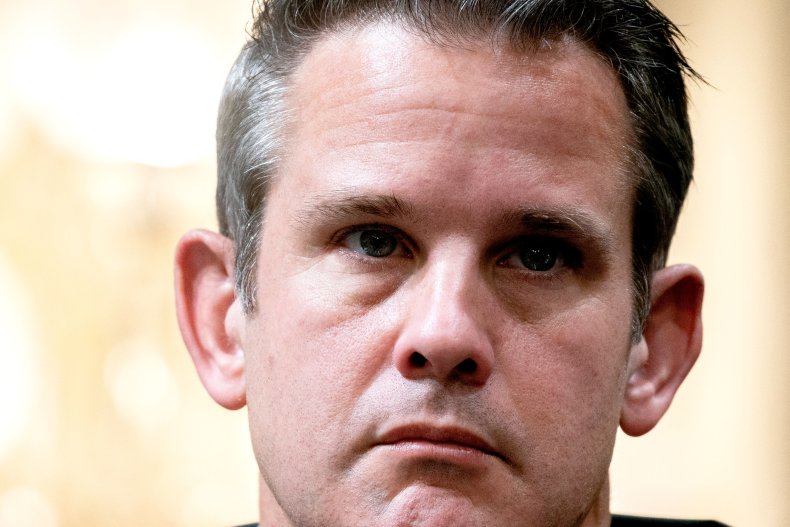 Kinzinger has previously criticized Boebert, comparing views she and others have expressed to those held by the Islamist group the Taliban, which governs Afghanistan with an extremist version of Shariah, or Islamic law. The Republican lawmaker targeted his House colleague in late June after she told attendees at a Christian event, "I'm tired of this separation of church and state junk."
"There is no difference between this and the Taliban. We must [oppose] the Christian Taliban. I say this as a Christian," Kinzinger tweeted at the time, sharing an article reporting on the congresswoman's remarks.
Recent Pew Research Center data shows that about 70 percent of the U.S. population identifies as Christian, although that category is broken down into various denominations with differing beliefs. Nearly 6 percent of the population identifies as Jewish, Muslim, Buddhist or Hindu, while almost 23 percent has no religious affiliation.