Marjorie Taylor Greene Slammed for Defending 'Christian Nationalism'
Republican Representative Marjorie Taylor Greene of Georgia sparked an online debate over comments she made on Thursday that have gone viral.
Speaking during a broadcast of MTG:Live, a streaming show Greene shares on her social media pages, the congresswoman spoke in favor of "Christian nationalism." Her remarks caused a large backlash, as well as many messages of support.
Among other things, Greene said Christian nationalism will be the "movement that stops the school shootings...stops the crime in our streets...stops the sexual immorality and teaches children and brings them up in traditional families and loving homes."
She also said Americans "should be proud of nationalism" and "America first" nationalism. Greene added that "we should be most proud of Christianity. So if Christian nationalism is something to be scared of, they're lying to you."
Christianity Today in 2021 defined Christian nationalism as "the belief that the American nation is defined by Christianity, and that the government should take active steps to keep it that way." Critics say it defies the principle of the separation of church and state in government, as well as encourages discrimination against people of non-Christian faiths and those who adhere to no religion.
"Christian Nationalism is Fascism wrapped in a flag, carrying the cross," wrote one Twitter user who took exception with Greene's statements. Another said, "Christian Nationalism is white nationalism."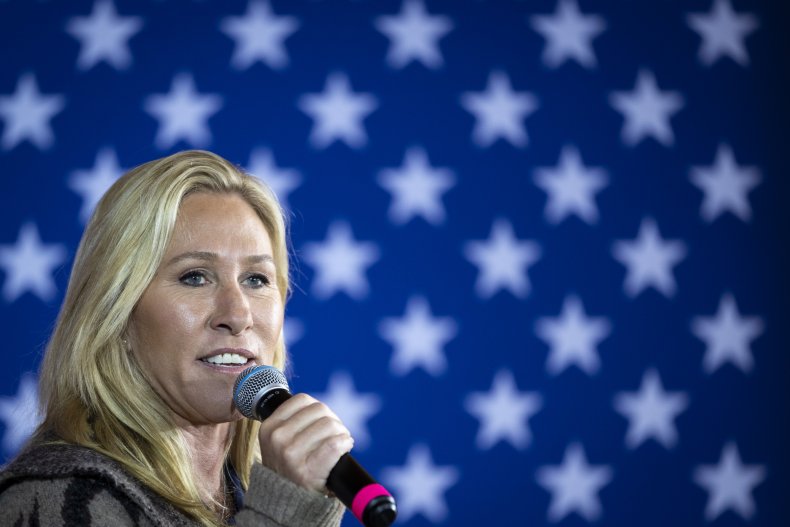 Many people likened Christian nationalism to Nazism when discussing Greene's comments on Twitter, including Dr. Leah Schade.
"Christian Nationalism was THE religion of the Third Reich! Christian Nationalism is DEFINITELY something to be afraid of!" Schade, who is an ordained minister and author, wrote.
"People like Marjorie Taylor Greene will benefit from Muslims, Jews, Sikhs, Buddhists, Hindus and people of all other religions in economics, science, even serving in the U.S. army and all other fields…then they'll shamelessly tell you Christian Nationalism is a good thing," tweeted another person who objected to the representative's comments.
Podcast host Fred Wellman, meanwhile, simply shared a clip of Greene on Twitter and called her remarks "incredibly dangerous."
Greene also had her fair share of supporters, including Republican Representative Paul Gosar of Arizona, who wrote, "Well said!"
"It's kind of wild that I was in a very small circle of people on Twitter who first took the term 'Christian Nationalism' as label of pride," wrote a Christian-identifying Twitter user who listed his name as Brian Shelley. "Now we have a member of Congress on board."
The full episode of MTG: Live in which Greene discusses Christian nationalism can be seen below.
Newsweek reached out to Greene for comment.