Kinzinger Says Won't Be 'Single Trump Supporter' in 10 Years: 'Like Nixon'
Representative Adam Kinzinger, an Illinois Republican, said Sunday that in 10 years there won't be any supporters of former President Donald Trump left in the United States.
His comment came during an interview on ABC's This Week after he was asked about Republicans' views on the attack on the U.S. Capitol on January 6, 2021. The congressman sits on the House select committee that is investigating last year's riot, which has been holding a series of public hearings in recent weeks.
"There's a lot of recent polling showing that the number of Republicans over the last year who view this as a legitimate protest on January 6 and not an insurrection has actually dramatically risen. How do you explain that?" host George Stephanopoulos asked.
"Well I think on the margins yes, it is puncturing through, and I think what's most important is again, what does history say in five or 10 years?" the GOP lawmaker responded.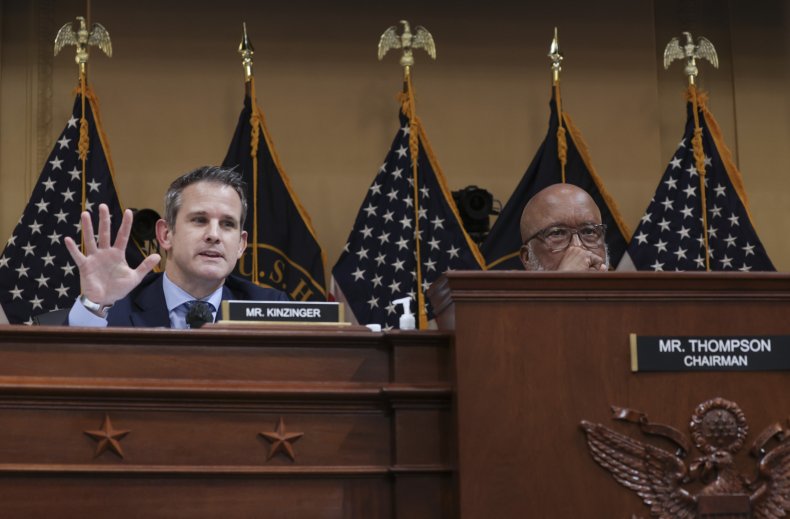 "I can get about as close as I can to guaranteeing that in about 10 years there's not going to have been a single Trump supporter that exists anywhere in the country. It's like Nixon. There were a lot of people that supported Nixon until he was out of office and then everybody was like 'Oh, nobody supported Nixon.' I figure that that's going to happen," Kinzinger added.
The congressman went on to say that the U.S. has a "media environment where you get your media from whoever kind of reinforces whatever you already believe."
He also said that Trump is "in essence a cult leader right now. He's a man that can stand up and say anything he wants and these news organizations just reinforce it."
Newsweek has reached out to Trump's press office for comment.
Kinzinger is a frequent critic of the former president's. During an interview last month, he claimed that if Trump "truly believed" the 2020 election was "stolen," then he was "not mentally capable to be president."
On Friday, the House select committee heard private testimony from Trump's former White House counsel Pat Cipollone. The committee then released a statement Saturday stating that in his remarks to the panel, Cipollone "corroborated key elements" of testimony that former top White House aide Cassidy Hutchinson provided to the panel.
Hutchinson alleged during a public hearing last month that Trump tried to grab the steering wheel of the presidential limousine when he was told he couldn't join his supporters at the Capitol during the deadly insurrection.