There are signs that Cassidy Hutchinson's testimony to the January 6 panel on Tuesday has prompted a number of supporters of Donald Trump and conservative media outlets to stop defending the former president's actions.
Hutchinson, a former top aide to ex-White House chief of staff Mark Meadows, made damaging allegations against Trump during a House committee hearing.
These include claims that Trump was aware that some of his supporters were armed on January 6 but he didn't care as "they're not here to hurt me." After being told about people at the Ellipse rally carrying weapons, Trump still urged his supporters to march to the Capitol where the Electoral College certification ceremony was taking place.
Hutchinson also testified that Trump was so irate that he could not join his supporters at the Capitol as the insurrection was taking place and that he tried to grab the steering wheel of the presidential limousine, known as "The Beast" and lunged at a Secret Service agent who attempted to calm him down.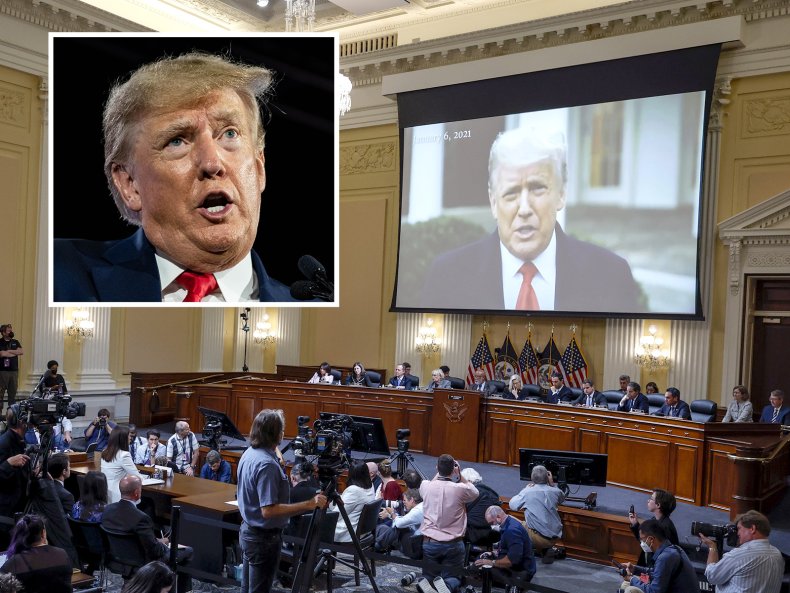 While there remain hardline Trump supporters who still stand by the former president and dismissed Hutchinson's testimony as "hearsay," some others who previously defended him have started to change their tune.
Mick Mulvaney, Trump's former Acting Chief of Staff, explicitly stated that he can no longer support Trump in the wake of Hutchinson's testimony.
"I've been defending the president against the charges of incitement to riot. I've seen the same speech he's given dozens of times. I've seen him accused of trying to foment violence with no violence coming as a result, so I've been defending him," Mulvaney told CBS Mornings on Wednesday.
"But after yesterday when she testified that he knew that there were guns on property and that he still encouraged people to go down to the Capitol, that certainly changes my mind."
Sarah Matthews, a deputy press secretary in the Trump administration, tweeted that those who are attempting to downplay Hutchinson's role or her access in the West Wing "either doesn't understand how the Trump WH worked or is attempting to discredit her because they're scared of how damning this testimony is."
Even the Rupert Murdoch press, which includes some of the staunchest supporters of Trump, appeared to acknowledge the damage Hutchinson's testimony inflicted.
On Tuesday, Fox News anchor Bret Baier described Hutchinson's claims as "compelling" while highlighting the alleged quote from Meadows, stating Trump "doesn't care" that his supporters were chanting "hang Mike Pence" at the Capitol because he believes the then-vice president "deserves it."
Baier went on to dismiss the series of posts Trump wrote on Truth Social while Hutchinson was delivering her testimony.
"Cassie Hutchinson is under oath on Capitol Hill. The president is on Truth Social making his statements," Baier said.
Conservative lawyer and frequent Fox News contributor Andrew McCarthy wrote an opinion piece for the Murdoch-owned New York Post arguing that the case to charge Trump with a crime "appears to be getting stronger" following Hutchinson's testimony.
"The significance of White House aide Cassidy Hutchinson's testimony is that it shows Trump knew, in the moments before he took to the podium to give his rambunctious Ellipse speech, that the mob was armed to the teeth, including with firearms," McCarthy wrote.
"He knew an armed mob would be headed to the Hill. Yet, he intentionally whipped them up with his speech. What's more, he intended personally to lead the protest march.
"The stronger the evidence becomes that Trump intended to use the intimidating threat of armed violence to his advantage, the higher the likelihood that he will be indicted."
McCarthy previously defended Trump around the time of his first impeachment. He wrote a book attacking Robert Mueller's investigation into Russian interference at the 2016 election, as well as the Hillary Clinton campaign and the Obama administration, entitled Ball of Collusion: The Plot to Rig an Election and Destroy a Presidency.
The Washington Examiner, another right-wing news outlet, published an editorial arguing that Hutchinson's testimony shows that Trump is "unfit to be anywhere near power ever again."
"Trump is a disgrace. Republicans have far better options to lead the party in 2024. No one should think otherwise, much less support him, ever again," the piece added.
CNN also quotes unnamed aides to Trump, one of whom admitted Hutchinson's testimony under oath was a "bombshell" for the former president. The adviser, who is reportedly in a group chat with several other Trump aides, said that none of them were taking her claims "lightly."
"For the first time since the hearings started, no one is dismissing this," the Trump aide said.
Donald Trump has been contacted for comment.