Trump's Odds of Being Prosecuted 'Significantly' Higher Now: Ex-Prosecutor
The testimony from Cassidy Hutchinson, a former aide of ex-White House Chief of Staff Mark Meadows, has made former President Donald Trump's odds of being prosecuted in connection with his alleged role in the January 6 Capitol riot "significantly" higher, according to a former federal prosecutor.
Hutchinson testified Tuesday before the House committee investigating the Capitol riot and provided key insight on Trump's movements and conversations in the days surrounding the attack. Renato Mariotti posted a lengthy Twitter thread Tuesday breaking down the "legal significance" of Hutchinson's testimony.
He wrote that shocking revelations from the Trump presidency have not always been followed by legal consequences, but "Hutchinson's testimony actually moved the ball forward significantly towards a potential DOJ prosecution of Trump."
Hutchinson's testimony came during a hearing the committee announced last minute on Monday, derailing its initial plans to put the series of events on hold until some time in July.
Even before the committee secured the live testimony and presented recorded testimony from the former Meadows aide, another former federal prosecutor, Glenn Kirschner, said that the Justice Department will have "nowhere to go" except to charge Trump after the panel finished presenting evidence that its says show a coordinated effort to overturn the 2020 election results and prevent the transfer of power.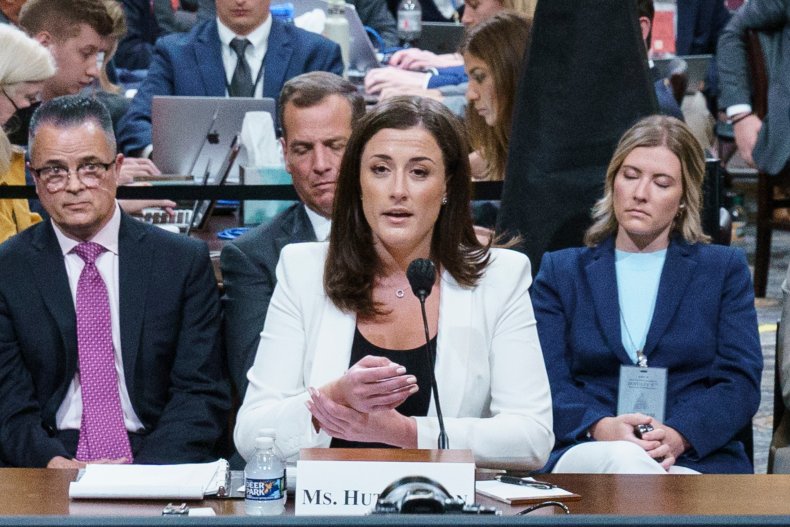 In his breakdown of the legal strength of Hutchinson's revelations, Mariotti explained that prosecutors could face several hurdles in attempting to hold Trump to account for certain crimes. Prosecuting Trump for allegedly inciting violence on January 6, for example, could face a roadblock with the First Amendment.
"The Supreme Court has long held that only incitement to *imminent unlawful action* is sufficient," he tweeted. "The speaker had to know that the crowd would immediately break the law."
Mariotti wrote that a specific part of Hutchinson's testimony, when she alleged that Trump knew some attendees of his January 6 Ellipse rally were armed with weapons and still wanted security to let them into the event, could be the "smoking gun" evidence for proving that Trump intended to incite violence.
"The DOJ will understandably be concerned that the Supreme Court (particularly the current court) would find that Trump's speech was constitutionally protected by the First Amendment," he wrote. "But this evidence should be enough to make them consider an incitement prosecution."
In a post on his Truth Social page Tuesday, Trump denied that he called for armed attendees to be allowed into the rally.
Mariotti said that another of Hutchinson's revelations, that Trump allegedly tried to grab the steering wheel in a car when Secret Service agents refused to take him to the Capitol after his Ellipse speech, put the DOJ closer to what they would need in order to prosecute him for obstructing an official proceeding. The steering wheel incident shows that Trump allegedly wanted to be at the Capitol and would have been there if he wasn't prevented, he said.
"That sheds a powerful light on his state of mind," Mariotti added.
Speaking with Newsweek about the hearing, Mariotti said that he believed Hutchinson's testimony was the strongest push yet toward a Trump prosecution.
He added that her testimony today, combined with what is already known about January 6, could be sufficient for prosecuting Trump for inciting violence, though it may face First Amendment hurdles.
"But that prosecution is now today plausible, and before her testimony was not," he said.
Mariotti said that he believes her testimony moved the ball forward for prosecuting Trump for allegedly obstructing an official proceeding, but "there's not enough just based on what she said to get us there."
"And then there's a number of other potential charges like conspiracy to defraud the United States, seditious conspiracy—those two charges in particular—which I don't think there's sufficient evidence based on what we know publicly to charge, and I don't think her testimony today moved forward the charges as to those," he added.
When asked for comment on the potential legal significance of Hutchinson's testimony, Trump spokesperson Liz Harrington said in a statement to Newsweek:
"The many falsehoods wither away with the slightest bit of scrutiny. If this was a legitimate hearing, with cross examination, the partisan hacks on the Unselect Committee wouldn't even bother bringing this 'witness' to the stand."
Updated 6/29/22, 11:35 a.m. ET: This story was updated with a statement from Trump's spokesperson.