Adam Laxalt Might Be Republicans' Golden Ticket to Senate Control
Republicans seeking to gain control of the Senate have their sights set on Nevada, where former Attorney General Adam Laxalt could deliver the GOP a majority in Congress' upper chamber.
Laxalt is campaigning against Senator Catherine Cortez Masto, a Democrat elected in 2016. The state gave Democrats narrow victories in recent election cycles—President Joe Biden won by about 2.4 percentage points—but Cortez Masto is seen as the most vulnerable Senate Democrat ahead of the November 8 midterm elections.
Laxalt, who was the state attorney general from 2015 to 2019 and unsuccessfully ran for governor in 2018, emerged as a bright spot for the GOP.
Republicans hoped Biden's once-dismal approval rating would propel them to victory in key Senate races, but they have run into myriad challenges for Senate control. Biden's approval rating rebounded slightly toward the end of summer, the U.S. Supreme Court's overturning of Roe v. Wade boosted Democratic voter enthusiasm and several key-race candidates have continued to be plagued by scandals or poor polling.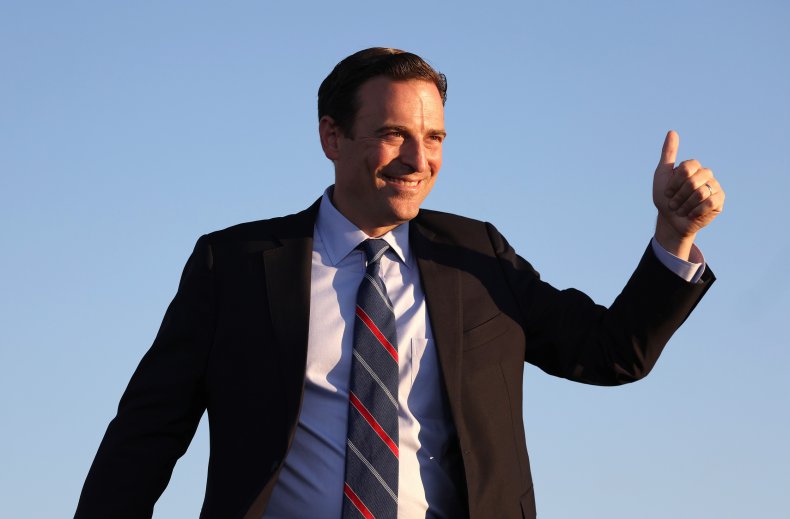 Laxalt, however, leads in all independent polls of likely voters released since September. A CNN poll conducted from September 26 to October 2 showed Laxalt with a two-point lead among 828 likely voters. However, his lead was still within the poll's five-point margin of error.
Nevada is the only state where polls project a Democratic incumbent losing reelection, making it essential to Republican efforts to win control of the Senate, which is currently divided evenly between Democrats and Republicans. Vice President Kamala Harris serves as the tiebreaking vote.
David Damore, Ph.D., a professor of political science and department chair at the University of Nevada, Las Vegas, told Newsweek that Laxalt's ground game could boost his campaign. Any potential inroads with Latino voters made by Laxalt could also be lethal to Democrats, who would struggle to replace them because Nevada has the fifth-smallest share of college-educated voters, a key group in the Democrats' coalition, Damore said.
"Historically, the Democrats have had the superior ground game, but the GOP has upped its game the last couple of cycles," he said in a statement.
The race has also grown competitive due to "particularly stiff" economic headwinds in Nevada, a largely working-class state. And as GOP candidates in other races struggle to gain traction, Republican funds are being sent to Laxalt, Damore said.
"These polls capture what we are seeing on the ground here in Nevada," Laxalt spokesperson Brian Freimuth told Newsweek in a statement. "Between surging inflation, rising violent crime, the effects of an open border, and record-high gas prices, Nevadans are fed up with Cortez Masto being a rubber-stamp vote for Joe Biden."
The GOP needs to net only a single Senate seat to win a majority and limit the scope of Biden's presidential powers, so long as it holds onto every seat they currently have—which appears to be an uphill battle, according to polls.
In Pennsylvania, Dr. Mehmet Oz trails Democratic Lieutenant Governor John Fetterman in recent polls. The seat is being vacated by Senator Pat Toomey. If Nevada and Pennsylvania flip, Republicans would need to flip at least one other seat for a majority.
Arizona and Georgia are seen as having the next-most competitive races.
Democratic Arizona Senator Mark Kelly holds a comfortable polling lead, while Herschel Walker, the GOP's Georgia Senate nominee who has taken staunch anti-abortion positions, is facing scrutiny after a woman claimed he paid her to have an abortion.
Laxalt has faced scandals of his own. During his time in office, critics accused him of pressuring officials, using his authority to fend off investigators and accepting illegal campaign contributions. Over the weekend, former President Donald Trump campaigned for Laxalt at a rally in Minden, Nevada.
Abortion rights, economy major issues in Nevada
Cortez Masto has focused her campaign largely on abortion in a state where a majority of voters support abortion rights. A 2021 OH Predictive Insights poll found that 69 percent of Nevada voters identify as pro-choice.
Laxalt does not support abortion rights but has banked on economic concerns and crime to build a narrow lead over Cortez Masto.
"I know our families, the issues that are important to them are the kitchen-table issues. But I also know, talking with our families, the repeal of Roe v. Wade is having an impact. We're a pro-choice state, proudly. That's why so many are outraged by the repeal," Cortez Masto told the Associated Press.
Laxalt, however, has argued that the issue should be determined by the states.
"The people of each state will now decide what laws they want. As mentioned, in Nevada, the people have already had their say," he wrote in an op-ed for the Reno Gazette-Journal. "A journalist recently asked me if I would support a referendum limiting abortion to the first 13 weeks of pregnancy, essentially, the first trimester. I said that I would, and I stand by that view."
Update 10/11/22, 3:41 p.m. ET: This story was updated with comment from David Damore.