Adam Levine's Ex Nina Agdal: The Woman He Dated Between Behati Breakups
In the wake of the bombshell TikTok that alleged Adam Levine, 43, had an affair with an Instagram model, some are now looking at the Maroon 5 singer's other exes, including model Nina Agdal, to get a better grasp on his dating life.
Just a few days after Levine's wife of eight years, Behati Prinsloo, confirmed on Instagram that they were expecting their third child together, Instagram model Sumner Stroh posted a video alleging that she had a year-long affair with Levine. She also shared screenshots of a message allegedly from Levine asking her if it was alright that he named his third child after her.
Disgruntled fans took a look back at Levine's relationship with Prinsloo following the news, and many were reminded that there was actually another woman in Levine and Prinsloo's early days as well.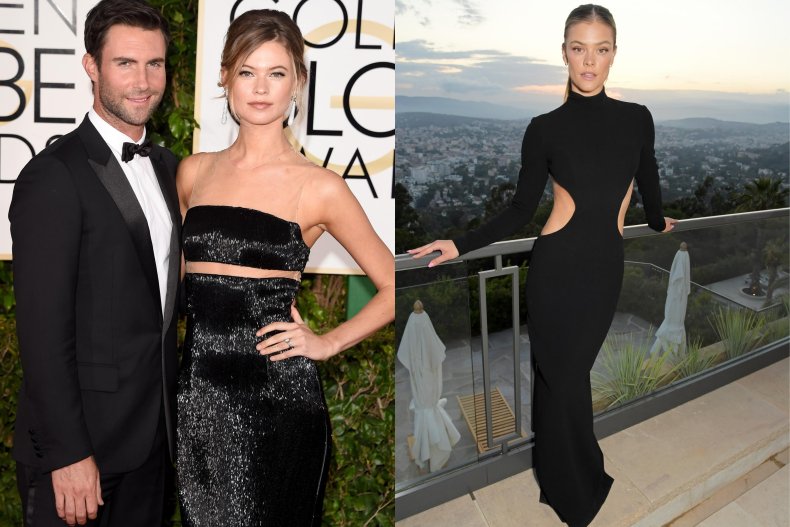 Prinsloo, a Victoria's Secret model, and Levine began dating in May 2012, and while the timeline is a little bit fuzzy, Prinsloo revealed around May 2013 that they had split. Later that month, it was revealed that The Voice mentor, who was 33 at the time, was dating Sports Illustrated model Nina Agdal, who was 21.
Sources reported at the time that their relationship was "fun" and "casual," and she was seen supporting him on the set of The Voice in L.A. The pair also were seen vacationing in Mexico in June.
The fling didn't seem to last long, though; a month later, Levine and Prinsloo were back on and engaged, and sources reported at the time that Agdal found out about the engagement when she got a text message about it from the man himself.
Of her very brief relationship with Levine, the Danish model shared in a feature with Ocean Drive magazine in late 2013, "No, it didn't [teach me about love]. I am 21 years old, and I don't think anyone who is 21 knows what love is about yet."
She added, "I think love just happens. It happened to them and I'm happy for them."
Agdal went on to date Leonardo DiCaprio from 2016 to 2017 and has most recently been seen with WWE talent and internet personality Logan Paul.
Meanwhile, just a few days after proposing in 2013, Prinsloo told Us Weekly, "I forgot I slept with [the ring] on last night, and I woke up and went, 'Oh, hello!'"
She also shared that their wedding plans were "laid back. Obviously my mind has been going, but we haven't talked about anything. I want all of our friends and family there, so however big that is going to be...It hasn't even sunk in yet!"
Prinsloo and Levine were married in 2014 at Flora Farms in Los Cabos, Mexico, and in 2016, their daughter, Dusty Rose, was born. In 2018, the couple welcomed their second child, Gio Grace, and are now currently expecting their third.
Newsweek reached out to a representative for Levine and Prinsloo for additional comment.