Woman Gets Her Very Own 'Happy Meal' After Rescuing Puppy at McDonald's
When this woman took her daughter to McDonald's recently, she had only intended to grab some food, but she came away with a new four-legged family member as well, who has been given a very apt name.
Venus Basaran, 38, from Dallas was taking her daughter shopping on January 18 when she received a notification about an offer at McDonald's, and she just couldn't refuse it.
When Basaran found her nearest McDonald's she and her daughter took some time to enjoy its delicious nuggets before heading back home.
Before they had chance to leave however, Basaran was confronted by a couple of teenagers holding a puppy, and much to her surprise, they asked the mother if she would be willing to take the dog.
She might have only gone for some nuggets, but Basaran couldn't turn down the opportunity to give this dog a loving home.
The American Society for the Prevention of Cruelty to Animals [ASPCA] estimates that 6.3 million pets go into animal shelters every year, 3.1 million being dogs. Despite this incredibly high number, around two million dogs find their forever homes each year.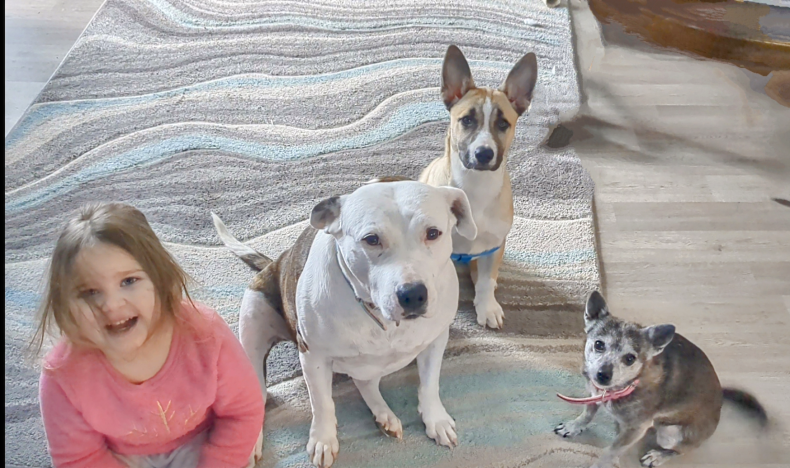 Basaran told Newsweek: "I got a notification on my McDonald's app saying they were giving free chicken nuggets away that day, and my daughter loves playing in the play area. So, I found the nearest McDonald's with a play area and we went there.
"We saw two teenage girls and a puppy crossing the street and walking towards McDonald's. This puppy had no leash or collar, I wasn't even sure if she was with those girls but she was following them.
"One of the girls sat on the curb and was talking on the phone, and the other girl came over to me while I was trying to buckle up my daughter in the car. She asked if I speak Spanish, I said no, so she gets her phone out and uses the translator to ask if I want to take the dog."
The woman continued to explain that she was given the dog but isn't allowed pets in her apartment, so she was desperate to find her a home because she didn't "want to leave the dog in the street."
Although the request was entirely unexpected, Basaran considered it as she had actually been considering adopting another dog recently so this could be the opportunity right in front of her.
After thinking the decision over, she accepted and agreed to give the dog a new home.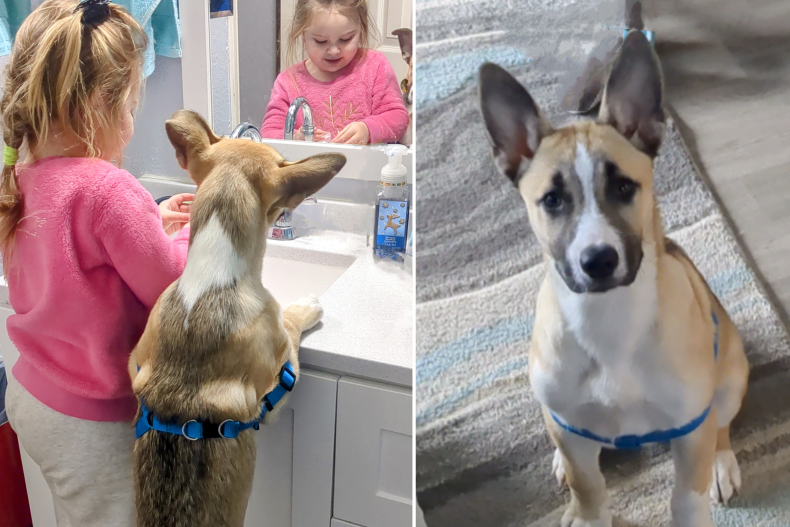 "I picked up the dog and asked her if she wanted to say bye. She smiled but tears started rolling down and she turned back and walked away pretty fast. The puppy started to whine and tried to go after her, it was all so heartbreaking but you can tell she was loved," Basaran continued.
"The last couple of months I have been considering adopting a third dog as the shelters in my area are so full. I was supposed to go to the shelter that day but something just told me to wait one more day."
After taking her home, Basaran's daughter named the new addition Happy, which she believes is after a McDonald's Happy Meal.
The family has since taken Happy to the vets where they confirmed she is a three-month-old shepherd mix, who is thankfully in all round good health.
"The vet said she is some kind of shepherd mix, but we have no idea. If I can justify spending over $100 then I'm going to get her DNA test. It turns out she is three months old, not seven months like the girl told me. The vet said she is in good health, and she got her first round of shots.
"She is doing her puppy things and my three year old adores her! So does one of my older dogs, Happy is settling in great."
Happy has made a wonderful new addition to the family since they brought her home in January, but Basaran does still think about the original owners from time to time and understands it won't have been an easy decision.
"I hope the girl who gave her to me is doing okay. It was bittersweet but I also believe that Happy was meant to be with us. The girl told me that the apartment they are staying in doesn't allow dogs, but I feel like there was more to the story."
Do you have funny and adorable videos or pictures of your pet you want to share? Send them to life@newsweek.com with some details about your best friend and they could appear in our Pet of the Week lineup.