Internet Unimpressed by Mom's Unique 'Birthday Cake' for Daughter's 18th
Lavish birthday cakes are often the pinnacle of any celebration, as focus is drawn to the decoration and theme of the cake.
But, one particular mom took a different approach when she put her daughter's birthday cake together, as seen in a recent video.
TikTok user @mummy_gascoigne shared a video on January 30, showing how she stacked up various takeaway boxes and bags, ranging from McDonald's burgers and fries, KFC meals and Dominos pizza boxes.
The caption that was layered over the video referenced the ingenious birthday idea, as it reads: "My daughter's 18th birthday cake".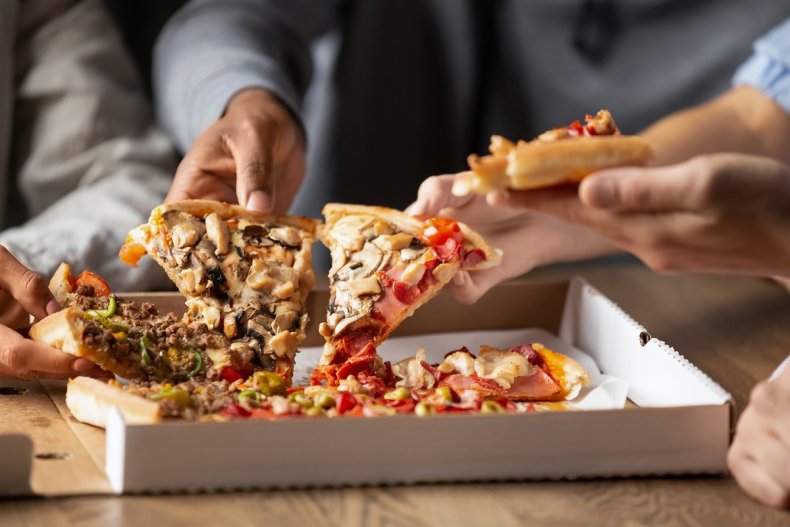 Once all the food was stacked in place, it was ready for the finishing touches, and no birthday cake is complete without candles. The burger buns and small takeaway boxes were each decorated with candles, and special decorative 1 and 8 candles were placed on the top two items.
With birthday ideas such as this one, there's no surprise that popularity in fast food has been steadily on the rise in recent years, with the U.S. fast food industry worth over $296 billion as of 2021.
The research carried out by Zippia also found that on an average day in the U.S., 84.4 million people will consume some type of fast food, so there's no doubting that there's an appetite out there for it.
TikTok user @mummy_gascoigne has divided opinion with this birthday cake idea, but registered dietitian and health coach Bridget MacDonald spoke to Newsweek about the harmful effects eating so much fast food can cause.
"Everything you put into your mouth has the potential to either help you or harm you. With highly processed foods, such as McDonald's, Burger King, KFC, you are ingesting foods high in sugar, sodium and saturated fat, all of which contribute to metabolic diseases and inflammation."
MacDonald was keen to point out that "eating them habitually over time can cause disease in your body," but if they're only eaten as an infrequent treat, then it's not going to do too much damage.
If fast food is the answer, then there are healthy alternatives available from plenty of companies so not every takeaway has to be bad for your body.
"Many fast food establishments are now offering some healthy options, such as swapping fries for apple slices or carrot sticks, whole milk or fruit juice instead of soda," MacDonald said.
Since sharing the video of the fast food cake, it has already received 11.9 million views and over 18,000 comments. There was one resounding theme among the comments on the video though, with a lot of users pointing out how cold the food would be by the time it's eaten.
One TikTok user wrote: "I'd be so mad if I got there and it was all cold."
However, others were more appreciative of the idea, as the official TikTok page for Dominos pizza commented: "Our kind of cake."
Is there a health issue that's worrying you? Let us know via health@newsweek.com. We can ask experts for advice, and your story could be featured on Newsweek.