Mold, Bugs in Burgers at Russia's McDonald's Substitute Spark Outrage
Some customers of Russia's rebranded McDonald's are not loving it according to images by social media users of orders that have contained some unexpected ingredients.
McDonald's pulled out of Russia following its invasion of Ukraine and a local version of the burger chain called Vkusno & Tochka (tasty and that's that) relaunched in its place to much fanfare last month.
But the Russian version of Happy Meals—called Combos—has reportedly left some customers decidedly unhappy at the additional protein served up.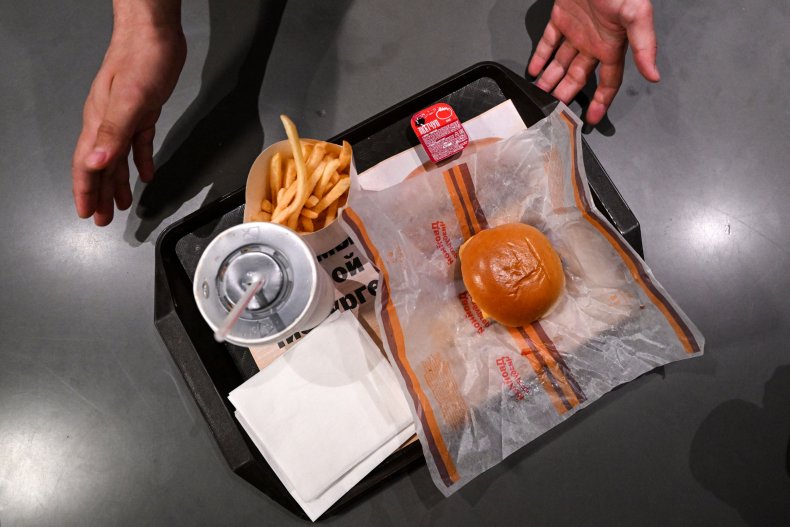 Images posted have shown what appears to be insect legs and bugs in the burgers, while other pictures document creeping mold on the buns.
Another Twitter user posted a video clip of birds pecking at a stack of burger buns outside an outlet, citing it as a grim example of Russia's experiment with fast food import substitution.
In response to the claims, a spokeswoman for the chain told Newsweek that "product quality and safety is our top priority. When storing and preparing products, all necessary procedures are followed.
"We have already contacted the manufacturer for further clarification. And the entire batch, in which the product of inadequate quality was found, has been discarded."
Of course, there is no shortage of claims about insects being found in the food produced by fast food outlets in the U.S.
However, the reports were enough to prompt opposition politician and television personality Ksenia Sobchak to say on her Telegram channel that the new Russian chain "doesn't quite honor the standards of McDonald's, at least in terms of product quality control."
"Today alone, at least three cases have been recorded when burgers with moldy buns were sold to catering customers," she said, later posting that customers had also been given sauces that had gone beyond their best before date.
"Guys, you'll figure it out," she wrote, "you don't need to poison people."
McDonald's had operated in Russia for three decades after the fall of the Soviet Union but was among the many companies that deserted the country following the start of President Vladimir Putin's invasion of Ukraine.
Sold to Russian businessman Alexander Govor, who ran 25 McDonald's outlets in Siberia, the chain told Reuters that it sold a record 120,000 burgers on its opening day last month.
The chief executive Oleg Paroev said the company was planning to reopen 200 restaurants in Russia by the end of June and all 850 by the end of the summer, telling reporters before its reopening that its goal was that customers "do not notice a difference either in quality or ambience."
The rebranded fast-food chain retains the old McDonald's interior but there is no reference to its old name. While there are no Big Mac or McFlurry equivalents, the menu boasts of burger offerings called "Grand Deluxe," "Double Grand," and "Big Special."