Video of the flagship restaurant replacing McDonald's in Moscow showed Russians swarming the rebranded chain on Sunday.
McDonald's announced its exit from the country on May 16, nearly three months after Russia's invasion of Ukraine. When it debuted there over 30 years ago, the fast food chain was one of the first Western brands to open shop before the collapse of the Soviet Union, symbolizing a major political and cultural moment. Ahead of the closures, long lines outside Russia's 850 McDonald's restaurants mirrored images of eager customers gathering for the chain's first arrival in Moscow.
The company said in a statement last month, "The humanitarian crisis caused by the war in Ukraine, and the precipitating unpredictable operating environment, have led McDonald's to conclude that continued ownership of the business in Russia is no longer tenable, nor is it consistent with McDonald's values."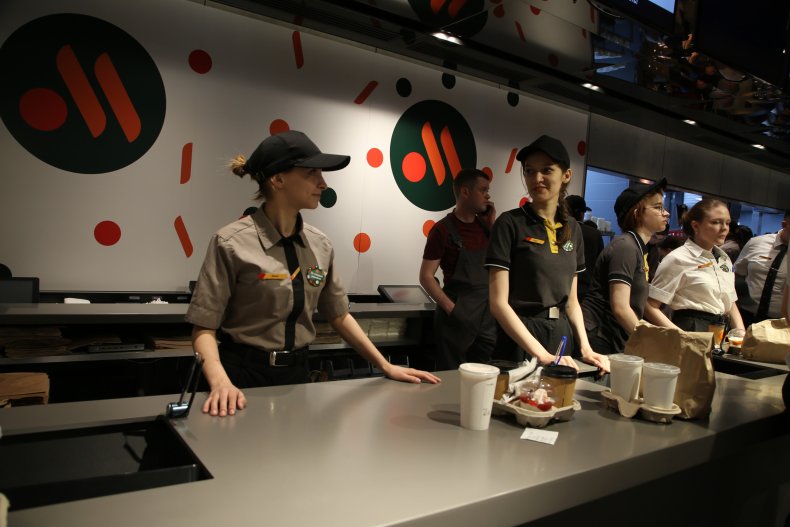 The business was sold to entrepreneur Alexander Govor, who opened the doors of a rebranded chain called Vkusno & Tochka on Sunday. The name translates to "Tasty and that's it." Video shows crowds of people packing into the flagship restaurant in Moscow, one of 15 locations that opened in and around the capital yesterday. The occasion was planned to coincide with Russia Day, a holiday celebrating national pride.
The new logo is a red dot and two orange lines—a stylized burger with fries. It comes with a slogan declaring, "The name changes, love stays." According to Reuters, the rebrand was so quick that Vkusno & Tochka stores reused old ketchup packets and scribbled over the old logo in black ink. Much of the packaging for fries, burgers and cups was plain white.
The famous Big Mac burger and McFlurry dessert had disappeared from the menu, as they are proprietary to McDonald's. A fish burger replaced the Filet-O-Fish. But chicken nuggets, cheeseburgers and sundaes were all still available at slightly lower prices than before.
A double cheeseburger went for 129 rubles ($2.24 USD) compared with about 160 rubles on the previous menu. A fish burger sold for 169 rubles, down from about 190 for a McDonald's Filet-O-Fish.
Burger compositions are the same and stores are using the same equipment they had under the McDonald's name. Govor told Reuters the new chain planned to launch an item similar to the Big Mac.
"The Big Mac is the story of McDonald's. We will definitely do something similar," he said. "We will try to do something even better so that our visitors and guests like this dish."