Horrifying Video Shows Man Allegedly Finding Insect in Olive Garden Soup Viewed 2M Times
One man appears to have made an unfortunate, six-legged discovery in his bowl of soup from Olive Garden. A video of the incident, which has racked up 2.3 million views and 217,000 likes on TikTok, is just one example of a broader trend erupting across social media—customers and employees have turned to the virality of platforms like TikTok to "expose" the alleged unsavory practices of corporate-run restaurants. As a result, these types of claims have started reaching wider audiences than ever before.
In the clip, found here, TikToker @luis_a_951 (known on the app as Luis) shows himself using his spoon to scoop something out of his soup bowl. Within moments, it becomes clear that the foreign object is, in fact, a bug. The insect is clearly massive and spans at least several centimeters.
Luis continues to lift the limp bug with the spoon before releasing it back into the liquid. While the insect's species remains unknown, it appears in the footage to closely resemble a cricket. Regardless, the bug seemed to have died at some point before reaching his plate.
According to Olive Garden's menu, available on their website, it appears that Luis was eating the chain's "Zuppa Toscana," which features "spicy Italian sausage, fresh kale and russet potatoes in a creamy broth." Meanwhile, a bowl of what looks like their "Famous House Salad" is visible in the background.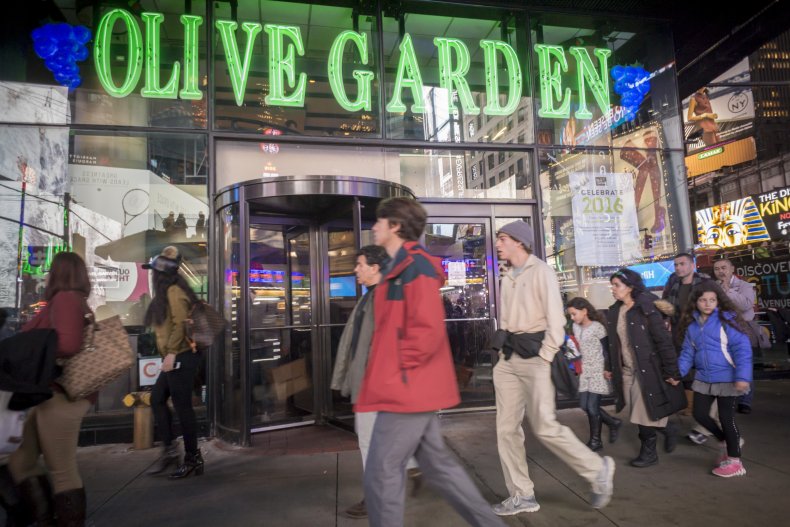 In the comments section of his now-viral clip, Luis provided some additional details for curious viewers. He noted that the clip was filmed at an Olive Garden location in Riverside, California, and he explained that, in response to the incident, the restaurant apologized and "offered more soup" as a replacement. Luis, however, "passed" on the offer and "just left ASAP."
The claims made in this video remain unverified: Newsweek has reached out to both Luis and Olive Garden for additional comment on the incident but did not receive a response in time for publication.
Viewers, however, were quick to share their own experiences with Olive Garden and other chains in the comments section.
Several current and former employees of the Italian-themed chain spoke up, with many saying they had seen "worse."
"As a host who's quitting Olive Garden wait til [sic] you see behind the scenes," wrote one commenter.
Added another: "The one I worked at wasn't this bad but I can confirm that all the food is microwaved."
"Worked there for 5 years. Least of your concerns," voiced another viewer.
Others shared similar horror stories about dishes purchased elsewhere. "This happened to me! Except I was at McDonald's and they had a cricket in my burger.....baked on with the cheese," commented one viewer.
Many more found humor in the video, joking that the insect added a little "extra protein" to the dish.
The video is just one of many in this category to have surfaced in recent months. In a July video, Wendy's employees claimed that the chain knowingly served customers expired meat. Another, posted by a former Subway employee, warned viewers to "stay away from" certain items on the menu.
Not all of these videos, however, are negative. A clip, showing how Subway employees prepare the restaurant's vegetables elicited a positive response on TikTok. Similarly, viewers were impressed by Five Guys after learning that their fries are made from scratch in-store.