Watch Adorable Moment Golden Retriever 'Cannot Wait' to Visit the Vet
A golden retriever with an uncharacteristic love for her vet has delighted online viewers after she was captured wagging her tail at the doctor's door.
"She cannot wait to go inside and it is the sweetest thing," read the text overlay on the viral Instagram video, which has received over 203,000 likes and been played more than 4 million times.
Nala, who is 11 months, lives in Vancouver, British Columbia, with her owners. When she recently came down with an eye infection, they had to get her checked out at the local vet.
But unlike lots of dogs, Nala loves to visit her animal doctor. At the door, she cannot wait to get inside to say hello to the other dogs and, of course, get some treats from the vet.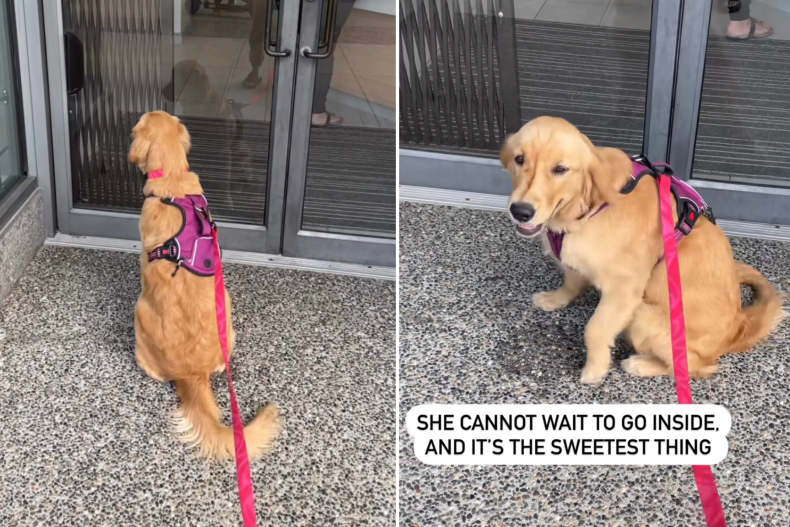 "She had such great experiences at the vet when she was younger, it's her favorite place to go," said the owner on the video.
Fear of the vet clinic is not uncommon for our canine friends. VCA Animal Hospitals says that fear may cause dogs to exhibit symptoms of fear such as submissive urination, panting, drooling, growling, snapping and biting.
The most common reason a dog may develop a fear of the vet is its feelings of trauma. The strange sights and smells are enough to raise your dog's anxiety levels even before it is restrained and examined by a veterinarian.
How to Stop a Dog From Being Scared of the Vet
There are a few ways you can help your dog become less scared of a visit to the vet.
Consider visiting the vet's office when your dog doesn't need treatment—for example, to stop by and say hello to the receptionists. Reward your dog and start creating positive associations with the place itself.
You can also help your dog get used to things that might happen at the vet by doing some practice exams. Check your dog's ears and restrain it to have a look at its teeth and paws. Getting your dog used to be examined in this way can make it less terrifying to be looked over by the vet.
With more than 64,000 followers and hundreds of posts, Nala's owners frequently share updates in the form of pictures and videos of their beloved pup.
Nala's owner told Newsweek: "I share content because Nala brightens my day so much. It's nice to share that joy with everyone else—she has such a great community online."
Do you have funny and adorable videos or pictures of your pet you want to share? Send them to life@newsweek.com with some details about your best friend and they could appear in our Pet of the Week lineup.