Dog Sedated After He 'Chose Violence' at Vets Leaves Internet in Stitches
A video of a dog who needed to be sedated after he "chose violence" during a trip to the vets has amused viewers on TikTok.
In the video, Charles the small pup can be seen in the car on the ride home, drowsy from the sedative and wearing a soft muzzle. The video text reads, "Charles chose violence at the vet and got sedated."
The video, uploaded by Mollie Tinnin (@chronicallyconnected), has received over 3.2 million views.
Concerned users commented on the clip, with one writing, "That's sad. Poor pup. I'm not laughing buddy," to which another user replied, "Vet assistant here, sometimes we have to do this to reduce the stress on the dog and keep everyone safe."
The Massachusetts Society for the Prevention of Cruelty to Animals (MSPCA) reports that anxious or aggressive dogs may require a sedative to reduce distress to the animal, and keep the veterinarian safe during any treatment.
Katherine Cummings, a member of the anesthesia team at The Angell Medical Center, part of the MSPCA, writes on their website, "Aggressive and/or fearful dogs present several challenges for the small animal practitioner. These patients are difficult to fully evaluate and present a safety hazard to the clinic staff, veterinarian, and sometimes even the owner.
"In addition, a nervous dog contributes to heightened stress within the work area affecting not only people but other pets alike. In dogs known to be aggressive within the hospital setting or those with tremendous fear/anxiety, making physical exams and basic assessment impossible, pre-hospital sedation can dramatically improve the experience for all involved in that patient's care."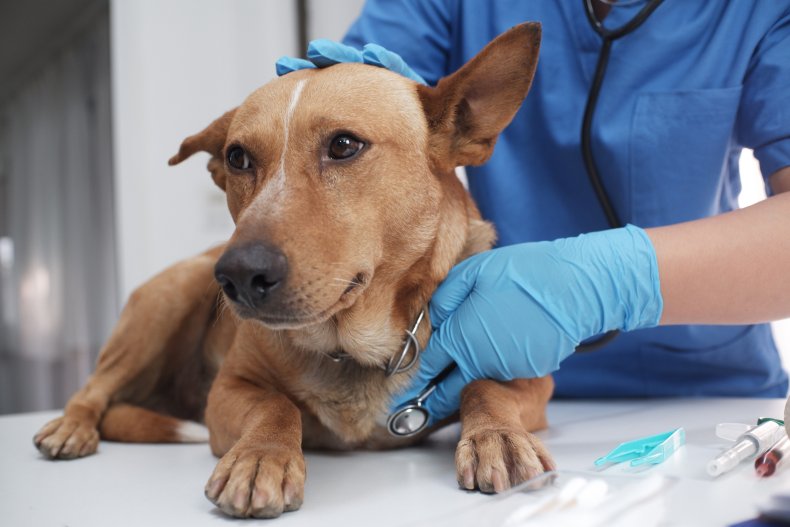 "It is very common that the dog appears much more sedate at home in comparison to the clinic and duration of sedation can be variable—up to 24 hours, which is normal and not harmful," Cummings said.
"Practice and learned comfort with oral sedation can dramatically improve the hospital experience for stressed and fearful dogs, but requires self-, client-, and staff-preparedness in mitigating additional stressors within the hospital environment. The outcome is a dog that adapts more readily to a new environment, allowing for an improved patient assessment and patient-doctor relationship."
TikTok users found the video hilarious.
User Fershnickersferreal said, "Charles fought the vet and the vet won," while Cindy Barefield Van Dinter joked, "Charles definitely was NOT in charge."
One user commented, "Charles looks like he's been through it," to which Tinnin replied, "Haha all this over a couple of shots, some blood work and a nail trim."
Newsweek has reached out to Mollie Tinnin for comment.
Do you have funny and adorable videos or pictures of your pet you want to share? We want to see the best ones! Send them in to life@newsweek.com and they could appear on our site.