Watch Scary Moment Man Fears He's About To Be Attacked by 'Powerful' Dog
A runner has revealed the scary moment he thought he was going to be attacked by a dog in the park.
The viral TikTok video has received over 4 million views and 221,000 likes since it was posted on January 29.
Newsweek reached out to Wilko Koning, 32, who captured the footage using an Insta 360 action camera on a selfie stick while trail running in National Park Utrechtse Heuvelrug in The Netherlands.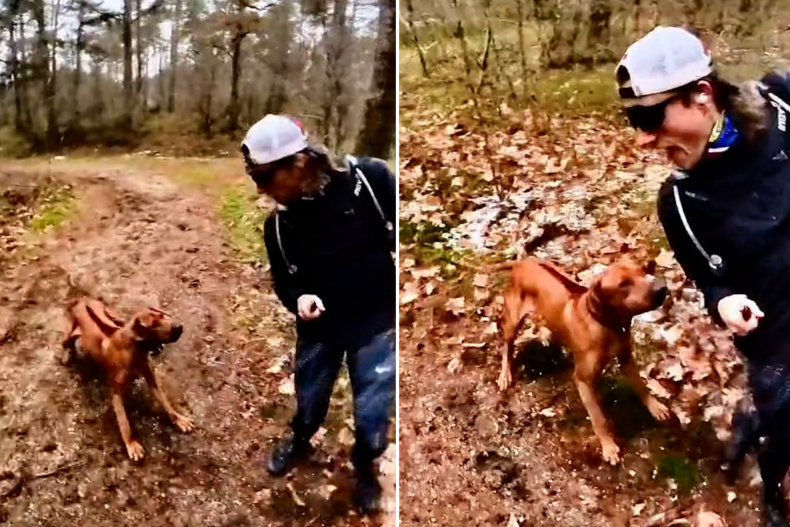 The digital marketer, from The Hague, Netherlands, told Newsweek: "At first, I didn't think much of it, but when the dog got close I definitely felt scared.
"I realized he was up to no good and the owner was not in sight, I did hear her trying to recall which didn't work.
"Right after it happened my heart was racing and I realized that was a close call. But I have been out on the trails since and haven't felt really scared."
Before uploading the footage to TikTok, Koning shared the incident on Reddit.
"I realized I was pretty lucky. People pointed out it was a Rhodesian Ridgeback and said these dogs are actually very powerful and should definitely be leashed," he told Newsweek.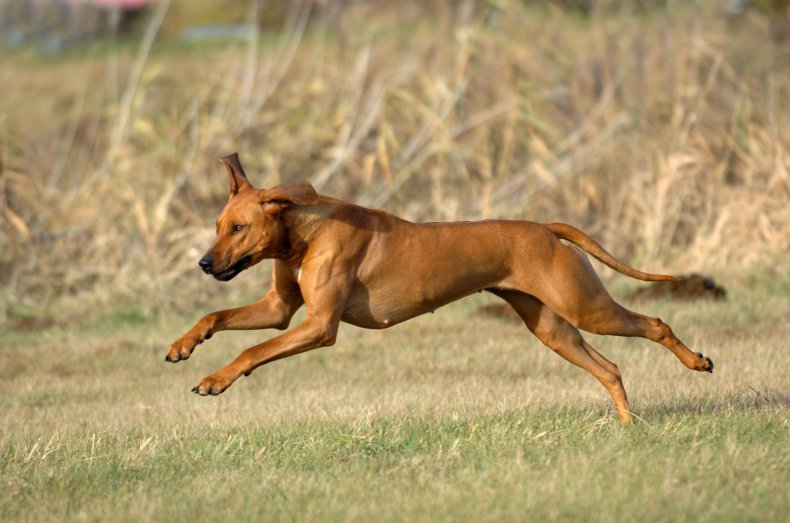 The American Kennel Club (AKC) states "Ridgebacks are cherished family dogs whose owners must be prepared to deal with their independence and strong prey drive."
The breed became popular in native Africa for its baying and tracking skills, "but never, ever killing, lions," states the AKC.
Over 3,200 people have commented on the viral TikTok clip.
One user said: "That's where I would be screaming at the owners to put their dog on a damn leash."
"That's a Rhodesian ridgeback.. lion hunter," pointed out another.
One user said: "I'm convinced dogs just want to see people flinch in those moments."
"Ridgeback is a scary breed," claimed another.
Another person said: "That is a pure Rhodesian ridgeback. And they are fierce."
Sometimes breeds like this one are dubbed as scary but they have a sweet side. Previously, Newsweek shared a video of a Doberman who was napping with his security blanket and an adorable clip showing a "needy" Rottweiler kissing his owner.
However, it is always better to be safe than sorry when an unleashed dog is near as there have been many heartbreaking cases of dogs mauling humans. Recently, Newsweek a man was killed by a dog as he tried to protect his pet, and a dog was forced to have his eyes removed following an attack in the park.
If you have a personal dilemma, let us know via life@newsweek.com. We can ask experts for advice on relationships, family, friends, money and work and your story could be featured on Newsweek's "What Should I Do? section.