Man Mauled to Death by Dogs While Protecting His Pet: Police
A Texas man has died after being mauled to death by several dogs while he protected his pet.
Houston police were alerted to reports of an attack in the 500 block of Sheraton Oaks Drive at about 4:15 p.m. on Wednesday, February 1.
A Houston Police spokesperson said in a February 1 Twitter post: "North officers are at 5500 Sheraton Oaks investigating the death of an adult male. Initial indications are the male was bitten by dogs."
According to NBC affiliate KPRC-TV, officers said the neighbor's animals managed to get through the fence and attacked the man's pet dog.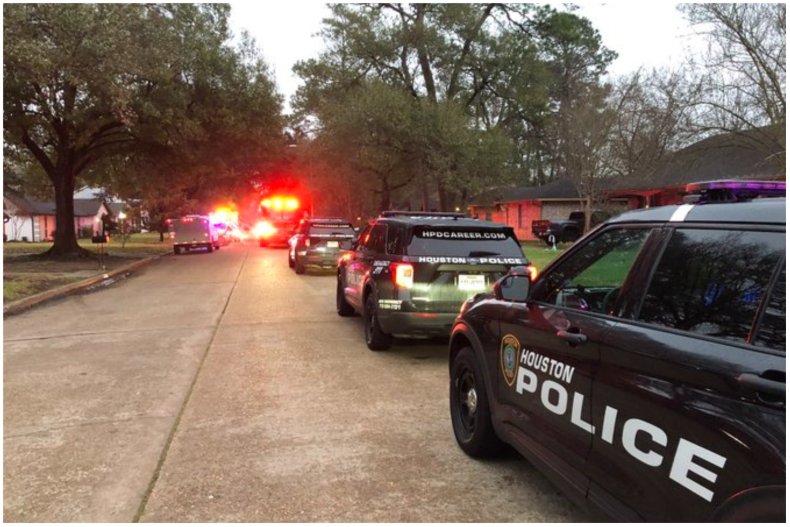 The victim then intervened when he saw his dog being attacked and was mauled by the other pets.
According to dogsbite.org, a website that collects information about dog attacks, there were 48 fatal maulings across the U.S. in 2019.
Officers didn't share the victim's identity, but did say he was in his 30s.
Houston Police Department (HPD) Lt. Larry Crowson said: "Officers arrived, along with the fire department. They found an adult male in residence here. There was at least one dog attacking the person when the fire department got here."
He added: "The officer fired one shot, striking the dog and the dog ran off back in the other yard."
Police told KPRC-TV that the Harris County District Attorney's Office would determine whether the dog's owner would be charged. They added the owner remained on the scene and cooperated with investigators.
Neighbors told the network the victim was quiet and had visible physical disabilities.
Neighbor Edward Lorenzo said of the victim: "He was always out checking the mail and would come to play with my cats or call my cats."
Newsweek has contacted the HPD for comment.
According to the Centers for Disease Control and Prevention, there are several things people can do if they are approached by an unfamiliar dog, including:
Stay still and be calm.
Avoid direct eye contact with the dog.
Do not panic, make loud noises, or run.
Say "no" or "go home" in a firm, deep voice and stand with the side of your body facing the dog.
Slowly raise your hands to your neck with your elbows in and wait for the dog to pass or slowly back away.