Reason Why Adult Golden Retriever Loves Little Puppies Melts Hearts
An adorable video of an adult golden retriever bonding with a foster puppy has delighted viewers online, with more than 150,000 views.
In the TikTok clip posted by @ladyandtheblues, Lady the four year old golden retriever can be seen snuggling in various places with a retriever puppy. The text reads: "Wondering why my dog loves little puppies."
The video then cuts to a clip of Lady holding a stuffed toy shaped like a dog, while the text explains: "Her favorite stuffie since she was a puppy."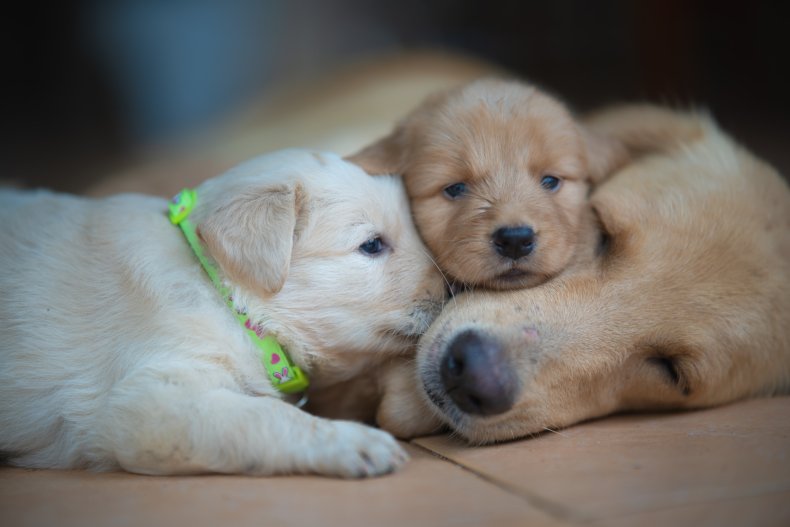 Newsweek spoke to Lady's owners, Orange County-based influencer Erika and IT director Rasmus about their adorable pup.
"She makes us happy just being herself," they said. "She makes us smile with her many antics every day and keeps us active because she's a very active dog. We think of her as our first born child! We cannot imagine life without her."
The puppy in the video is 14-week-old foster Stewie. "He was found in the street in the rain" explains Erika, "and he was rescued by SoCal Golden Retriever Rescue. He's been with us for three weeks."
The two got on instantly, according to Lady's owners: "Stewie is a very confident dog around older dogs and Lady loves playing with puppies."
The caption on the video: "It's her baby." In other videos, Lady's owners appear to foster other dogs, so she has a constant stream of "babies."
Golden retrievers are an incredibly popular dog around the world. In the U.S, the breed has held the No. 1 spot on the American Kennel Club's most popular dog list since 1991. It's not hard to see why they are such popular dogs because they're loyal, beautiful, funny, and clever, and make great family pets.
Golden retrievers are very rarely aggressive and often get on well with children and other animals. However, they may go into alert mode when they perceive something to be a threat.
Veterinarian Jessica Perry Hekman published a piece on her blog in 2014 in which she claimed to have scientifically discovered why golden retrievers are the best dogs. Heckman, who was also a Ph.D. student in the genomics lab at the University of Illinois, found that it essentially comes down to genetics.
Hekman wrote: "I can own a series of golden retrievers and predict with fair accuracy how each of them will look and act. (Look more than act, but the incredible variety of dog personalities is a story for another day).
"Unfortunately, I can also predict with fair accuracy what diseases each of those dogs will have, because with the golden looks and personality come the golden genetic disorders."
Hekman attributed the relative predictability of the breed to strict Victorian trends where society started breeding dogs for the way they looked, "not just how they worked." So, an emphasis on purebred dogs emerged. This means that golden retrievers are all descended from the same few dogs, so the lineage can be traced and their temperament is easier to predict.
"It's like this small set of dogs is marooned on a desert island with no way to bring in new genetic diversity," Hekman wrote, "and their pedigrees are what marooned them. Their descendants will look like them and act like them."
When asked if Lady will be sad when Stewie leaves, Rasmus told us, "She acts a bit sad every time our foster puppies leave but she always bounces back in a few days. After all, she loves getting full attention from us! Plus she has a lot of good dog friends and we often have play dates with them."
The couple said that they have been fostering since April 2022—seven dogs in total.
"We believe fostering is such an important part of rescue work because without foster families, rescue dogs will have to stay at shelters and will not get proper love or training so they can be the best versions of themselves when they get adopted.
"When we foster, not only we treat them like our own but also teach them basic obedience. Especially potty/crate training for young puppies so the new family will have a good start training the puppy. We love to spread the word by making these adorable videos of Lady and our foster puppies, because there is always a need for more foster homes."
Do you have funny and adorable videos or pictures of your pet you want to share? Send them to life@newsweek.com with some details about your best friend, and they could appear in our Pet of the Week lineup.
Update 2/17/23, 9:53 a.m. ET: This article was updated with comment from Lady's owners, Erika and Rasmus.