Golden Retriever Ensures 'His Girl' Gets on School Bus Safely Every Day
Whatever the weather, a golden retriever called Sam waits on the front drive to make sure his owner gets on the school bus safely.
In a viral TikTok clip posted by @jenihullett, the 3-year-old dog stands at the end of the driveway, waiting for his owner's daughter to get on the bus. He then runs back into the house when the vehicle drives off.
The clips' montage has on-screen text: "Every day our Golden Retriever makes sure his girl gets the school bus safely. He always comes straight back to the house afterward."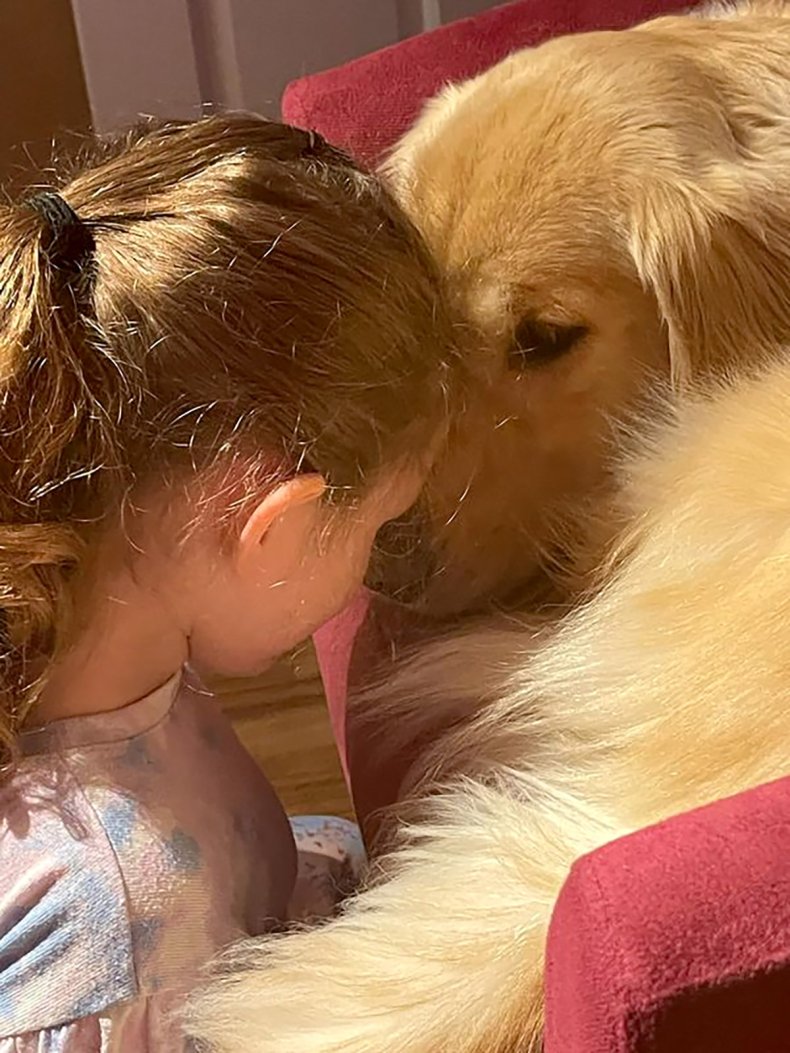 Sam can be seen doing the exact same thing in the rain, snow and when it is -40 degrees. The clip has 1.3 million views and 240,200 likes since it was posted on February 6.
Speaking to Newsweek, his owner Jennifer Hullet said: "He's been doing this since the day we got him. He would go out to the bus with us, but when it became uncool to have parents on the bus, Sam kept going."
It is no surprise the video has been a hit online as Sam's breed has ranked third most popular dog in the U.S. from 2013 to 2021, according to the American Kennel Club.
Golden retrievers are a family favorite because of their lovable and easy-going personalities. They are best known for their eagerness to please and patience with children.
In December, Newsweek shared an adorable video of a golden retriever meeting his owner's newborn baby for the first time. In November, we published another clip of a golden who acts like the "best big brother".
In the comments, Jen, his owner, told other TikTok users more about Sam's commitment to her daughter.
She wrote: "He goes back outside every day to get her off the bus, too. He knows what time he needs to wait by the door to go and everything."
Jen also explained to other users that he comes inside to check on "his baby," which is a kitten.
More than 2,900 people have commented on the video, and it is fair to say everybody wants a Sam in their lives.
"He's like my important morning work is done. Going back inside to see what else I can help with," commented one TikTok user. "This is clearly his child," wrote another.
"That's not a dog, it's an angel," posted one person, while another referred to him as the schoolgirl's "bodyguard."
Other users have been reduced to tears, with one writing: "This is so sweet!! I'm literally bawling."
"The turn around and run after his duty is done is so damn cute," commented another user.
Update 10/02/22, 04: 11 a.m. ET: This article was updated with a comment from Jennifer Hullett and original content.
Do you have funny and adorable videos or pictures of your pet you want to share? Send them to life@newsweek.com with some details about your best friend, and they could appear in our Pet of the Week lineup.