'Grow Up': Adult Meeting Disney Hero Sparks Debate
An emotional video of a woman at Disney World has sparked debate online, with some viewers hailing the footage as "adorable," while others said that it was "embarrassing."
TikTok user Sarah Rachul—who posts under the handle everydayisdisney—shared the video on May 3 which now has more than 1.8 million views. After gaining viral attention on the video-sharing app, screenshots of the video made their way to Twitter where it has received over 150,000 likes and thousands of retweets and quote tweets. A Twitter user shared snapshots of the footage with the words: "We need to do something about Disney adults."
In the video, Rachul is seen at Disney World waiting to see Goofy, the iconic Disney character who made his first appearance in the 1932 short Mickey's Revue. Her excitement is overwhelming as he appears and she runs toward him crying for a hug.
In the caption, she shared more reasoning behind her reaction and wrote: "I can't remember the last time I cried this hard...It might sound silly but my papa's favorite character was Goofy and when I hug Goofy it's like hugging my papa again."
Rachul, who is from Ohio, told Newsweek: "I grew up going to Disney because my grandparents (Papa and Grammy) would take me and my parents to the parks. It's almost like a second home and my parents and I visit multiple times a year even now that both my grandparents have passed. My papa was a huge Goofy fan and was always excited to see him in the parks and give him a hug. So when my papa who was also my best friend passed away, getting to hug Goofy in the parks brought back that memory for me and made it like I was hugging my papa again."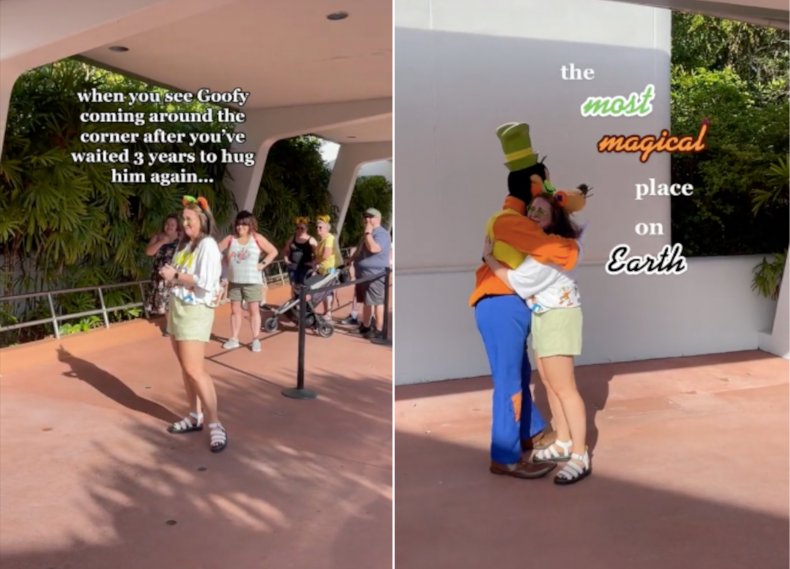 It wasn't until April 18 that fans were once again allowed to hug their favorite characters. Hugs between characters and guests were previously banned since Disney World reopened after the first wave of the COVID-19 pandemic in 2020—something that arguably made the moment even more special for the Disney fan.
But once shots from the video were shared on Twitter, it took on a new life altogether—prompting social media users to mock and joke about the woman's reaction.
"Imagine having to hug these people all day," said one Twitter user, while another wrote: "Send [them] all to their own planet so they can do weird s*** there."
One Twitter user commented: "It's f***ing stupid mate, infantilism nonsense. Grow up."
On TikTok some commenters also shared disapproval. One TikToker wrote: "The guy in the suit was prob embarrassed for her," and another said: "And this is why Disney is absolutely unbearable to visit."
But before long, others online jumped to the defense of the woman. One Twitter user wrote: "There's a difference between creepy and weird Disney adults and people who just like Disney, in this instance OP was emotional because her late dad's favorite was Goofy but y'all have to make it like this."
Meanwhile, another commenter simply said: "Let people enjoy things," and one person wrote: "The world is dying, let people have fun."
Author and Disney Parks fan Marianne Eloise recently shared her love of Disney as an adult in her book Obsessive, Intrusive, Magical Thinking—delving into her own connection to the iconic media company and the controversy surrounding adult fans.
Eloise told Newsweek: "I think some people have a fundamental incapability to find things they love or to experience joy at all, and it makes them distrustful of people who can. We're expected to grow out of certain things, and when we continue to have interests in adulthood, it's looked down on and perceived as weird when really it's just a way of clinging onto any and all scraps of joy in a world that is painful and cruel.
"Life is short and if sitting on the Haunted Mansion six times in a row gives me a respite from suffering and mundanity, that is my business. I feel sorry for anyone who has so little joy in their life that they lash out at people who can find it."
"I wish I could say I was surprised," said Rachul, "but working in PR professionally, I know my way around social media and once the hate comments started coming in I wasn't really phased. I was raised to have a thick skin and being a 'Disney Adult' your whole life kind of prepares you for some of the commentary you see on the video."
Following the backlash around the TikTok video, one commenter said: "It's comments like this that make me too embarrassed or uncomfortable to enjoy meeting characters," but Rachul reached out to reassure the commenter and wrote: "Ignore them! Who cares—if meeting characters makes you happy then be happy. I support you."
Despite being able to shake off the comments, Rachul believes that the reaction to her video is an important teaching moment: "I think there is an incredibly important lesson here to be learned around cyberbullying. I dug into some of these video duets/stitches and comments and lot of the people behind the account are in middle school/high school/college. These are really formative years for learning how to treat others and I'm concerned for how brazen people have become online when criticizing strangers."
UPDATE 05/11/2022, 04:34a.m.: This article was updated to include new video, imagery and comment from video owner Sarah Rachul.