Afghanistan Says Trump 'Defies' Facts With Claim That Soviet Union Had 'Right to Be' in Their Country, Asks for Clarification
Afghanistan's Foreign Minister Salahuddin Rabbani slammed President Donald Trump's assertion that the former Soviet Union was "right to" invade his country from 1979 to 1989 on Thursday, and his ministry has asked for formal clarification on the comments.
"Soviet occupation was a grave violation of Afghanistan's territorial integrity & nat'l sovereignty. Any other claim defies historic'l facts [sic]," Rabbani wrote on Twitter. "Invasion was condemned by UN&int. comm. Heroic resistance & sacrifice of millions of Afghans 4 freed'm & independence ingrained n history [sic]," he added.
The country's foreign ministry also released an official statement on Thursday saying it had asked Washington for clarification on Trump's "recent comments," Radio Free Europe reported. "Following the former Soviet Union invasion, not only all U.S. Presidents condemned it, but they also remained supporters of the Afghans' holy Jihad," the statement said.
Trump made the controversial remarks at a Wednesday cabinet meeting, during which he criticized his country's longest war that has been waged against the Taliban, an Islamist militant group operating in Afghanistan. The war was launched in 2001 by former President George W. Bush after the attacks of September 11. At the time, the U.S. administration accused the Afghan group of harboring Al-Qaeda, the extremist organization founded by Saudi national Osama Bin Laden, the mastermind of the terror plot against the U.S., which was carried out by a group composed mostly of his countrymen. (The U.S. has long avoided criticizing Saudi Arabia, which spends money on U.S. arms, and which is crucial for intelligence on the Islamic extremism that it also foments.)
In his comments, Trump argued that Russia and other regional nations should take a more active role in resolving the ongoing Afghanistan conflict between the Taliban and the country's government. The president then inaccurately and confused Russia's own history with the country.
"Russia used to be the Soviet Union. Afghanistan made it Russia because they went bankrupt fighting in Afghanistan," Trump said. "The reason Russia was in Afghanistan was because terrorists were going into Russia. They were right to be there."
Omar Samad, a former Afghan diplomat who is now a senior fellow at the Washington-based Atlantic Council, was also quick to criticize Trump's remarks.
"Oh boy. POTUS needs advisors who can brief him on why USSR went into Afghanistan in 1979 (after a bloody communist/military coup in 1978 followed by indiscriminate purges was facing widespread popular resistance) [sic]," Samad wrote on Twitter. "The rest is history. Wrong narratives can result in bad policy," he added.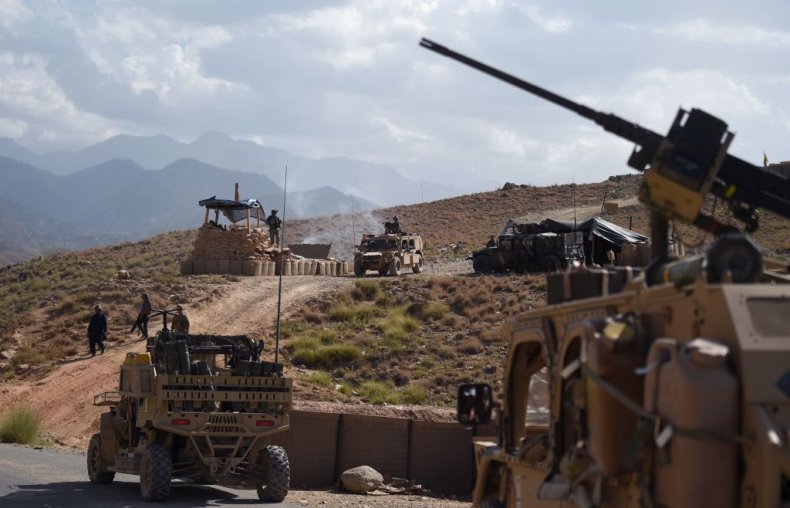 The president's remarks came as he reportedly plans to halve the number of U.S. troops stationed in Afghanistan from 14,000 to about 7,000. Trump campaigned on removing the U.S. from "endless" foreign conflicts, which he deemed wasteful and unnecessary. However, he has faced significant pushback from within his own party as well as from many Democrats.
After Trump announced last month that he would withdraw U.S. forces from Syria and reports circulated that he would significantly reduce the number of troops in Afghanistan, Secretary of Defense General Jim Mattis abruptly resigned. Leading Republicans also slammed the president, arguing the move would be a mistake.
Although many Democrats have also criticized the move, which reportedly came as a surprise to many within Trump's own administration, Democratic Senator Elizabeth Warren from Massachusetts, who recently announced her 2020 presidential bid, said on Wednesday that the president was making the "right" decision. She criticized Trump's approach, however, saying he'd made the announcement without adequate planning and consultation with allies.