Africa's Third-Term Problem: Why Leaders Keep Clinging to Power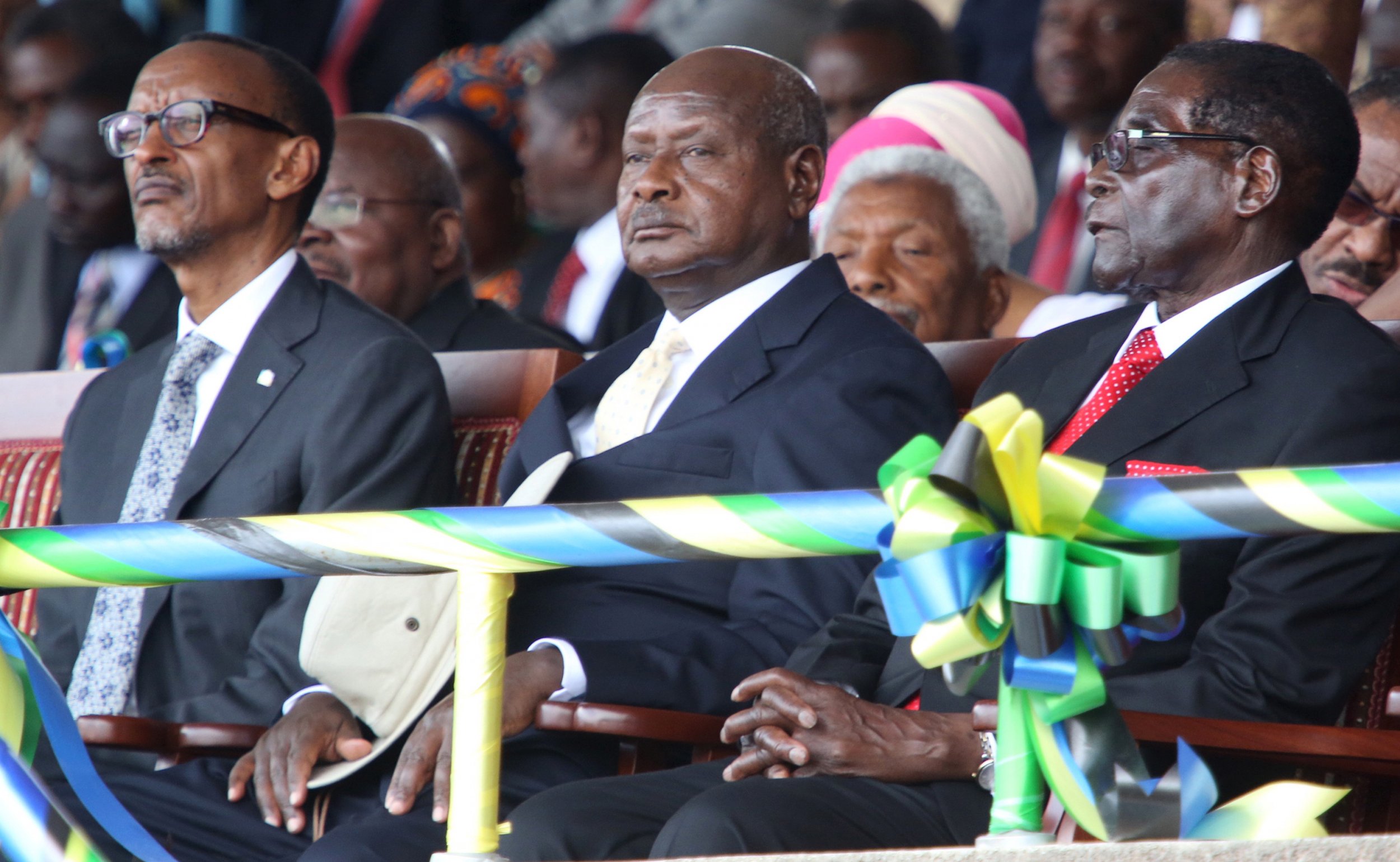 Rwanda's government recently announced that it will hold a referendum on amending the constitution on December 18. At stake: the president's term limits. If Rwandans vote in the proposed changes, President Paul Kagame—who came to power in 2000 and in 2017 hits the end of his second term, legally his last—could be president until 2034.
If Kagame succeeds in doing away with presidential term limits, he will be following in the footsteps of several African heads of state. Yoweri Museveni, who has been at the helm in Uganda since 1986, changed his country's constitution to enable him to successfully run for a third term in 2006. Three of Africa's longest-serving chieftains—Teodoro Obiang Nguema Mbasogo of Equatorial Guinea, Angola's Jose Eduardo dos Santos and Zimbabwean president Robert Mugabe—have all managed to stay in power for more than 35 years by amending their respective constitutions, according to Human Rights Watch (HRW).
When Burundian president Pierre Nkurunziza announced in April that he would be running for a third term, he sparked a failed military coup and mass protests that have so far led to the deaths of more than 240 people. Nkurunziza's opponents decried the move as unconstitutional, but the president maintained that his first term didn't count, as he was picked by parliament rather than being voted in.
In October, Congo Republic's long-serving president Denis Sassou Nguesso got the thumbs-up to run for another seven years in the 2016 election after a 92 percent landslide referendum vote in favor of changing the constitution.
The most obvious factor driving so many African leaders to extend their terms indefinitely is the human desire for authority and prestige. "At the very essence of it is the hunger for continued power," says Anneke Van Woudenberg, deputy director of the Africa division at HRW. But Van Woudenberg also points to more practical issues, such as the unappealing consequences of retiring gracefully. "Retiring as a head of state in Africa doesn't usually come with a lot of benefits," she says. "Very few African countries—in fact almost none—have any kind of pension or security scheme for former presidents or heads of state. So out of power means out of money."
Another reason for Africa's recurring third-term problem is the lack of an effective political opposition in many countries, according to Phil Clark, lecturer in comparative international politics at SOAS University of London. "The opposition to these constitutional changes comes from inside," says Clark. "It tends to come from domestic oppositions, rather than the African Union or regional powers or international donors."
Rwanda, for example, is widely considered a one-party state—although there are several opposition parties, none offers a credible challenge to Kagame's Rwandan Patriotic Front (RPF).
And if an opposition party ever does pose a threat to the status quo, many ruling governments are accused of quashing their challengers. An Amnesty International report released on December 7 documents cases of Ugandan police torturing and arbitrarily arresting opposition activists ahead of February's elections.
With the sporadic violence in Burundi, the role of the African Union (AU) in dealing with such constitutional coups has also come under scrutiny. The AU—currently chaired by Mugabe—has said it will investigate human rights abuses in the country and has called for any officials involved to face travel bans and have their assets frozen.
But the composition of the AU means its demands often seem hypocritical, says Clark, who also questions the effectiveness of the East African Community (EAC), a group of five countries in the Great Lakes region. "[The AU and EAC] are so easily ignored by the governments in question and one of the reasons for that is the AU is full of presidents who've overstayed their term limits, so there's a high degree of hypocrisy," says Clark. "At the AU level, if you've got someone like Mugabe telling you that you need to respect the constitution, that tends to ring hollow."
Van Woudenberg agrees that, while the AU has been strong on rejecting leaders installed via military coups, it hasn't been so good at dealing with constitutional changes. "The AU and other regional institutions have been quite strong to say, 'You can't be a member of our club if you try to take power through the barrel of the gun so blatantly,'" she says. "They haven't been as good in stepping up where it's done less blatantly, but where the results are exactly the same."