Pope in Africa: Vatican Must Address LGBT Rights, Says Ugandan Activist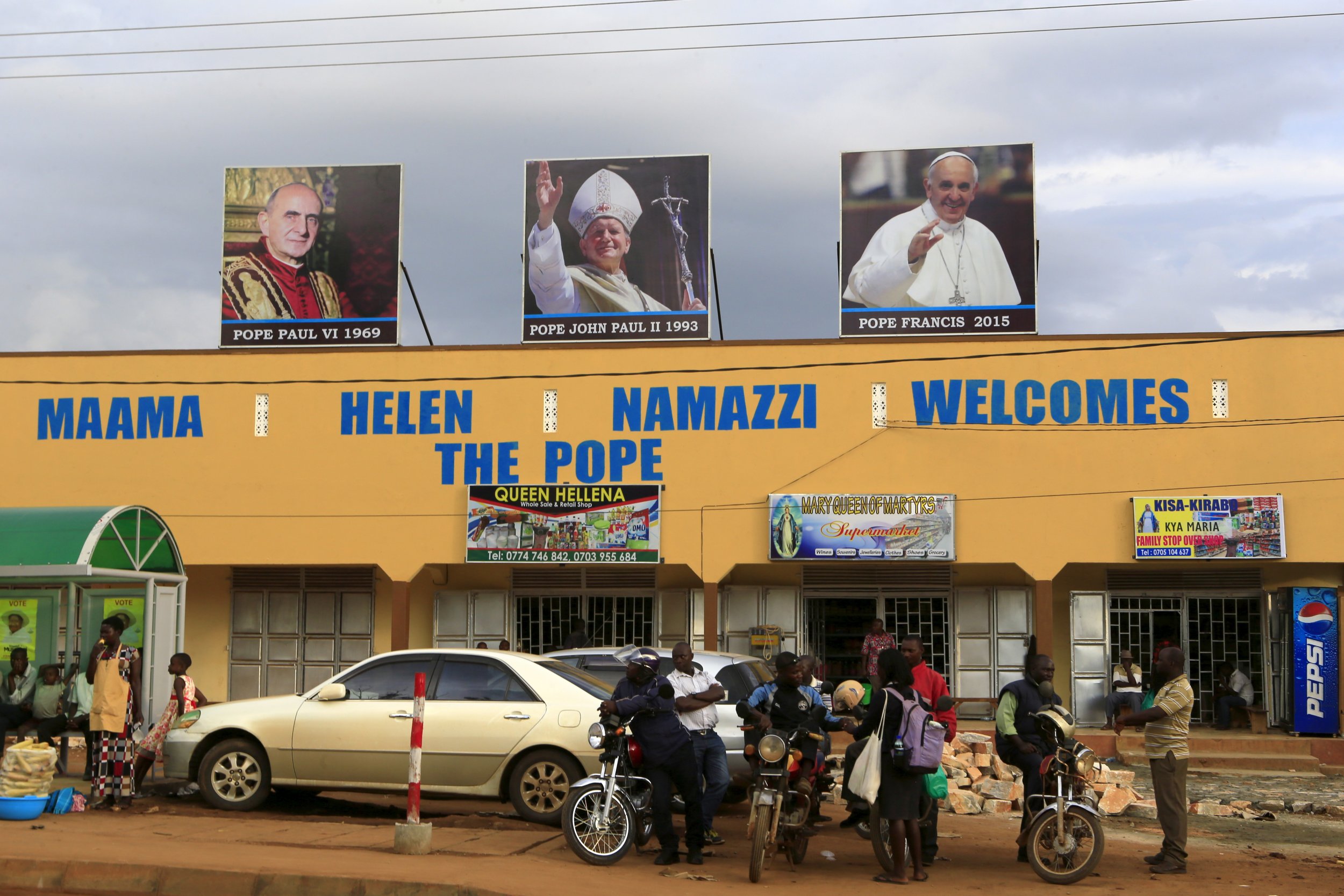 An LGBT activist in Uganda has accused the Vatican of running away from the issue of homosexuality and LGBT rights as the pope prepares to visit the country.
Pope Francis is due to arrive in Uganda on Friday for the second leg of his three-part tour of Africa. Homosexuality and LGBT rights is a hot-button issue in Uganda: the country's parliament passed a bill in December 2013 that allowed life imprisonment for "aggravated homosexuality." The law was later annulled by Uganda's Constitutional Court in August 2014 for not having the requisite quorum, but new laws that could punish people who promote homosexuality with seven years in prison are reportedly being drafted.
Frank Mugisha, executive director of Sexual Minorities Uganda, an NGO based in Kampala, says that he and other members of the Ugandan LGBT community have received no response after petitioning the Vatican to allow them to meet with the pope and discuss the issue. "Nothing, no reply, no response, no 'No', no 'Yes'," says Mugisha, a practicing Catholic. "Maybe this is an issue that the pope and the Vatican is trying to avoid and run away from...I'm beginning to lose hope that he may actually say anything about it."
According to Amnesty International, homosexuality is illegal in 36 African countries, including Uganda and Kenya. Being gay can carry a severe sentence in parts of Africa such as Mauritania and Sudan, where homosexuality carries a death sentence. Homosexuality is legal in the Central African Republic (CAR), where the pope will arrive on Sunday.
Mugisha, who says he is unsure whether to attend papal events in Uganda due to fears for his security, wants Francis to take a stand against discrimination based on sexuality. "I would like to see the Catholic Church...spearheading the [discussion] on homosexuality, spearheading the stopping of hatred," he says. "At the moment they are unified with other churches in fighting homosexuality."
The 78-year-old Argentine pontiff said in July 2013 that gay people should not be marginalized, adding that "if a person is gay and seeks God and has goodwill, who am I to judge?" Francis also reportedly met with a gay couple during his visit to the U.S. in September, but was also reported to have met with a Kentucky clerk who refused to issue marriage licenses to same-sex couples.
However, as the list of countries legalizing same-sex marriage continues to grow, Francis has affirmed the Catholic Church's traditional understanding of marriage as between a man and a woman. The Vatican also recently dismissed a senior priest who came out as gay on the eve of a meeting of bishops to discuss family issues.
Archbishop John Baptist Odama, the chairman of Uganda's Catholic bishops conference, told AP that he did not expect Francis to address the issue during his time in Uganda. Odama said that the Catholic Church had a "clear teaching on homosexuality," which was that gay persons are "called to abstinence."
While the pope is not going to reverse Catholic doctrine, he is likely to continue to offer a consoling message to homosexuals who suffer discrimination in Uganda, according to Elizabeth Pfifer, who works for Catholic Relief Services (CRS) and is based in Kampala. Pfifer says that CRS offers support to Ugandans regardless of sexuality and expects the pope to echo that sentiment.
"The pope will continue to provide that type of message [of the] Catholic Church as a church that's loving and forgiving and opens its arms for those who are vulnerable and have been mistreated," she says. "That's the type of message that he'll bring to Uganda."
During his visit to Uganda, the pope will meet with President Yoweri Museveni and will celebrate mass at a shrine to Ugandan Christians killed for their faith during the 19th century. Francis will also meet with young people and visit elderly and disabled people at a house of charity in Nalukolongo, near Kampala.
Uganda has a bloody history of civil conflict, particularly in the north. The Lord's Resistance Army (LRA), a militant group that wants to rule Uganda according to the Ten Commandments, arose in the late 1980s and has been locked in an ongoing battle with the Ugandan government. Its leader, Joseph Kony, is a former Catholic altar server and is wanted for war crimes by the International Criminal Court. The LRA has since moved into neighboring countries including the Democratic Republic of Congo, South Sudan and CAR. According to the charity Invisible Children, the LRA has carried out 2,328 killings since 1986 and Kony has kidnapped and enlisted more than 30,000 children into the group's ranks. Soldiers in the militant group have also been accused of raping thousands of women.
According to Archbishop Odama, the consequences of the conflict are still keenly felt among Ugandans. "We need to address the effects of the war in the north and the rest of Uganda," says Odama, who is a member of the Acholi Religious Leaders Peace Initiative, an organization that works to build peace in northern Uganda and other areas affected by the LRA conflict. "Trauma, you cannot heal it quickly and it has many side-effects," he says. "For example, things like addiction, alcoholism, desperation and so on."
Odama believes that a national reconciliation program, similar to the Truth and Reconciliation Commission set up in post-Apartheid South Africa, is a necessary means to helping people to cope with the fallout of the conflict. He hopes that the pope's visit can contribute to the process of healing and reconciliation. "It will bring many blessings for us, blessings of peace, blessings of brotherhood and unity and sisterhood," he says.